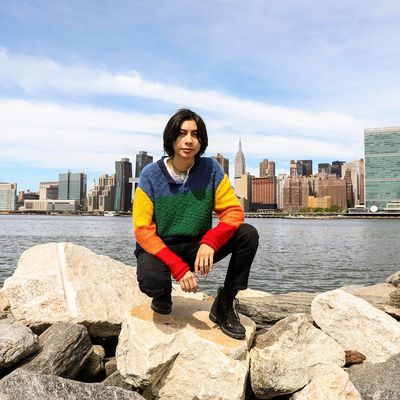 Stud1nt.
Photo: Krista Schlueter
As part of That's a Bop, our month-long effort to introduce you to artists and songs beyond the top-ten list, we really wanted to save ourselves from putting "Passionfruit" on repeat at every party this summer. So we called upon Discwoman, a New York–based collective that showcases ciswomen, transwomen, and genderqueer DJs, to curate a killer playlist for us each Friday. The only rule: No Drake.
This week's playlist comes from Stud1nt (Izzy Ocampo), a Queens-born jazz pianist who melds a love of hypnotic club tracks and psychedelic riffs into their mixes. Recently, they've preformed at the Brooklyn Electronic Music Festival, Output, and MoMA PS1.
Before you listen, here's what they had to say about this playlist: "I like music that sits in between or pushes against genres. This playlist has a little bit of everything in it but discerning attention paid to rhythm in each one. The vibe is meant for hotboxing."