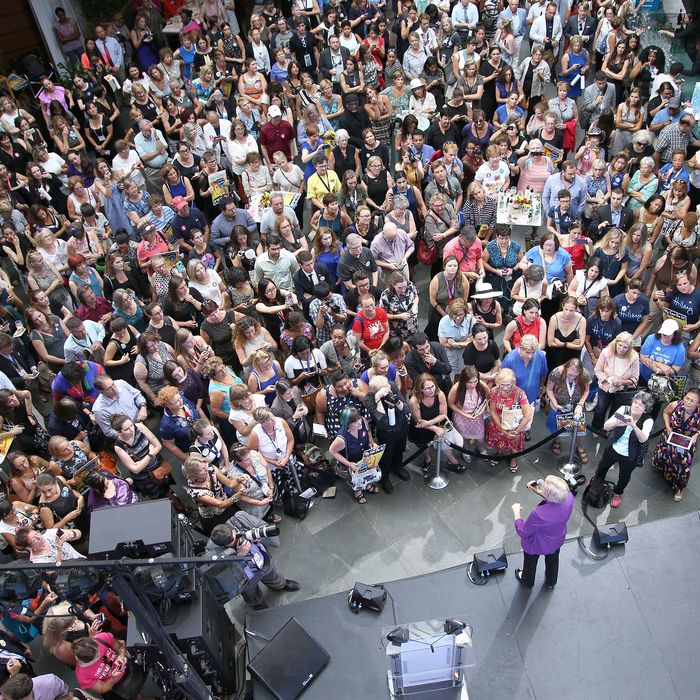 Senator Elizabeth Warren speaks onstage at an EMILY's List event.
Photo: Paul Zimmerman/Getty Images For EMILY's List
The day after President Trump was inaugurated in Washington, an estimated 3.2 million people in cities across the country took to the streets for the Women's March, the largest coordinated demonstration an incoming president has ever faced. But the march's real legacy is making itself known in the weeks and months afterward, with the unprecedented number of women expressing interest in running for office. For many women, Trump's election was what finally convinced them to run, but a new report from Politico suggests that the so-called Trump effect might not be enough to bring about parity.
The surge in interest is great and all, but Politico compared directing resources (money, training, etc.) to women who are already interested in running for office to "trying to develop a bench in Game 7 of the World Series." Instead, after reminding readers of the biggest reason women don't run for office — because no one asks them to — the report suggests two ways to motivate them: (1) re-frame politics as community service, and (2) reach them much, much earlier.
The first strategy requires party organizers to change the way they reach out to potential women candidates. "It turns out that the gender gap disappears once women start thinking of politics as it actually should be," the report reads. "When women see political office as a way to fix problems and improve their communities, they become just as eager to run as men." What's more, thinking of politics as community service rather than House of Cards blood sport is actually more realistic — as the report points out, most officials never appear on TV, and many don't even face opponents when they run (more than one-third of state legislators run uncontested).
But before they can consider a career in politics, young women need to be told they can do so. A 2012 study found that men were more likely to be urged to run for office by everyone in their lives: parents, teachers, relatives. But if parents encourage their daughters to run for office, again, the gender gap disappears altogether. According to the 2012 study, of the college women who said their parents encouraged them to run, about half planned to. Organizations can reinforce that encouragement by getting to women much earlier, the report says, and some have started doing that — Running Start targets women while they're still in high school, for example. "We have to diversify our strategies," Erin Loos Cutraro, CEO of She Should Run, told Politico. She added that, "It's not to suggest we should no longer fund candidates when they're running," but more should be done to drum up candidates from an early age.
Both strategies are more important than ever because the concrete barriers that work against women candidates, from "fundraising imbalances, sexism in the media and the voting booth, unyielding party bureaucracies, and more," have "faded in importance," according to Politico. Indeed, some women are encouraged by Trump's presidency, which blew up so many political presuppositions.
"The election of Trump has made me say, 'Wait a minute, if this person can be president, then why shouldn't I run for office?'" said Kimberly Graham, who's considering running against Senator Joni Ernst in 2020. "I'm a complete political neophyte. But at least I understand the Constitution."