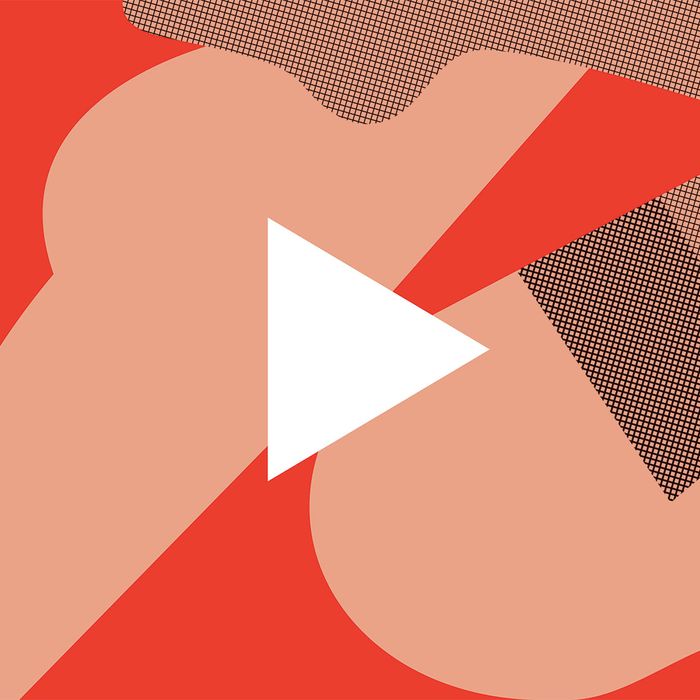 The Sexual Almanac
Looking through Pornhub's data on U.S. users, some themes jumped out. Few of the trends had obvious real-world causes — a sign that our imaginations were evolving more in response to prompts in the realm of porn than to anything in the world of flesh.
2007 | Year of MILF
"Mature" was a popular porn category well before Pornhub (and ranks fifth all-time on the platform), but "MILF" (which stands for "mom I'd like to fuck" and ranks second all time) came in with a bang as the very top search term in the company's first year. Also notable: The second-most-searched term that first year was "Asian," which would appear in the top ten in 2008 and 2009 but only once more since. (Although, in 2010, "Indian" made an appearance.)
2008 | Year of Squirting
Videos in which women produce a volume of clear liquid when having an orgasm were popular in 2007, but in 2008, "squirt" ranked fifth overall and was the search term with the third-largest growth; by that metric, the variant "squirting" ranked fifth. Also notable: The most-watched "porn star" of 2008 was Kim Kardashian, and the top search term by growth was "ebony."
2009 | Year of Amateurs
In January, Pornhub launched its "Community," program, flooding the site with real amateur videos and changing forever the mix of content most users encountered (in terms of look, which tended toward lo-fi dorm room; length, since the videos tended to be shorter; and narrative, since they tended to have none). Also notable: Pornhub named Girls Gone Wild the "studio of the year" in 2009, another sign that content featuring amateurs — even when peddled by a 1990s juggernaut of a company — was blowing up.
2010 | Year of Casting Couch
Backroom Casting Couch, which produced videos depicting women recruited for modeling jobs and then gradually talked into taking their clothes off and having sex with the interviewer (often on an uncomfortable-looking couch or desk), was the most popular studio on Pornhub in 2010. The search term it more or less invented, "casting," suddenly ranked fifth on the list of search terms most dramatically growing in popularity. Also notable: This was the year that "massage," a genre in which women are often masturbated (sometimes by a pair of disembodied hands), first appeared in Pornhub's top ten.
2011 | Year of Ass
Always a popular search term, "ass" — not "anal," which is more consistently highly ranked — jumped to the top of the growth charts in 2011. Why? Who knows. In other ways, this was among Pornhub's most generic years. Also notable: This was the year that "teen" became the all-time most-watched Pornhub category, but the reign was short, lasting only one year between the four-year run of "amateur" and the three-year run of "MILF."
2012 | Year of Cartoon
A category mostly of animated porn parodies of television shows like Family Guy and The Simpsons, "cartoon" had never before appeared in Pornhub's top ten — and all of a sudden, in 2012, it was the top overall search term. The following year, it had fallen to fifth. Also notable: "Parody," closely related to "cartoon," was the No. 2 search term by growth in 2012, followed by "public," signaling a spike of interest in outdoor sex.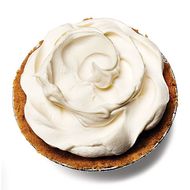 2013 | Year of Creampie
In no other year of Pornhub's existence does "creampie" — a term for a scene that ends with visibly dripping semen, "proof" that there was no condom (and a successor to the 1970s "money shot," which offered proof that the sex was real) — appear even in the top-ten most-searched-for terms. In 2013, it ranked second. Also notable: This was the year that "POV," or "point of view," porn — scenes shot from the perspective of one of the participants — truly arrived, ranking fourth in growth.
2014 | Year of Belle Knox
In February 2014, the Duke Chronicle profiled a pseudonymous freshman who was paying her tuition in part by making porn; in March, she outed herself on xoJane as "Belle Knox"; by the middle of the month, she accounted for almost one percent of all Pornhub traffic (and 3 percent in Durham). Also notable: "Stepmom" jumped from the tenth-most-popular search term all the way to No. 2, and now-very-popular "lesbians scissoring" appeared among the top-five growth terms for the first time. Pornhub named "Fake Taxi" the porn studio of 2014; it produced videos in which female passengers, sometimes unable to pay the fare, are persuaded to have sex with the driver in the back seat.
2015 | Year of Step-Sex
For the first time in 2015, "stepmom" topped Pornhub's list of the most searched for terms — a spot it would hold in 2016, too. No. 7 was "stepsister," the sign of a new sibling-based porn genre in which near teens cajole one another into sex. Also notable: the rise of Mia Khalifa, often called the first Lebanese porn star (with over 530 million video views, she ranks eighth all time on Pornhub), who occasionally performs wearing a hijab (in one, she and her "stepmom" both do). The search term making the biggest leap this year was "giantess," for videos featuring very large women and very small men. "Extreme gangbang" also enjoyed a surge, ranking fourth in search growth in 2015.
2016 | Year of Lesbians Scissoring
This search term, which refers to women interlocking legs and rubbing genitals against each other, first showed up as a growth genre in 2014; this year, it leapt all the way to the No. 7 search term overall. Also notable: "Cuckolding," in which presumably married women have sex with men other than their husbands, reached a new height the year of Donald Trump's election, after having steadily grown in popularity for years (up 495 percent from 2009). This was also the year of the Kim Kardashian robbery, which may be one reason that "burglar" was the second-fastest-growing search term in 2016, and "robbers" No. 5 (neither had been significant terms before).
2017| Year of Hentai
The year is young, but so far the extreme, manga-derived animated-porn genre has spiked in popularity; suddenly, it's the fourth-most-searched-for term overall on Pornhub. Also notable: the rise of porn parodies of Overwatch, a multiplayer team-based shooter game released in 2016 and immediately pornified thanks to a 3-D-animation tool called Source Filmmaker, which enables easy video fan-fiction, including the erotic kind. In 2017, "overwatch" was the sixth-most-searched-for term.
What We Want When Nobody's Watching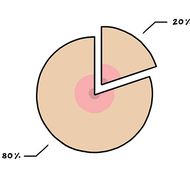 A sampling of everything Pornhub has learned about its users since 2008. (Worldwide, unless otherwise specified.)
In Russia, women gravitate to the rear.
In both North and South America, the most-popular category among women is "lesbian." In Russia, it is "anal." In Kazakhstan it is "big dick."
The second-most-viewed category among women, after "lesbian" is "gay (male)," followed by "big dick." "For women" is eighth, "MILF" ninth, and "squirt" tenth.
37% of Pornhub's viewers of gay-male porn are women. It is the top category for women over the age of 45.
Millennials are into "cosplay."
Compared to other generations, millennials were 214% more likely to search for cosplay, such as people dressed up as characters from video games.
They were also into "hentai" (190% more likely), "POV" (136%), "anime" (131%), and "emo" (128%). They weren't into "long nipples" (75% less likely), and "dogging" (72%).
"Straight guys" are very popular.
It was the second-most-popular category for gay-male porn in the U.S. and dominates the West, Mountain West, Kentucky, West Virginia, and New England. The first, "black," rules the South, East Coast, and pockets of the Midwest.
The third-most-popular gay category is "bareback," followed by "big dick," "daddy," "interracial," and "twink."
The most common search term for gay male porn is "straight first time" followed by "big black dick." "Straight," "straight friend," and "straight seduced" are Nos. 4, 5, and 6.
Some favorite gay search terms, by state.
Indiana: chub
Arizona: cholo
Oklahoma: cowboy
North Dakota: gay beef
Utah: locker room
West Virginia: redneck
Wisconsin: circle jerk
The average time spent browsing by category.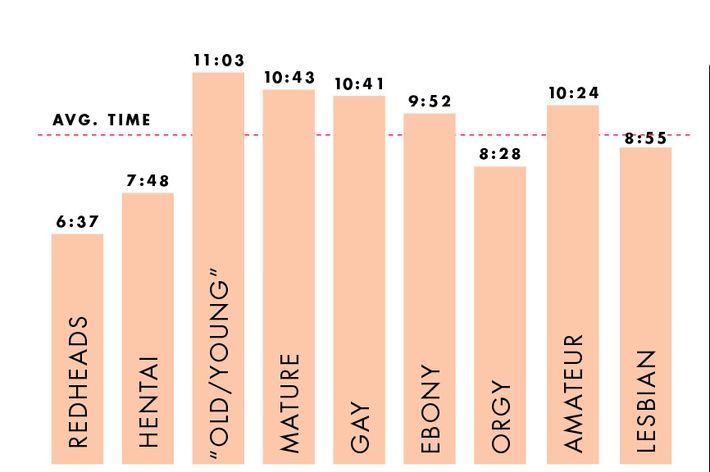 Women spend, on average, 1:14 minutes longer than men per visit on the site.
The most popular time to watch porn is midnight, followed by 11 p.m. and 1 a.m. But after that, it's 3 p.m., 4 p.m., and 5 p.m.
Users browsing the "gay" category watch more videos than any other (11.02 per session), followed by "feet" (10.17) and "POV" (9.74). Users browsing "small tits" watch the fewest videos (6.38).
"Romantic sex": not very popular.

Big growth terms among women between 2014 and 2015 included "man eating pussy" (up 589%), "young black teen" (up 507%), "world's biggest cock" (up 499%), "fucked hard screaming" (up 281%), and "black thugs fucking raw" (269%). "Romantic sex" grew, too, but only by 125%.
Between 2009 and 2015, searches for "anal" grew by 120% in the U.S. and grew by 78% worldwide. Men are 33% more likely to use the term, which is least popular among 18- to 24-year-olds (33% lower than average) and most popular among 35- to 44-year-olds (30% higher than average).
Over the same period, certain terms have grown in popularity to accompany "anal" — for instance, "gangbang," which is up 499% as an accompanying term ("teen" comes in second, up 263%). Correspondingly, some terms fell as accompanying terms — like "tight," which got 76% less popular.
In the United States, Montana likes "anal" searches the most, and Kansas leads for "ass"; Hawaii ranks last for both.
Searches for "elf" go up 464% at Christmastime.
Traffic declines by 45% on Christmas Eve, spikes to 34% above average early on Christmas Morning, then falls 38% below average in the afternoon.
Traffic to Pornhub drops 17% after 6 p.m. on Valentine's Day; the drop is more pronounced for women.
But some search terms do unusually well on Valentine's Day: "Love" is up 269% (the jump is even higher for men) and "passionate" up 164% (again, the bump for men is higher). "Rough sex" goes up 92% and "quickie" 74%.
When it comes to lesbian-related searches, women are more interested in "ebony lesbians eating pussy" (906% higher search volume than men); "lesbian squirt" (321% higher); and "lesbian strap-on" (272%).
By last count Kim Kardashian's sex tape has been viewed 144 million times.
Women like porn most in Brazil and the Philippines.
In those countries, they make up 35% of all traffic; in the U.S. they are 25%, and the proportion of female traffic is highest in Mississippi, Georgia, and South Carolina.
Some popular search terms among women in …
Ohio and Pennsylvania: bondage
The South,Maryland, New Jersey, and New York: ebony
Maine, Massachusetts, and Connecticut: female friendly
Rhode Island: teen
California: big tits
Alaska: big dick
Canada: bondage
France: mature
Brazil: shemale
Australia: Asian
71% of female traffic to Pornhub comes from smartphones.
Women are 27% more likely than men to search for pregnancy porn.
It is most popular among women ages 25 to 34 and least popular among men 65 or older (men between 25 and 44 like it considerably more).
Pregnancy porn is most popular in the Dakotas and Nebraska and least popular in Hawaii, California, and Nevada.
Popular pregnancy-related search terms include "get me pregnant" (No. 2), "pregnant gangbang" (No. 5), and "pregnant teen anal" (No. 16).
On Father's Day, searches for "dad" and "daddy" went up 1,361%.
In 2015, the most popular dad-related search term was "stepdad and daughter."
Last year, women were 96% more likely than men to use dad-related search terms; users on Pornhub Gay are 277% more likely than those watching straight porn.
Popular lesbian-related searches by women include "lesbians scissoring" (No. 2), "lesbian seduces straight girl" (No. 3), "hardcore lesbian scissoring" (No. 6), and "lesbian stepmom and daughter" (No. 14).
31% of Pornhub visitors are 18 to 24; 29% are 25 to 34; 17% are 35 to 44; 11% are 45 to 54; 7% are 55 to 64; and 4% are 65 or older. The biggest proportion of young users is in India, where 48% are under 25; in Germany, 8% of users are 65 or older.
Women are 46% more likely than men to search for "big dick" videos. They are 122% more likely to use the term "dick"; men are 94% more likely to search using "cock" (though women prefer "cock" to "dick" in New York and Florida).
Men prefer "stepmom and son" and women prefer "stepdad and daughter."
In 2015, "stepmom and son" grew 262% and climbed 71 spots in Pornhub's popularity ranking. The top search term in the U.S. was "stepmom." (The French got in on the trend, too, with "belle mere" the third- and "maman francaise" the fourth-fastest growing terms.)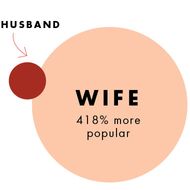 Searches for wife are 418% more popular.
The most popular search involving the term "husband" is "husband watches wife fuck."
Men are 58% more likely than women to search for cuckold videos; the search is not at all popular for men 18 to 24, but grows more so for every group up to age 64.
Popular cuckold-related searches include "cuckold cleanup" (No. 3), "cuckold interracial" (No. 6), "cuckold creampie" (No. 10), and "sissy cuckold" (No. 13).
Immediately before searching "cuckold," users searched for "femdom humiliation" (No. 1), "bisexual husband" (No. 2), "mistress male slave" (No. 10), "divine bitches" (No. 11), and "small penis humiliation" (No. 17).
Porn has a lot to say about the president (and his family).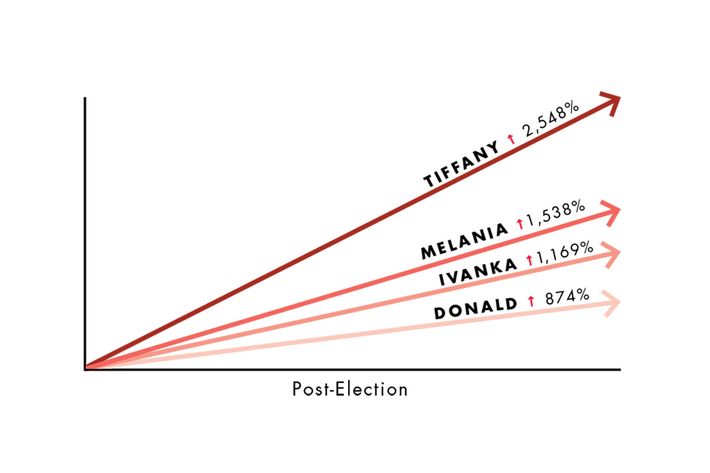 Over the following days, searches for most of the Trump family returned to normal, but Tiffany remained extremely popular, growing to 9,128% above the daily average by November 15.
On Election Night in the U.S., overall traffic grew 10% after Donald Trump officially won the presidency just past 2 a.m. In red states, the spike was higher (20% rather than 12%) and came earlier (peaking at 3 a.m. rather than 4 a.m.).
When Hillary Clinton mentioned Miss Universe Alicia Machado during a presidential debate, searches for her name went up 3,029%.
The Women's March cut traffic to Pornhub from New York, D.C., and L.A. by 20% on January 21; the drop was shared between men and women (and rebounded after 8 p.m.).
In early January, when rumors of a "pee tape" involving Donald Trump first surfaced, searches for "golden showers" spiked by 289%.
Men are 24% more likely than women to search for "golden showers," with the term more popular as men get older (75% more popular than average among men 65 or older). Internationally, the search is most popular in the Czech Republic, with Russia coming in fifth.
Porn searches in the U.S. from 2009 to 2017.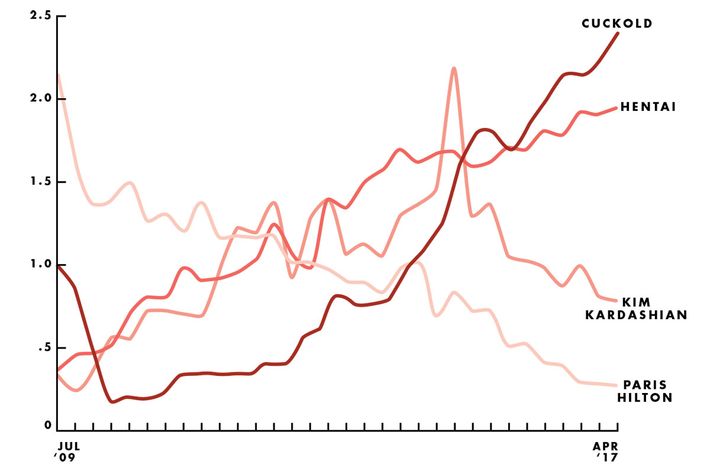 And about Fidel Castro.
When, last November 25, Fidel Castro died, searches for "Cuba" went up 104%; especially popular were "Cuban maid" (the top related term) and "big booty Cuban" (No. 4).
Within the U.S., "BBW" ("big beautiful woman") is most popular in Georgia (41% higher than the national average), followed by Mississippi (30% higher). It is least popular in Hawaii (49% lower), followed by Utah (26% lower) and Nevada (24%).
Compared to the rest of the world, the three searches unique to American viewers are "big booty Latina," "big black dick," and "ebony."
Searches for yoga porn have nearly doubled since 2012, led by 18- to 24-year-olds (63% more likely than average).
Women are 16% more likely than men to watch porn on their phones, and 34% less likely to use a desktop.
*This article appears in the June 12, 2017, issue of New York Magazine.