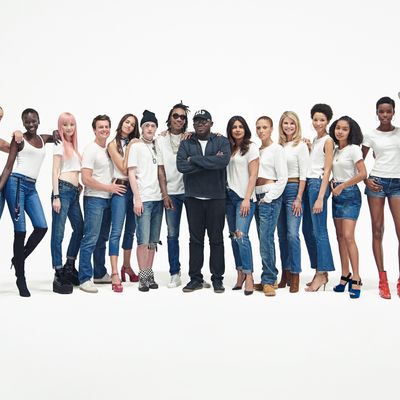 The "Bridging the Gap" campaign cast with Edward Enninful.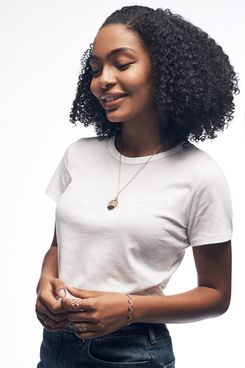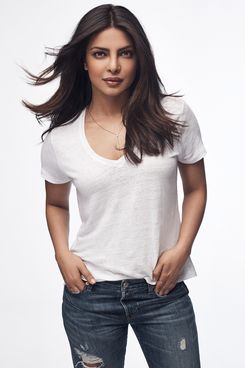 For Priyanka Chopra, it was a 1992 Gap campaign starring Naomi Campbell in a white T-shirt and barely-there cutoffs. For Yara Shahidi, a 2012 holiday ad featuring her cousin Nas and her uncle Olu Dara, with the tagline "Love comes in every shade." "It was powerful to see a black father and son, demonstrating such a bond of love," she recalls now. "The ad was everywhere and I loved it!" And for incoming British Vogue EIC Edward Enninful, it was the Steven Meisel, Herb Ritts, and Annie Leibovitz imagery for the brand in the '80s and '90s, as well as the 1999 "Mellow Yellow" campaign. ("That was a great song," he says.)
Now, all three are involved in a Gap project of their very own — an Enninful-directed and -styled film titled Bridging the Gap. Shahidi and Chopra round out a cast that includes Christie Brinkley, Wiz Khalifa, fencer Miles Chamley-Watson, Broadway star Jonathan Groff, Instagram star Jasmine Sanders, and a slew of models: Fernanda Ly, Adwoa Aboah, Maria Borges, Lineisy Montero, Ellen Rosa, and Alek Wek. And, in the spirit of "Mellow Yellow," they're all singing along to Boney M.'s '70s disco hit "Sunny."

Enninful styled the group in white T-shirts and denim, saying that he wanted the film to reflect "American optimism." "I think of the white T-shirt as a blank canvas — eternally versatile," he told the Cut. "It can be worn by anyone regardless of age, gender, or personal style and can be tailored, dressed, accessorized, customized, and styled to reflect the individual wearing it. I chose a global cast rooted in America, be it by birth, immigration, or work. Each person was styled in their own way. They may all be wearing a white tee and denim, but like the world and the people that inhabit it, they are each unique in their own special way."
The cast members slipped easily into the vibe for the shoot. Chopra said she has an affection for the uniform in her daily life, adding, "I would even wear a white T-shirt on the red carpet!" and Shahidi says, "A basic white T-shirt is the foundation for most of my 'Yara' days."
Enninful says assembling a diverse cast for the film was important to him. "Gap has always celebrated diversity explicitly and implicitly," he says. "This is what attracts me to them and I imagine vice versa. In the casting I chose individuals that inspire me and represent the world — from actors to activists, models to athletes to performers. A cast of varying genders, sexualities, religions, ages and backgrounds — to me this is the world we live in and the world we should see. The cast are all people I champion, work with and am inspired by." Watch the group show off their vocal skills below.

Additional reporting by Lindsay Peoples.