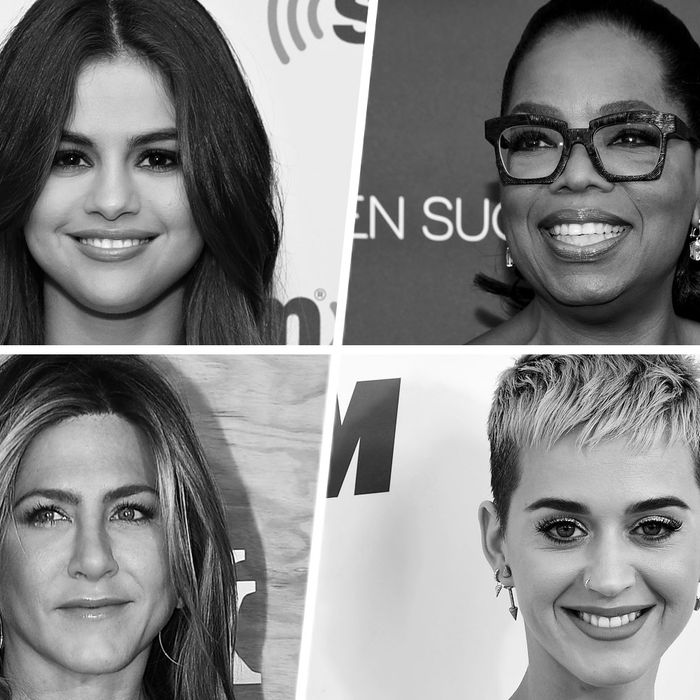 "It's changed my life." – Katy Perry
Photo: Getty Images
Much like going to the gym, the hardest part of going to therapy is often the very first part: actually committing to try it out. The road to finding the right therapist can be peppered with uncertainties: Will the therapist even be a good fit? Will the session be a complete waste of time? Will I be fixed?
Below, 25 women including Laverne Cox, Selena Gomez, Sarah Silverman, and Hillary Clinton discuss their experiences with therapy, whether they openly embrace it or avoid it like the plague. Read on for the best (or worst) life tips that they've gleaned from their therapists.
Laverne Cox
"I have been in therapy for a very long time, and therapy has been crucial for me for working through a lot of childhood trauma and working through a lot of my stuff. I started meditating, and I also try to practice gratitude every single day. It's really important for me. It helps put things in perspective." – Women's Health, September 2015
Kerry Washington
"Learning how to love myself and my body is a lifelong process. But I definitely don't struggle the way I used to. Therapy helped me realise that maybe it's okay for me to communicate my feelings. Instead of literally stuffing them down with food, maybe it's okay for me to express myself." – Essence, December 2009
Sarah Silverman
"Plan on seeing 12 different therapists before you find one. It's important. As my friend Todd Glass said, when people say like, 'Oh, I can't afford therapy.' Get a shittier car! It's important! I like growing and changing with new information. I think it's important. I think if you don't, that's when you get old or you become a caricature of yourself as an artist. It's good to look back at what you did 10 years ago and cringe." – Inside the Actors Studio
Julianne Moore
"I'd spent my 20s working hard and trying to get to wherever there was, which wasn't really anywhere. It was just a job, and I really wanted a family … [After therapy], I discovered that was as important as my professional life. I didn't spend the time; I didn't invest. One thing I used to tell my women friends was, 'There's an expectation that your personal life is going to happen to you, but you're going to have to make your career happen. And that's not true: You have to make your personal life happen as much as your career.'" – The Hollywood Reporter, February 2015
Amy Poehler
"My therapist gave me a good visual metaphor that I use a lot: I picture a refrigerator and on the refrigerator are six magnets. Each magnet says things like: relationship, kids, health, work, money, fun with friends — whatever. Every day you can really only put three magnets on the refrigerator. You're not going to be able to use all of them. Like today is about my work, my children, and my health. Then the week goes by and you're like, 'I haven't used my 'fun with friends' magnet in weeks!' So I try to approach it that way." – Ladies' Home Journal, March 2014
Aparna Nancherla
"Isn't therapy just a podcast off the record" – Her Twitter, June 2015
Selena Gomez
"DBT [Dialectical Behavior Therapy] has completely changed my life. I wish more people would talk about therapy. We girls, we're taught to be almost too resilient, to be strong and sexy and cool and laid-back, the girl who's down. We also need to feel allowed to fall apart." – Vogue, April 2017
Jane Fonda
"Let me tell you something, at the end of season one of Grace & Frankie, I went back into therapy and got an acting coach. We have ourselves, and if we're screwed up for various reasons, if we hate ourselves or get kind of weird in the head, it's really hard to act. It's hard to let the creative energy flow." – Tribeca Film Festival, April 2016
Jessica Williams
"I have anxiety and OCD [Obsessive Compulsive Disorder]. I go to therapy twice a week. [Therapy] is the coolest, most fun thing ever … to have somebody who is fucking awesome and older and wiser objectively listen to you and give you advice is the best … This is gonna sound very, like, college G.E. requirement right now, but my therapist says sometimes I can think of my ideas and my thoughts as trains, and if something happens, I don't have to catch every train, because that would be really exhausting.
That's what triggers my anxiety — if I'm worried about what bit I'm going to do on the show tonight while being worried about what my parents are doing and if they're safe while being worried about the state of terrorism in the world — if those thoughts are all trains going by, I don't have to jump on each one.
I can see it, and I can acknowledge it, and I can just let it pass, which is a really nice way to think about it, because it puts me a little bit more in control. Especially with the OCD, because that's a control thing." – Bust, February/March 2016
Hillary Clinton
On whether she's been in therapy: "Unh-uh. No. I have not … Well, we had some marital counseling in the late '90s, around our very difficult time, but that's all. [Shrugs.] That's not how I roll. I'm all for it for anybody who's at all interested in it. It's just not how I deal with stuff." – New York Magazine, May 2017
Shonda Rhimes
"I have all these friends who just love therapy, and I always say the reason that I'm absolutely not in therapy is because then I wouldn't have anything to write. You waste a lot of time being miserable, and I'm not really interested." – The Hollywood Reporter, October 2014
Janelle Monáe
"I didn't like the idea of therapy at first. In the black community, nobody goes to therapy. You go to your pastor or you go to the Bible. There's a stigma. But I think God blesses us with brains to find medicine, to find cures, and I don't believe in not using that. Therapists are there to listen." – Pitchfork
Oprah Winfrey
"I had never gone to a therapist, ever. But I had so many therapists sitting in the chair across from me that I just sort of took it in. The Oprah Winfrey Show was my greatest therapy. It was the greatest teaching. It was the greatest classroom and it was my greatest therapy. I came out of it a better human being having listened to everybody's stories and like, 'I don't want to go down that road. I saw what happened to that lady. I heard what he said.'" – People, April 2017
Emma Stone
"When I was about 7, I was convinced the house was burning down. I could sense it. Not a hallucination, just a tightening in my chest, feeling I couldn't breathe, like the world was going to end. There were some flare-ups like that, but my anxiety was constant. I would ask my mom a hundred times how the day was gonna lay out. What time was she gonna drop me off? Where was she gonna be? What would happen at lunch? Feeling nauseous. At a certain point, I couldn't go to friends' houses anymore — I could barely get out the door to school … [Seeing a therapist] helped so much. I wrote this book called I Am Bigger Than My Anxiety that I still have: I drew a little green monster on my shoulder that speaks to me in my ear and tells me all these things that aren't true. And every time I listen to it, it grows bigger. If I listen to it enough, it crushes me. But if I turn my head and keep doing what I'm doing — let it speak to me, but don't give it the credit it needs — then it shrinks down and fades away." – Rolling Stone, December 2016
Katy Perry
On starting therapy five years ago: "It's changed my life. When I am in the room I am just Katheryn Hudson, which is amazing because people in my position hear yes too much, and it kills them or makes them completely disconnected from reality — and I don't want that." – Vogue, April 2017
Miranda July
On who she goes to for advice: "I have a really good therapist — which is the first time I've ever had a therapist I admire … With this therapist, the first session I ever had with her was really terrible. I was really angry with her but I forced myself to go back and tell her how she'd fucked up. It was an amazing way to start because it got to the important stuff right away and how she dealt with that was, like, really smart. I don't think in the past I would have been willing to come back. I would have just quit … The therapist I left this therapist for, I've still never told her. I figure she just thinks I'm busy with the baby … I really want the old therapist to know how much better this new one is." – Huck, May 2013
Zadie Smith
On how therapy helped her writing: "I went to therapy. I've always felt very cringe-y about myself. Fiction is a useful way of getting around it or disguising oneself one way or another. Not being able to write in the first person was very much about that, and self-disgust or anxiety about saying 'I.' I used to sit in front of the computer and have a very tough time writing, and I just noticed, once I was in therapy, I didn't find it so difficult to write." – T Magazine, October 2016
Kate Winslet
"I tried therapy once and thought, 'Oh God, I could outsmart you, goodbye.' So I won't bother with that again." – The Edit
Charlize Theron
"I have a lot of things I should probably sort out in therapy about my relationship with my country [South Africa]. Because it's affected me way more than I've ever acknowledged.
And it was only when I got older that I started realizing that I had a lot of anger; there was a lot of unresolved stuff — apartheid, health care, AIDS, poverty — that still very much affects me … It makes you realize that the circumstances of your formative years, it leaves a real scar — it marks you.
It's the one thing that gets me really angry, really emotional. It's a lot of f—ing suffering, and unnecessary suffering. And just people getting the s— kicked out of them for a very, very long time." – WSJ.
Magazine, March 2016
Joan Rivers
"I never thought I'd say this, and that's because I'm a friend of Woody Allen's, and Woody Allen has been in therapy for 36 years and I figured, whoa! And then I thought, who knows what he'd be like without therapy? So go to a good therapist, I beg you." – The New York Times, January 1995
Cara Delevingne
"The best therapy is actually the more aggressive kind when they break you open, they unleash you." – Industrie, September 2013
Tavi Gevinson
"I have lots of theories as to why I constantly feel like the world is coming to an end, and why I feel like I need to review everything and memorialize it. In a way, I wonder if it's almost generational in that we're able to so immediately reflect on things as they're happening to us. So maybe it's just that I've written about my life every day as it's been happening, either on my blog or Rookie or in a diary. So maybe I just snap into a set of rose-tinted glasses very quickly or something. I literally talk about this in therapy, I'd love to know why I'm so fixated on [nostalgia]." – The Huffington Post, October 2015
Idina Menzel
"I do a number on myself onstage sometimes. I get in my head, get very perfectionist, start judging every note that I don't think was perfect … You can have those nights where the chatter won't stop in your head, but I try to keep that at bay and call my therapist from the road and I have fun. Most of the time, the music is transcendent for me." – Billboard, April 2017
Jennifer Aniston
On her favorite therapist passing away: "It was at a crazy time, right when we were going through our divorce and everything. But I learned so much in the four years I worked with her, that when she did pass away I remember thinking, 'Wow, everything that we talked about and discussed, it's allowed me to be really peaceful about it all.' I mean, there were human moments. But I was really shockingly OK … Her whole thing with me was really saying, 'You have to stand up for yourself in life.' She was really trying to help me deal with anger and learning how to express it without feeling terrified that I was going to get murdered in response." – The Hollywood Reporter, January 2015
Elizabeth Gilbert
"It's good to know yourself well, right? It's good to know your needs, your issues, your limitations, your history, your habits … right? Or is it? Is it really serving you? What if you un-knew it? What if you un-learned it? What if you were like, 'I actually have no idea who I am right now. I don't need to know. I'm just ready to explore.' So maybe that's the magic that happens in therapy — when you feel safe enough to let go. Maybe that's why therapy has helped me so much over the years … by letting me un-learn my own rules. Maybe that's why I still go back to my therapist for tune-ups sometimes — not necessarily to know myself better, but to 'know' myself LESS — to let go of the story that I am telling myself about myself right now (the story that has perhaps become a trap.)" – her site, August 2014