As I wait to speak to Rachel Lindsay — star of this season of The Bachelorette, and the first black Bachelor or Bachelorette ever — I find myself imagining the specific conversation I want to have with her — the one only two black women who appreciate good lacefronts can have about dating and race and love.
I want to know what criteria she uses to figure out who's down with the swirl — we all have a way of sussing out which white boys are (Chris Evans) and are not (John Mayer). I want to know how difficult dating is for her as a smart, professional, affluent black woman. I want to ask her to describe — really describe — all of the weird racial tension that popped up on set. I want to know the things that all women — especially the conflicted black female Bachelor fans that made up 8.04 percent of viewers last season — want to know: does the Bachelorette even come close to portraying our dating realities? And then, after all that, the ultimate dream is that the conversation would somehow wind its way toward deep bonding over Lemonade.
It's unclear if she will be able to answer these questions (contractually) or want to answer these questions (personally). Maybe she didn't like Lemonade. If she didn't, I'll take it as a certain indicator she's in the Sunken Place. Rachel Lindsay, blink if you're in the Sunken Place.
When Lindsay arrives to meet me at the Loews Hotel in Hollywood, it's clear she's definitely not under white-person mind-control — but regardless, it's clear very quickly that we're probably not going to have a "white guys, amirite?" bonding moment.

She bounces in, her black mermaid hair loose beneath a Yankees cap, dressed in perfect Los Angeles athleisure: slouchy off-the-shoulder sweatshirt, cropped workout pants, Nike sneakers. I was half-expecting her to show up in Bachelorette fatigues — full red lipstick, shimmering eye shadow, and some sort of sequined gown — but the unofficial L.A. uniform of SoulCycle and Sugarfish feels equally appropriate.

Shortly after hugging me hello ("I'm a hugger now!"), she settles down on a couch and turns to the producer sitting next to her to ask if she can "spill the tea."
The producer nods.
"I am very happy. I am very much so in love. And I am very much so engaged!" She raises her arms over her head, squeal-screams, and I squeal-scream in return. Hours later, she will spill this same tea to People, among others, a revelation that is calculated to tantalize viewers just enough to keep them tuning in to see who the season's matrimonial-minded winner is.
"l've wanted this for such a long time! I was hopeful this could happen on this journey, and the fact that it happened — I'm just over the moon," she laughs and sighs and shakes her head in disbelief and flashes a gap-toothed grin. God, she is such a good Bachelorette.
Melanin or no, Lindsay embodies the show's Platonic Ideal, which has somehow over the past 15 years of this strange adult prom become a stand-in for a certain American feminine ideal: She's fit, with the bouncy hair and tiny waist of every other Bachelorette. She's from a telegenic family in an affluent Dallas suburb. She loves sports, loves her dog Copper, and even loves John Mayer. (She has not, it bears noting, seen Get Out.) It's radical in its own way. Not just that she, as a black woman, can have the confidence to assert herself as a romantic prize to 31 men of all different colors, but that she can be just as bland and ABC-approved as any white Bachelorette.
The morning we meet for our one-on-one date, she's just two days out from the show wrapping and a few days away from getting sucked into the Kimmel, People, Entertainment Tonight press vortex in advance of the show's premiere. Lindsay understands the "Bachelorette" title is a big deal, though maybe not as big a deal to her as it is to ABC, which has taken the opportunity to pat itself vigorously on the back for the historic moment and its "groundbreaking casting."
Meanwhile, as the barrier-breaker at the center of what's previously been one of the whitest reality television programs known to primetime, Lindsay might even more fastidiously bland and media-trained than her many bland, media-trained predecessors. The old rule of predominantly white workplaces and Barack Obama seems like it applies to reality TV, too: the first black Bachelorette has to be "twice as good" to succeed. And so, in addition to embracing the franchise fantasy of everlasting true love, she also has to embrace the fantasy that America (at least in the Bachelor mansion) is post-racial. Even her name — Rachel Lindsay — is an ethnicity-free country club amalgam, or the beginning of the sorority roll call.

"It didn't intimidate me. I love a challenge," Lindsay says. "I do. For me, coming in, I never thought I would become the Bachelorette or go this far, but it wasn't because I'm a black woman — it's because I didn't think I could open myself up to it."
Lindsay might be too on-message to admit it, but her selection was a surprise to any fan of the franchise who had ever assumed there was no chance someone who wasn't white (well, tan) would go far on the show. After a combined 34 seasons of The Bachelor and Bachelorette, there have been something like 40 black contestants — and those contestants have rarely made it past the first two weeks of the competition, generally garnering perhaps a minute of airtime in the process. The lack of racial diversity has been the object of regular (and increasing) criticism for the franchise, which has traditionally responded with a combination of silence, denial, and a ratings-based, "if it ain't broke, don't fix it" attitude.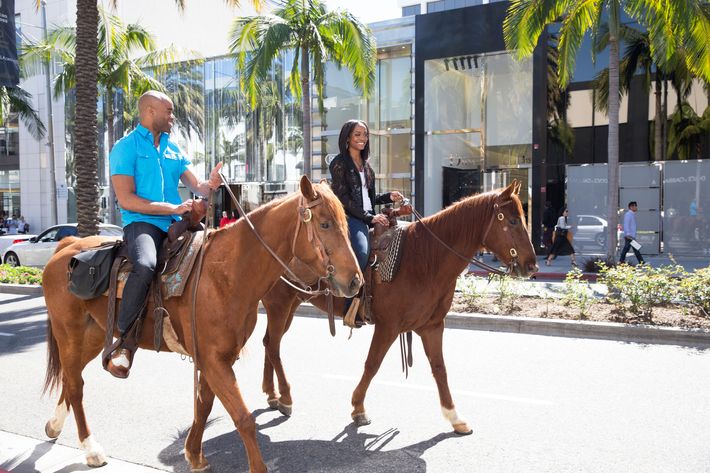 Fans who had previously hoped contestants like Jubilee Sharpe or Caila Quinn might finally end the stream of mind-numbing homogeny were so jaded by the time Lindsay popped out of the Bachelor limo in a sparkly red gown that most expected her to be gone by the end of the episode. When she won the "First Impression" rose (given to the cast member who makes the best showing in the premiere), I still thought she'd be gone by week five. When she made it to "Hometowns" (the episode around week eight, in which the Bachelor or Bachelorette visits the final four contestants at home with their families), I wanted to hold hands and sing "We Shall Overcome" in the middle of my Bachelor viewing party. She'd had just enough time to develop the requisite real genuine "Feelings" for Bachelor Nick Viall before he dumped her. By that time, she'd emerged as a fan favorite.
I'm happy to report that the reason Lindsay is everybody's favorite Bachelorette really doesn't have much to do with race. I think it's more to do with an overwhelmingly reassuring feeling that she seems like she shouldn't be on the show at all. In fact, according to her People-approved origin story, co-workers submitted her application; she claims she never would have signed up on her own. She's high-achieving, older (the average contestant is 27), and therefore broadcasts a maturity and self-awareness that's more fun to watch then the usual stale histrionics. (Though she assures me she does cry this season. A lot.) In a sea of self-described "dolphin trainers" and "dog lovers," Lindsay is an attorney at a premier litigation firm in Dallas. The audience has responded to her confidence, her intelligence, her charm, and her enviably non-cheesy wardrobe.
"I do think I can change the perception of the Bachelorette. And not just because of my race. I'm older. I might be the oldest," Lindsay says. "I turned 32 this season! And, you know, the profession that I have — I think a lot of women will be able to relate to me and rally behind me because there are a lot of us out there who have dedicated so much time to our career but are lacking on the personal side."
The diversity of Lindsay's suitors might be this season's most significant change — there are a record-breaking 14 suitors of color (11 of whom are black). Still, by and large, they remain off-brand Abercrombie & Fitch models. Most still look like they bathe in Jägermeister. Chris Harrison has already called it "the most dramatic season of The Bachelorette," the same as he does every season. The ratings are still bulletproof (6 million viewers last week). So far, it's business as usual.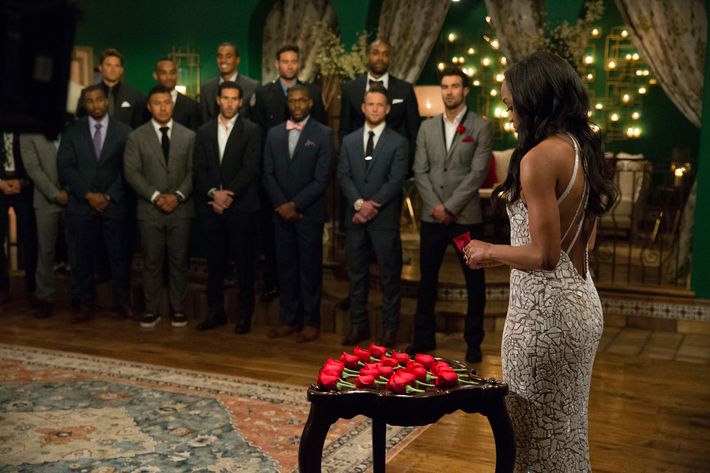 "I think a lot of people will tune in out of sheer curiosity," she tells me, as she sets a Starbucks Ethos water bottle down on the nondescript block of wood the hotel considers a coffee table. "What is she going to be like, is this going to be a different season of The Bachelorette? I honestly don't think it will be. I'm not being, like, so pro-black; I'm just me, and I am a black woman, and I am representing myself in that regard."
Which is not to say she necessarily shies away from conversations about race. Back in Nick's season, when he visited her mother and sister at their Dallas home, her family asked if he'd ever dated a black woman before and whether he was open to the challenges of an interracial relationship. (He eloquently, yet sweatily, said that he was — because what else could he say?) Lindsay has similar conversations with her final contestants this season, "towards the end, when things got more serious." These talks were uniformly positive, according to Lindsay: "They went really well! Race wasn't an issue [with] any man, whether I had talked to someone who hadn't dated a black woman or who had. They were here for me and they weren't bothered by the fact that I was a different race. I'm telling you, I have a great group of guys."
This assessment feels slightly different from the most recent conversations about race that are popping up around this season of The Bachelorette. By the third episode, which aired last week, the show's covert racist had already emerged, with the discovery that contestant Lee Garrett had a history of charming tweets in which he did things like compare the NAACP to the KKK. ("We didn't know about the offensive tweets from Lee's account," responded host Chris Harrison on Twitter; ABC and Lindsay declined to comment.)
And when Lindsay was announced as Bachelorette, producers made the unprecedented move of introducing her to four of her suitors in advance: two black guys and two white guys. Dean, one of the white suitors, decided his best option for an opening line was, "I'm ready to go black, and I'm never going to go back."
Even that Lindsay is willing to spin. "That's confidence. I like a confident man," Lindsay tells me. "I was like, good to know you're ready to go black. Now I know you're here for the right reasons."
Here was a moment, maybe the first moment, in which I want to argue with her. This seems like something that shouldn't have gotten a pass, no matter how apolitical you choose to be (or are asked to be by television executives). But, I wonder, am I being unfair by expecting Lindsay to fulfill my fantasies of Bachelorette representation? Aren't I part of the problem? If she chooses a white guy, fine! If she makes out with the "Waboom" bro, I mean, her choice, but okay! The only thing Lindsay owes anyone is the season of televised dramatic "romance" she's contractually obligated to provide.
"Maybe I should have come out of the limo with an afro for Nick," she jokes. "But at this age, I don't know how to be anything but myself. Whether you say I'm too black, I'm not black enough, this is me. I hope people realize that my journey to love doesn't have to be any different just because my skin is. I hope that they are open to watching me find love."
As if on a producer's cue, "Stay With Me," by Sam Smith, swells over the hotel lobby speakers.
*A version of this article appears in the June 12, 2017, issue of New York Magazine.