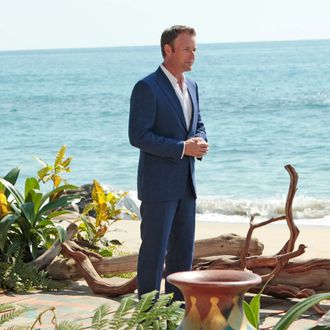 Host Chris Harrison on Bachelor in Paradise.
Photo: Rick Rowell/ABC
As more information trickles in about the alleged misconduct involving a potentially nonconsensual sexual encounter between two contestants on the set of Bachelor in Paradise, the show's future seems increasingly in jeopardy. After initially breaking the news Sunday, it was only a matter of time until Steve Carbone, the eponymous creator of infamous Bachelor spoiler site Reality Steve, weighed in with his thoughts, and he spells doom for the future of BiP.
"I can tell you right now that this show is canceled, and it's not happening, at least this summer," Carbone speculated on the Ringer's Bachelorette Party podcast with host Juliet Litman. "If you were to ask me my opinion right now on June 12 what I thought the outcome of all this would be, my guess is Bachelor in Paradise is done." Litman also pointed out that since the Mexico Tourism Board pays for much of the show's costs, it's unlikely they'd want to be associated with the show after the scandal. As for the future of Bachelor spinoffs, Carbone said he thinks a tweaked summer variant of The Bachelor could be in play for next year:
"If they do come back with a summer show next year, they will just tweak things, change the format, change the title. Either you go back to Bachelor Pad, or you think of a new name and new concept. It's always going to be about dating and competitions and challenges and stuff like that. They're not going to sway too far from that. But I think the Bachelor in Paradise title is done. I don't think we're ever going to see that again."
While the scandal will likely affect the reputation of the entire Bachelor universe, the franchise has never been more popular, with plans in the works for a winter spinoff dubbed The Bachelor Winter Games.