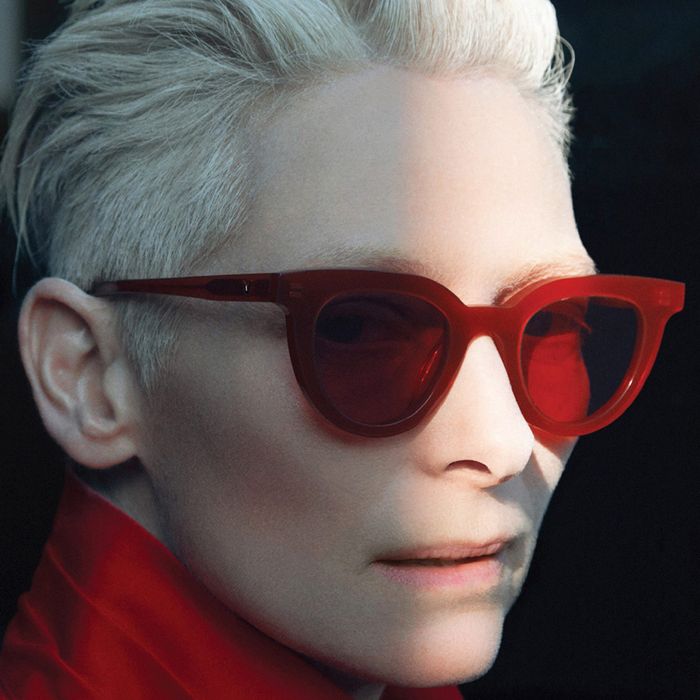 Tilda Swinton for Gentle Monster by Erik Madigan Heck.
Not every trend trickles down from the runway to your local mall but those that do tend to be everywhere. They wiggle their way into your brain until you start obsessively hunting for the perfect one. Now Trending is our weekly roundup of the thing that's been haunting you.

There are very few things that Tilda Swinton wears that the average person could rationally incorporate into her own outfits. Red sunglasses however, happen to be one of the few pieces you should consider. Take a look at this Gentle Monster ad — the slick shades are striking against her skin and look especially stylish against the matching top. And it can work the same magic on everyone, even if you're not into monochromatic dressing. A pair of cherry-red sunglasses can spice up a pair of jeans and a white T-shirt or transform a simple black dress and heels into a chic, powerful look worthy of any Phoebe Philo–lover. Scroll below to shop our favorites.
Want something playful? These mirrored shades have a fun, surfer vibe.
For those who prefer the classic Wayfarer style, a red pair looks just as good on any face as a black style.
Original Price: $156
Don't want to spend a lot but still looking for something with drama? These are less than $50 and have an exaggerated cat-eye shape.
This Alice + Olivia pair has been a hit at Shopbop and it's nearly sold out. If you missed the chance to get them, they're also available here as well.
If you're down to spend a bit more, this Ferragamo pair frames the face beautifully and costs just a hair under $250.
Tilda looks great in these and so will you.
Round sunglasses are a bit quirky and very social-media friendly, especially when you factor in that they're red and sparkly.
These are sporty, futuristic and looked super cool on the runway worn with a printed minidress.
Here's another trend in sunglasses: the brow bars that add a masculine edge to any frame.
Because they're by Gucci, they're sparkly and very oversized for that quirky granny effect.
Photo: nicolas louis
These are by far the most expensive of the bunch but they also have a unique design — the retro-inspired frames feature two different colored lenses to give the illusion of cutouts at the edges of the eyes.
If you buy something through our links, New York may earn an affiliate commission.