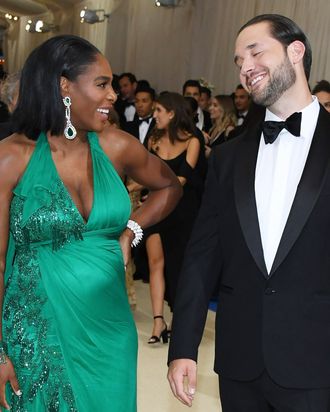 Maybe Alexis Ohanian spent the Met Ball regaling Serena Williams with dad jokes.
Photo: 2017 Getty Images
This Sunday is Father's Day, which means dads across the country will get 24 hours to bask in praise. Alexis Ohanian — fiancé of Serena Williams, with whom he's expecting a baby this fall — is looking forward to the day when he'll enjoy some of that admiration. But for now, he's embarking on what his PR team is calling a "personal parenting prep journey." Lucky for Ohanian, who co-founded Reddit in 2005, he says all the parenting prep he needs can be found right on his own site.
"The most obvious thing is to seek out advice," he tells me over the phone. "That's a pretty simple thing that I think most people do. What's been extra illuminating is subscribing to a number of these communities on Reddit to get advice, guidance, and feedback from parents — none of whom I actually know."
When asked how his site compares to parent-specific forums like BabyCenter and What to Expect, where this kind of anonymity is both part of the appeal and the revulsion, Ohanian informs me Reddit is much bigger, with 300 million monthly active users. As someone familiar with that kind of volume, what can the co-founder of a major internet platform tell us about finding the good bits in a mound of horror? His answer is, not surprisingly, Reddit-focused: "Something a parent can do is sort through posts within these communities — to see which posts have the most up-votes of all time." There's a lot on Reddit, he says, that a dad-to-be like him can "harvest as a casual lurker."
When I press him to find out what, specifically, he's gained from his lurking, I discover that he's been thinking a lot about linens. By combing the site he co-founded when he was 22, Ohanian learned some parents "layer the crib mattress so when that first layer is ruined, you just pull the sheet off and have another totally clean padded sheet underneath." Thinking of the extremely fitted nature of bassinet sheets, I express skepticism and start to momsplain about sleep safety. Ohanian cuts in: This hack isn't for bassinet sheets. I concede that crib sheets are less fitted, and file this tip away for potty training.
Ohanian also plans to introduce his two dogs to the baby via a blanket drenched in his newborn's scent — a very common pet-baby integration technique. But his next "dad hack" is one I'd never heard before. He describes how expecting dads can "sleep with a blanket for a month before and really get their funk on it and then bring it to the hospital. So the blanket can be a thing that the baby gets draped in while the baby and mom are having important skin-to-skin contact. Throwing your scent on that blanket is a way for the dad to get in there and be a part of it as well. I will definitely be doing that."
Does he have the blanket picked out? He laughs: "The question is just, which one? There are a lot of blankets around the house." He pauses, perhaps thinking of his fiancée's well-known love for a certain food, expressed memorably in an Instagram about her engagement ring. "I think it'll be the taco one, which will surprise no one."
On the subject of social media, I want to ask Ohanian about a recent advice-seeking tweet that began "Hey parents."
Boy, does he have an answer: "That's one of the things I'm trying to suss out. There are a number of good threads on Reddit about it, and I figured, let me broaden my sample a bit because I know there's probably a few extreme technologists who follow me on Twitter who could tell me about clever start-ups that are working on it. Most of the conversations I've seen have led me to believe that as long as you're willing to put in the work, it's a pretty solid option, and it's just a matter of building it into the workflow."
In short: This is how Alexis Ohanian talks about considering homemade baby food.
Though he uses tech-talk to describe making a substance babies throw on the ground, Alexis Ohanian seems to think about impending parenthood like any other parent-to-be: with a mixture of excitement, awe, endearing naïveté, and self-awareness about what he doesn't know. In an immensely relatable reveal, he tells me both he and his fiancée use the What to Expect app to track growth and development — just like every new-ish parent who caved to genuine, uncool feelings and downloaded the clunky, cringe-worthy app during pregnancy. Perhaps Ohanian's upcoming dad status will offer future parents-to-be a better alternative: "We need to build that feature into Reddit," he muses.
At the beginning of our conversation, Ohanian mentioned dad jokes; the subreddit of the same name has 352,000 subscribers, and he feels that "it's never too early to start." He delivers on this promise when I ask him what he's looking forward to most about being a dad: "The lack of sleep, hah! … No." But he quickly shifts to a more serious, earnest tone: "What am I looking forward to? I'm looking forward to this being my greatest creation." He's immensely proud of his career achievements, he says, "but this is everything, this is family."
Before hanging up, Ohanian demonstrates there's one thing he definitely knows about parents: They love being asked for advice. "Sleep training!" I tell him, babbling about how greatly my family has benefited from having a young child who regularly sleeps 11.5 hours a night. "Now you're just bragging," he says, not incorrectly. He notes my "strong" endorsement of sleep training without offering any hint about what he and his World Champion fiancée think about the controversial process. Spoken like a veteran of the parenting internet already.
This post has been updated to show Alexis Ohanian is not the executive chairman, though he is on the board.