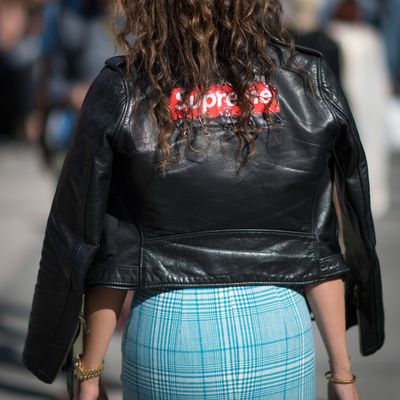 A retirement plan.
Photo: Timur Emek/Getty Images
Hypebeasts and 13-year-olds waiting hours for Supreme launches may have a point after all — new data from Wealthsimple, an online investment tool, claims that reselling Supreme can turn you into a millionaire. It'll take 35 years, based on Wealthsimple's "conservative" estimate, but you'll get there.
Supreme, the skating brand no longer exclusive to skaters, is one of fashion's most recognizable and successful labels — and biggest trolls. It sold branded bricks for £28 (then $36) and red Supreme MetroCards for $5.50. Before you laugh, they both resold for over $1,000.
The massive return on investment is due to its legendary scarcity and block logo. On Thursdays at the original store in New York (there are only six stores worldwide), people will wait for hours to get the new product. Lawrence Schlossman, director at Grailed, told Wealthsimple, "It's hard to really put into words how much bigger the demand and want and audience is for Supreme products versus the amount of Supreme that exists in the world. Proportionally speaking, I can't think of another business that has been so successful employing scarcity on purpose."
Step one to becoming a millionaire: getting your hands on the product. Step two: know which pieces to buy. Wealthsimple says to look for the block logo (just saying "Supreme" won't do) or a collaboration. A Supreme x Jeff Koons skateboard retailed at $180 and resold for $16,000. For the smart, diversified Supreme investor, know that clothes outperform objects, sell quickly, and remember that the world you're entering is one ruled by teens (mostly teenaged boys, at that) so there will be surprises. Or, as Wealthsimple more democratically puts it, "the world is not fully predictable."
The final step is to invest your profits instead of blowing them on whatever the youths are also buying these days (fidget spinners? I don't know). If you sell a quarter of the items Supreme produces a year (not as scary of a figure as most brands — it's about 149 total) with an average $67 saved per item, then invest it in a firm (like — as Wealthsimple conveniently points out — Wealthsimple), in 35 years you'll have netted $1 million on Supreme alone. Because if there's one thing teens love, it's an efficient investment portfolio and thinking about the next 35 years.