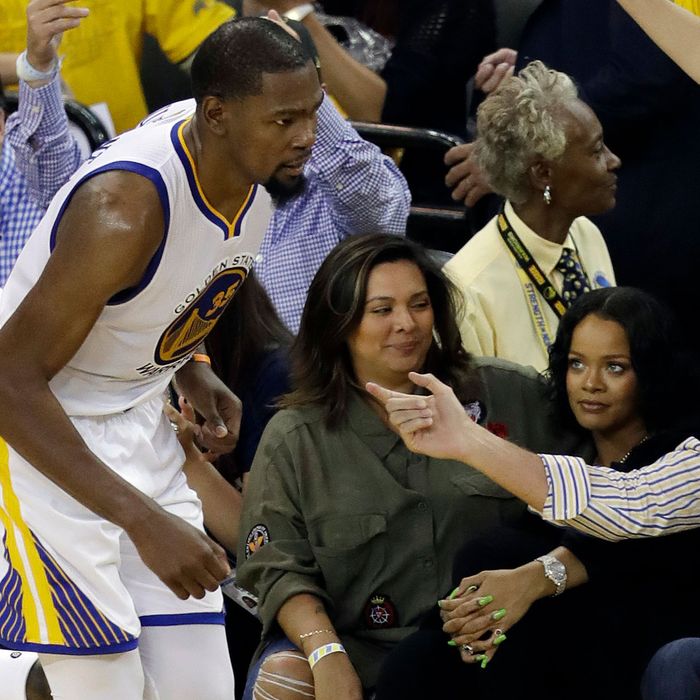 Kevin Durant and Rihanna.
Photo: Marcio Jose Sanchez/AP
During Game 1 of the NBA finals on Thursday night, the Golden State Warriors beat the Cleveland Cavaliers 113-91. More importantly, Rihanna was sitting courtside — and she heckled Warriors player Kevin Durant while he was shooting a free throw.
No matter where she is, Rihanna is always having a better time than the rest of us. That was certainly the case during Game 1, when the Harvard Humanitarian of the Year and noted LeBron James fan strolled into the game a few minutes late and was later seen bowing to (king) James and then dabbing in the crowd. Rihanna also yelled "BRICK" as Durant made a shot, and the player reportedly stared her down afterwards.
As it does, social media had a field day with Durant's reaction, dubbing the pair the newest (and fiercest) rivalry in the NBA.
But even though the team she was rooting for lost, Rihanna didn't appear deterred after the game, telling people, "It doesn't matter bitch, the king is still the king."
For what it's worth, Durant refused to address Rihanna's heckling in an interview after the show. When a reporter asked about his interaction with Rihanna after the game, Durant merely rolled his eyes and said, "I don't even remember that."
But as it turns out, back in 2011, Durant tweeted that if he could marry anyone, it'd be Rihanna, so maybe he's not as annoyed by her heckling as we thought …