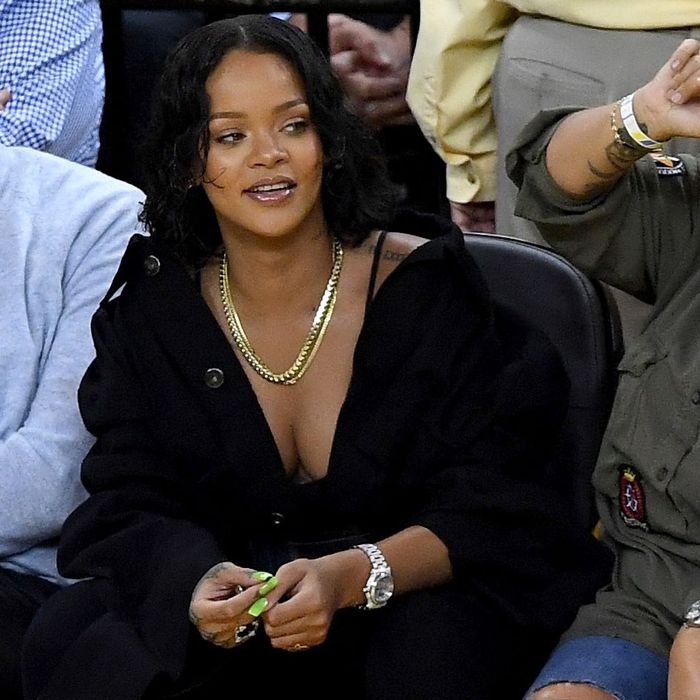 Rihanna.
Photo: 2017 Getty Images
Last week, Barstool Sports published an ill-conceived post entitled "Is Rihanna Going to Make Being Fat the Hot New Trend?" in which blogger Chris "Spags" Spagnuolo accused the singer of "enjoying that good room service a bit too long." Now, Rihanna, who is always having a better time than the rest of us, has responded to the fat-shaming the most effective way imaginable: with a meme of Gucci Mane.
"If you can't handle me at my 2007 Gucci Mane, you don't deserve me at my 2017 Gucci Mane," the meme reads, with split images of the rapper at different sizes. Noted basketball heckler Rihanna added a tear emoji in her caption, and posted the image on Instagram on Monday, just days after Spags's offensive post.
After a wave of backlash, Barstool Sports deleted the post and suspended Spags from the site indefinitely. However, in a post explaining the suspension, Barstool Sports founder Dave Portnoy said he was actually just doing it because the post wasn't funny enough, not because it was offensive. "If you're gonna blog about Rihanna gaining weight you better be funny as fuck and you better make it bullet proof," Portnoy wrote. He added that if a different blogger on the site had written the post, he'd "defend it to the death" and noted that he didn't "think the blog was as bad as many are making it out to be."
Is there also a Gucci Mane meme to shut down bad non-apologies?