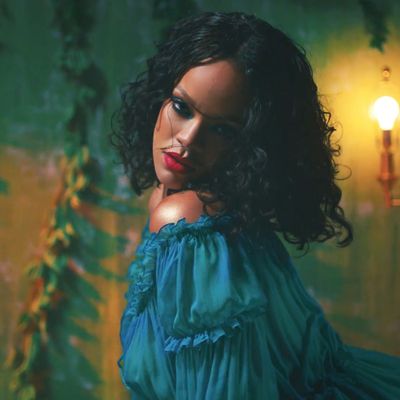 Rihanna in "Wild Thoughts."
Photo: Courtesy of YouTube/DJKhaledVEVO
Very early this morning, DJ Khaled released the video for "Wild Thoughts," which heavily samples Santana's "Maria Maria" and is surely a contender for song of the summer, blah blah blah — I'm sorry but let's talk about Rihanna. Has she ever looked better? (Trick question: Rihanna, by definition, just gets better and better.)
Her makeup, applied by longtime makeup artist Mylah Morales, is rumored to be Rihanna's own from her upcoming line, Fenty Beauty. Since the brand won't land in stores until the fall, we're going to have to consider other ways to approximate her look now.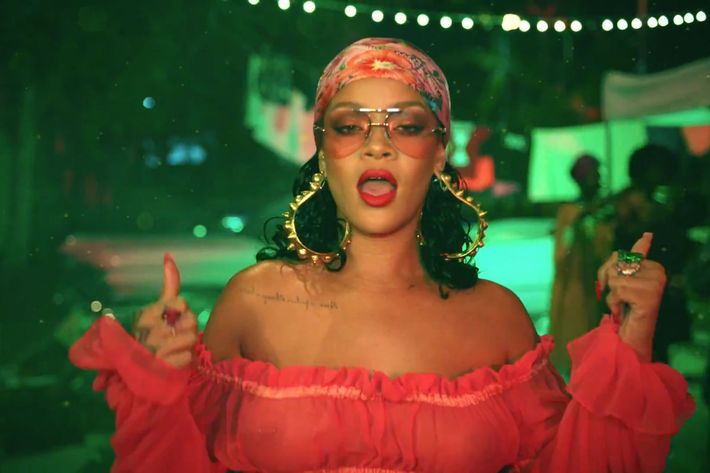 Stila's classic blue-red, Fiery, is a perfect substitute for the matte lip in the video. Alternatively, Revlon's Matte Lip Color in Romance is a cheaper option.
Want her blue eyeshadow? Well, that's easier than you think. Just swipe Marc Jacobs' Twinkle Pop Stick in Shoshanna on your lids (the shade is uncannily similar to Rihanna's teal in the video) and make sure to line your eyes with a black pencil liner like Dior's non-budget eyeliner in black to add a bit of definition.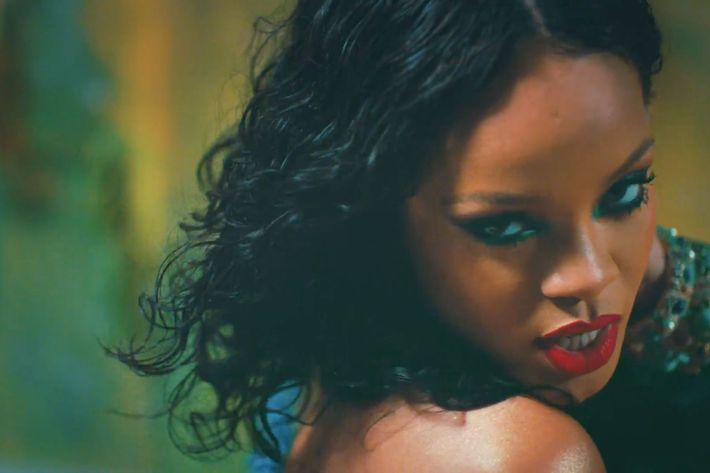 Rihanna's go-to hairstylist, Yusef Williams, was on set to whip her curls into shape. He applied a few pieces of extensions — "I used the best quality hair where the curls are super full from the track all the way to the bottom," he told the Cut — and blended the extensions with Rihanna's own hair using Miss Jessie's Jelly Soft Curls.
To make her hair appear wet, Williams first sprayed it with water and then smoothed over Biosilk's Silk Therapy. He waited until the curls were nearly dry before finger-combing Oribe's Curl Control cream: "It stays soft, but it doesn't break away from the curls and gives it a nice hold." Then he let the pieces fall naturally into place.
And there you have it. Of course, if you truly want to channel Rihanna, you'll need the requisite wine glass, too.