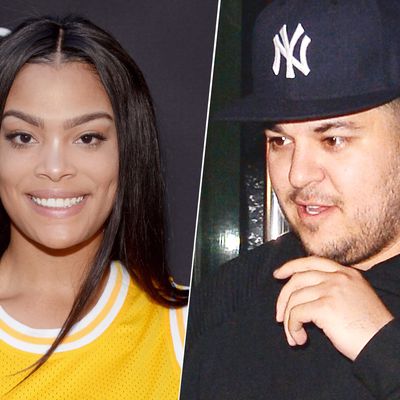 Mehgan James and Rob Kardashian.
Photo: Getty Images
On Wednesday, multiple outlets reported that Rob Kardashian was dating a former official member of the Bad Girls Club, Mehgan James. Sources claimed the Kardashian sisters were concerned for Rob in general, and not happy about this new, potentially dramatic relationship in particular. So last night, Rob crafted a clever tweet to assure his sisters and the world that he's never even heard of, uh, what's her name?
James retweeted Kardashian's missive, seemingly co-signing the denial. Over the last 12 hours, however, she appears to have grown more offended by Kardashian's characterization of her as "Megan something."
James also posted an Instagram suggesting that the news of her alleged relationship with Kardashian may have been leaked by the Kardashians themselves.
"I do not control the media , BUT we all know who has the media on their payroll," she wrote. "Sooo … don't point any fingers this way! I'm just 'Megan something.' that most of you 'never heard of.'"
The Kardashian sisters have yet to officially comment on this drama.