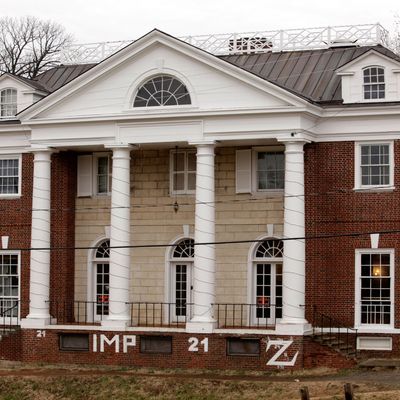 Phi Kappa Psi fraternity settled with Rolling Stone on Tuesday.
Photo: Jay Paul/Getty Images
After settling with University of Virginia associate dean of students Nicole Eramo for an undisclosed amount in April, Rolling Stone magazine has also reached a settlement with the university's chapter of Phi Kappa Psi fraternity over its retracted 2014 story, "A Rape on Campus." According to the Associated Press, the magazine will shell out $1.65 million to the fraternity — a small fraction of the $25 million the chapter sought.
In a statement, the fraternity said it was "pleased to be able to close the book on that trying ordeal and its aftermath." It will reportedly donate a portion of the settlement to groups that provide sexual-assault awareness and prevention training.
The fraternity's lawsuit was the last loose thread in a years-long saga around the story, which gave an account from an unnamed woman named "Jackie" who told reporter Sabrina Erdely she'd been gang-raped at Phi Kappa Psi fraternity house. But after the story was published, holes began to appear in Jackie's account, and her story was eventually debunked.
In its lawsuit, the fraternity accused Rolling Stone of ignoring red flags about Jackie's credibility and failing to corroborate her account with others involved. "Rolling Stone and Erdely had an agenda, and they were recklessly oblivious to the harm they would cause innocent victims in their ruthless pursuit of that agenda," read the lawsuit. Rolling Stone declined to comment on the settlement.