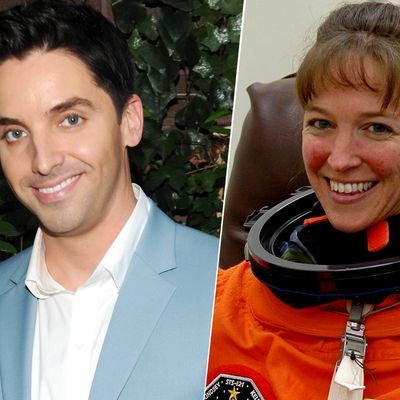 Light spoilers for Rough Night below.
Before seeing Rough Night, I had heard Paul Downs (Broad City's Trey, who also co-wrote the film) say that he spends much of the movie wearing an adult diaper. But when I found out why, I was truly and deeply delighted. Turns out, this gag is in homage to one of the greatest tabloid figures in recent memory: astronaut Lisa Nowak, who, back in 2007, drove 900 miles wearing diapers (a since-contested detail, but obviously the part of the story that has stuck) to track down and attack the woman who had been sleeping with her ex-lover. Truly deranged? Yes. An aspirational paragon of pettiness for all women (and, we guess, men) who have ever gone above and beyond for love? Absolutely.
I don't want to give away too much, but the gist is this: When chaos strikes at Jess's (Scarlett Johansson) bachelorette party, her fiancé, Peter (Downs), fears he might be about to lose the love of his life. Peter needs a way to get from Charleston to Miami as fast as possible and win her back. But how to get there in time? As one of his friends informs him, he has but one choice: He has to pull a "sad astronaut." (I've never heard Nowak described as "sad astronaut" before this film, but it deserves a lasting place in the pantheon of great ripped-from-the-headlines nicknames along with "Hot Felon" and "Octomom.") And so Peter loads up on adult diapers, Red Bull, and some expired Russian Adderall (and, okay, also a little bit of meth), and spends the rest of the film driving maniacally across the country with the clench-jawed single-mindedness of a grown man high on amphetamines voluntarily pissing himself in the driver's seat of his car.
While Nowak's epic cross-country voyage spawned plenty of jokes back in the mid-aughts, I'm glad to see that her legacy continues to live on. It's one of the film's funniest gags and a fitting tribute to one of the country's all-time great petty heroines. Now, how about a biopic?