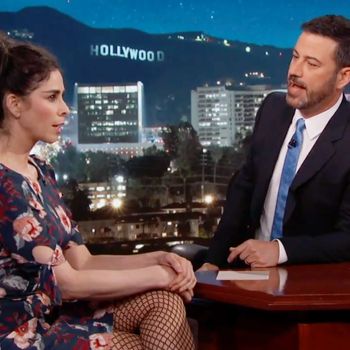 Photo: Courtesy of Jimmy Kimmel Live
Of all the awkward ways to catch up with an ex, sitting down together for a televised interview feels like a particularly inspired form of torture. But for Jimmy Kimmel and Sarah Silverman — who have spent a lot of time talking (and singing) about their relationship on live TV — it actually seems like a pretty fun time.
Silverman stopped by Kimmel's show last night, where the exes chatted about her new stand-up special, her recent health scare, and her "on and off" relationship with boyfriend Michael Sheen, who lives across the pond in England. "We just long for each other and we see each other and we love each other," explained Silverman, to which Kimmel responded with exaggerated concern: "You have a dog, right?"
Aside from some light ribbing, things seem pretty amicable between the pair, who have both found new partners in the wake of their split. "I'm so glad everything worked out [with you]: two kids — four kids! — two since us, so I guess it really is over," Silverman riffed.
"I figured that was the best way to tell you," Kimmel responded.
We just hope Matt Damon is able to find a similar level of closure.