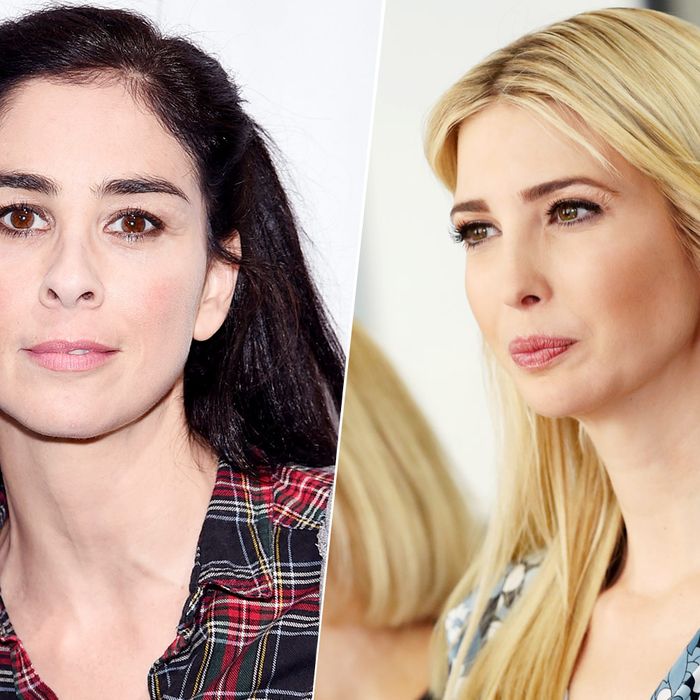 Sarah Silverman DM'd Ivanka Trump on Twitter.
Photo: Getty Images
During the primaries, comedian Sarah Silverman was a die-hard Bernie Sanders supporter (within reason), but even she's prepared to reach across the aisle when it comes to issues she cares about. On a new episode of Chelsea Handler's Netflix show, Chelsea, Silverman revealed that, after the election, she direct-messaged Ivanka Trump on Twitter to encourage her to stand up for women in her dad's administration.
Ivanka came up during a conversation with Planned Parenthood President Cecile Richards, who was on the show to emphasize how besieged the organization is under Trump. "What role does Ivanka play in all this?" Handler asked. Richards, who met with Ivanka shortly after Trump was elected, replied, "I think Ivanka's job now is that she's in charge of all women's issues … but so far the White House has been a total zero on women and women's health."
Handler then asked Silverman if she thought Ivanka had any influence, which is when the story came out. "I actually saw that she follows me on Twitter," Silverman said. "I direct-messaged her and I was like, 'This is your chance. You're writing your life story here!'"
Unsurprisingly, she didn't get a reply. But if this week is any measure, not even Ivanka can keep her dad from trampling all over things like women's access to health care.