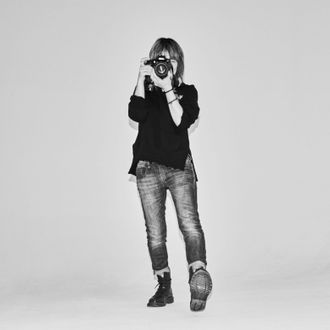 Sarai Mari.
Photo: Sarai Mari
Japanese born, New York–based photographer Sarai Mari was raised in a small mountain town in Japan; a self-proclaimed rebel who couldn't wait to decamp to a more diverse, urban environment. At 18, she left home, arriving soon after in Los Angeles (by way of Tokyo), where she soon got hooked on photography. "The first photo I remember taking was of the Pink Building in Venice Beach," Mari remembers. "That's the picture my school teacher gave me a big compliment on in the class. I was over the moon because I had a zero experience being praised in general before."
It was the start of a trend: After school, Mari was immediately snapped up by a Spanish magazine and relocated to New York to shoot for them. Then, after stints in Tokyo and London, where she worked for the likes of Dazed and Confused and Harper's Bazaar UK, Mari moved with her family back to New York City, where she currently lives and works.
Mari's photography, which she says is deeply indebted to Helmut Newton, is a naked — literally — look at sexuality, gender, and personal identity. Her first book, in fact titled Naked, was a series of female nudes; the follow-up Speak Easy, published by Damiani this year, included male subjects as well (not to mention such names as Janice Dickinson and Clara Paget). [While working on this piece from a diner, Mari's site was blocked by the Wi-Fi network as being "pornographic"; but Mari's photos are anything but exploitative.] Highlights include photos of a woman lying facedown on a bed, legs up, a pineapple perched between her backside and her thigh-high-stockinged legs; an Arbus-eqsue grainy, full-frontal diptych of a young man in a messy East London backyard; and a tattooed young woman perched a barstool with her blonde mermaid hair cascading down to the small of her back.
In the current political milieu, Mari's work has taken on a new importance, blurring preconceived paradigms of gender and sexuality and celebrating humanity in all its forms. "Since I was a child, I have rebelled against these rules and these societal definitions," Mari says. "We all share a desire to be understood."
Below, the photographer discusses inspiration, gender, and her dream dinner date. Read on for the full Q&A.
Tell us a bit about your background:
I am from UNESCO site called Yoshino in Nara, Japan. The place is famous for Sakura-cherry-blossom mountain as a world heritage site. I grew up there 'til I was 18 years old; then I lived in Tokyo, L.A., London. Now I live in Brooklyn.
How did you end up in Brooklyn?
My husband and I came to New York from London with our son for jobs. My husband is a hairstylist with Streeters, and there are more worldwide jobs here in NYC.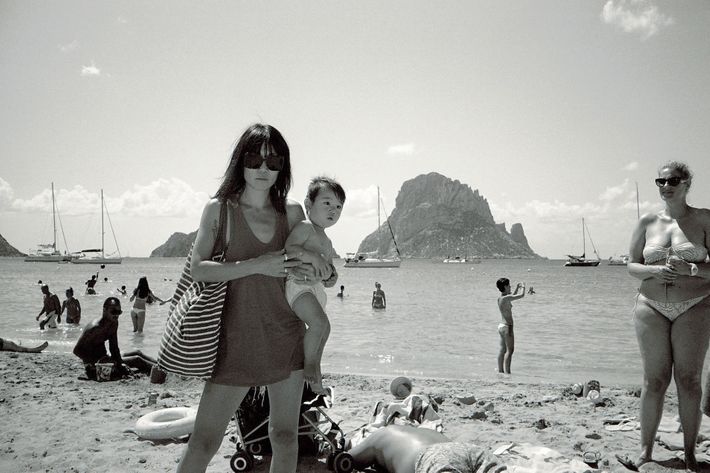 Where in Brooklyn do you live?
We live in Williamsburg. I love East River State Park, which has an amazing view.
Did you always know you wanted to be a photographer?
Yes — I was 100 percent sure I wanted to be a photographer since I was 19 years old. I have never changed my mind!
How did you get your start professionally?
I was hired as a photojournalist after school was over. It was a Spanish magazine and they sent me to New York for two years. After that I went back to Tokyo to start taking pictures of rock stars, then became more of a fashion photographer. Then I moved to London to start shooting for Dazed & Confused and Harper's Bazaar UK.
How would you describe your work in one sentence?
Catching moments — bold, raw expression, a bit unique.
Tell us all about your latest book!
My second book was published by Damiani in March 2017. It's called Speak Easy, and was inspired by the gender roles men and women play within society. By celebrating all definitions of gender and sexuality, the previously defined terms fall away. They lose their meaning; and there is nothing left but the raw expression of the subject in the image. I worked with an art director, Miquel Polidano from Baron & Baron, and was interviewed by Xerxes Cook.
Tell us about some of the images:
The happy pineapple image is with my muse for this book, who is [an] old friend of mine and x-size model. We shot the image in her cute apartment in Brooklyn. There are two different boys in my book; both are my friends in East London and we shot around from time to time. The tattooed girl is such a inspiration person. I met her on the job. She is a metal yoga teacher. She is the inspiration to my world. I am going to shoot her again soon.
How did you get interested in exploring the idea of gender in your work?
We all share a desire to be accepted and approved of. In our radically changing and highly judgmental society, people are often scared of being isolated or left behind. So they conform to fit in. But in adhering to an outside perception of oneself, we are unconsciously denying our true selves.
How has the current political climate in the U.S. affected your work?
There are too many hate crimes. In the news I see the threat posed to immigration now, and it is clear we are still holding onto racism, sexism, homophobia, xenophobia, and more. I wanted to catch a moment beyond those feelings and prejudices. There is nothing to divide men and women and LGBT people — my work and Speak Easy are genderless and timeless. I believe that I published this book at a good time, especially now.
What's your studio like?
My studio is simple with lots of papers around. I have to have a lot of inspired images in prints on the wall: Muhammad Ali with a million bows and arrows in his body from the cover of an old Esquire magazine, and portraits of Tina Turner and Amy Winehouse.
What music are you listening to on repeat?
I listen to '90s music a lot — mostly '90s rock.
Who's your ideal dining companion?
Mr. Photographer Helmut Newton! I have the biggest respect for him of all time, and have been inspired by him quite a lot.
Who would you love to photograph?
Leonardo DiCaprio. Leo is my idol since The Basketball Diaries and Total Eclipse. I need to photograph him before I die.
What career would you have in an alternate universe?
Rock star!
What's your spirit animal and why?
The lion. The lion is king but always lonely — I think it's me …
What inspires you?
Nature, pictures, people, music … I just saw Sleep No More at last and have gotten big inspiration from that night.
How do you stay organized?
I don't use Google calendar, I use a Moleskine — it's far easier.
What's on your reading list?
I am reading a book by Satoru Sayama who used be a real tiger-mask wrestler in Japan. After this book I am going to read UWF.
What handbag are you carrying and what's in it?
I'm carrying a small black backpack from Rag & Bone; inside you will find keys, a pen, turquoise, an iPhone, my wallet, and sunglasses.
What do you never leave home without?
Two bracelets from a famous shrine in my hometown. I wear these as my lucky charm.
What's next?
I am working on group show to join with my second book Speak Easy series this year. And I have started shooting for my third book project to publish in two years' time — it will be published via an independent publisher as a small limited edition.