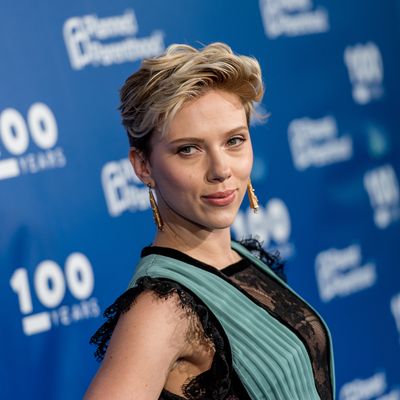 Scarlett Johansson at the Planned Parenthood 100th Anniversary Gala.
Photo: Roy Rochlin/FilmMagic
Although some actors and musicians are squeamish when it comes to discussing controversial topics, Scarlett Johansson has no qualms about sharing her opinions on everything from sexual pleasure to reproductive rights. The Rough Night star told Cosmopolitan that she hopes her activism for Planned Parenthood "normalizes the conversation." She added, "There's no reason we shouldn't be talking about our reproductive rights. They're something we have to fight for and continue to protect. There's nothing icky about talking about that stuff. Of course, it's private and it's your body, but we should take the stigma away."
Of course, there's always the chance that talking honestly about such topics will lose you fans — or social-media followers. However, Johansson isn't too concerned; instead, she hopes she can teach her daughter to speak up as well. "I hope my daughter finds her voice and feels like she can engage anyone in any number of topics. I grew up in an environment that encouraged activism, so I never thought about the effect that it would have on my career at any stage. But I know it's a luxury, and not everybody has that luxury," she explained.
Rough Night hits theaters June 16.