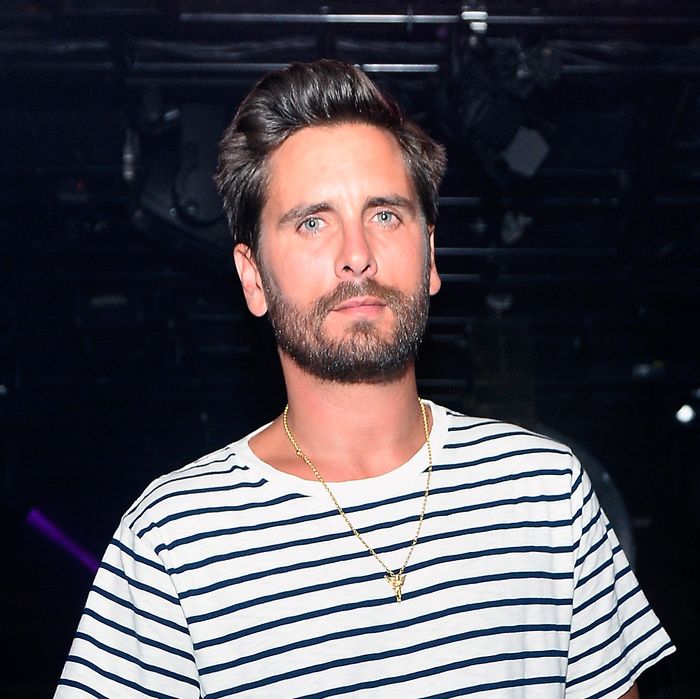 Scott Disick celebrating his 34th birthday.
Photo: Bryan Steffy/WireImage
Scott Disick has been making time with quite a number of young ladies recently, and Friday night was no different. Kourtney Kardashian's ex was seen enjoying a delicious meal at Nobu in Malibu with model Sofia Richie, with whom he canoodled in Cannes last month. Richie tweeted in May, "Just so everyone can get their panties out of their asses, Scott and I are just homies #relax," but are they indeed still merely homies? Richie was seen at LAX Thursday FaceTiming with Disick. Then she FaceTimed her father, who is probably not dancing on the ceiling about his daughter's liaison with the reality-TV dude. (Richie reportedly keeps close tabs on his daughter, although he denies tracking her with GPS.)
Disick, who is 34, went out to dinner and then went clubbing with Bella Thorne in May, which apparently didn't thrill Kourtney too much. "Kourtney thinks that the idea of Scott and Bella dating is embarrassing, particularly because she's so young," a source told People. Thorne is 19, and Richie is 18, so that's just great.