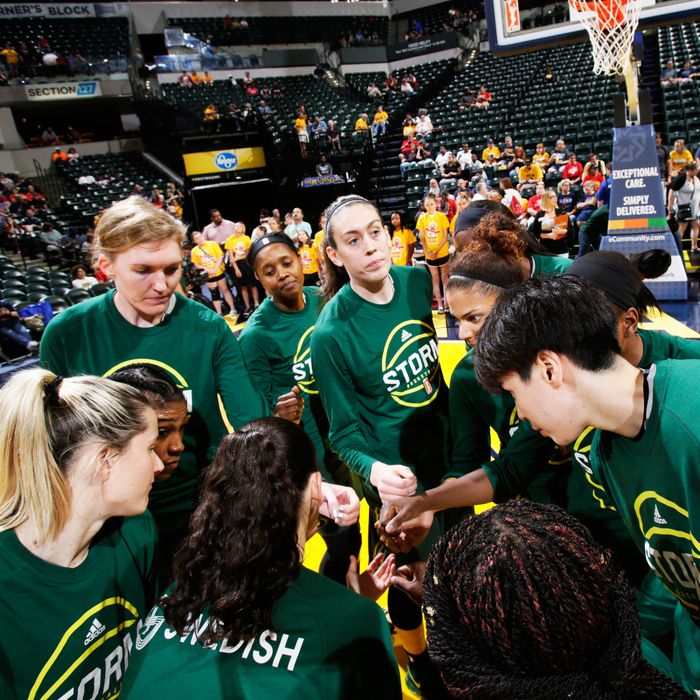 The Seattle Storm.
Photo: Ron Hoskins/NBAE/Getty Images
It's been a momentous couple of years for female athletes taking a hard stance on issues they care about: the U.S. women's hockey team fought for fair pay and won, players in the WNBA showed their support for Black Lives Matter, soccer midfielder Megan Rapinoe followed Colin Kaepernick's example by taking a knee during the national anthem. And this Thursday, WNBA team the Seattle Storm announced a new fundraising partnership with reproductive-health organization Planned Parenthood.
In the New York Times, the Storm's owners explained the thinking behind their decision to stand with Planned Parenthood. "Obviously, we are progressives, so throughout this year we've had conversations about what was going on in the country, and what we might as individuals might do about it," Dawn Trudeau, a co-owner of the Storm told the Times. She added that they did no market research beforehand because they were "pretty confident that our fans would respond in a positive way."
Five dollars from tickets purchased for the July 18 game between the Storm and the Chicago Sky will go to Planned Parenthood, and on the same day, the Storm will hold a rally for the organization at the KeyArena's West Plaza. The executive vice-president of the Planned Parenthood Federation of America, Dawn Laguens, said this is the first partnership the nonprofit has ever had with a sports organization. Hmmm, wonder why.