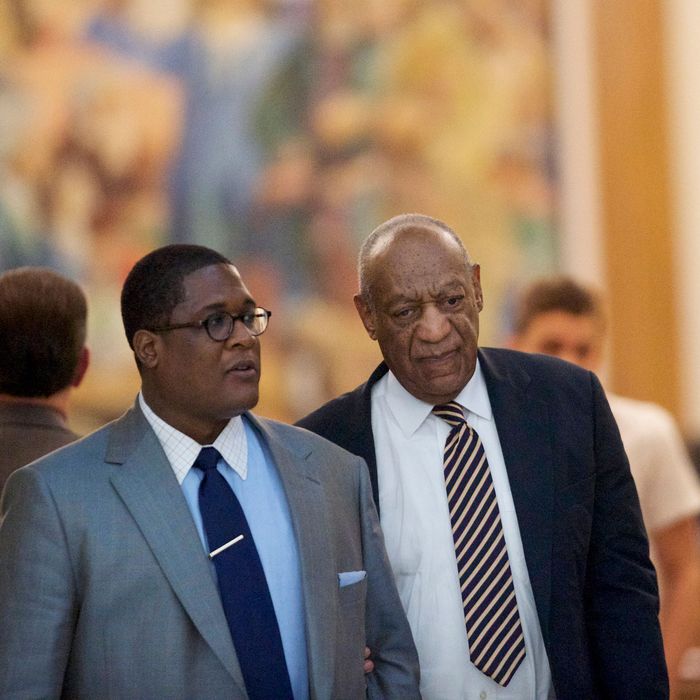 Bill Cosby exits the courtroom on the third day of jury deliberations in his sexual-assault trial at the Montgomery County Courthouse on June 14, 2017. 
Photo: Mark Makela/Getty Images
As the jurors deciding the fate of Bill Cosby enter their fourth day of deliberation Thursday, they're also marking another milestone: It's the 11th day they've been cut off from contact with the outside world.
At the start of the case, the judge presiding over the Cosby sexual-assault trial took the rare step of ruling that jurors would be sequestered for the duration of the trial, to prevent them from being affected by media coverage of the closely watched proceedings. Courts have generally moved away from sequestration during jury deliberation in recent years, and sequestration during the evidence portion of the trial is particularly uncommon.
Being sequestered means staying in a hotel with strict limits on your personal movement, on what you can read and watch, and on your communication with friends and family. The confinement and isolation can take a heavy toll on jurors as a trial drags on, ratcheting up the pressure to reach a verdict, according to experts. "People describe, initially, loneliness, boredom, and discomfort," said Greg Hurley, an analyst with the National Center for State Courts. "That will convert over time for some people to a lot of anxiety, stress, depression, and generally negative feelings … You're removed from your lifestyle: You're not going to have your TV, your couch, your loved ones, your pets," he said.
Sequestration, once common during jury deliberation, has been on the decline for years, mostly because of the high cost of putting up jurors and alternates in a hotel, and paying for food and transportation and supervision. But trial sequestration is still occasionally used in very high-profile cases where jurors need to be shielded from the glare of the media spotlight. In recent years, juries have been sequestered for the Florida trials of Casey Anthony and George Zimmerman and, most famously, for the O.J. Simpson case, in which jurors were sequestered for a record 265 days.
Gayle Barnes, who was part of the jury for the Jerry Sandusky child-abuse trial, which was sequestered during deliberations, said it's particularly painful to not be able to process sometimes-disturbing testimony with your spouse. Her advice to jurors: "Take pictures along of your family, just so you know your family is there with you."
A court will sometimes rent out an entire hotel floor to prevent jurors even from encountering other hotel guests. It can start to feel like a prison, said Thaddeus Hoffmeister, a law professor at the University of Dayton, who studies juries.
"When is the last time you've been locked into a room for a day to work on a single problem and not allowed to leave?" said Andrew Ferguson a law professor and author of Why Jury Duty Matters. "We're just not used to that."
Experts say that psychological effects of sequestration can often take a toll on deliberations, which can quickly get contentious, and jurors don't get to go home at night and take a break from the day's arguments. "You're with these people all the time and some of them you might be disagreeing with and yet you're seeing them for meals and there's no escape," said Nancy Marder, a law professor at Chicago-Kent College of Law. Michael Knox, a juror who was removed from the Simpson trial, alluded to these difficulties when he told reporters that "personality conflicts" on the jury had come up. "The only problems the jury is having is problems any of us would have if they put us all in this house and sequestered us for any length of time," he said.
The pressure of sequestration can mean that jurors sometimes get aggressive, putting heightened pressure on holdouts when a majority has settled on a verdict, said Richard Klein, a law professor at Touro College. Yolanda Crawford, a juror on the O.J. Simpson trial, told the New York Times that the monotony of sequestration may have led to speedy verdict in that case: "I think everybody was eager to come to a conclusion."
Another danger is that sequestration leads to a kind of "groupthink" where jurors stop thinking for themselves because they've spent so much time together, said Hoffmeister. Marcia Clark, the prosecutor in the Simpson trial, warned against this dynamic after the not-guilty verdict in the Casey Anthony trial, in which jurors were sequestered for more than two months.
A good judge will be sensitive to the mood of jurors and try to keep them happy and focused on the trial, maybe by setting up an outing to a movie, Hurley said. During the 22 days that jurors were sequestered in the George Zimmerman murder trial, they went bowling and shopping, got manicures and pedicures, and went to see World War Z and The Lone Ranger. However, those kinds of trips are not likely to happen once the jury has begun deliberating, when the judge will want them to focus on reaching a verdict.
Ferguson said a sequestered jury's expectations can determine how long it takes before they reach their breaking point. Since the evidence portion of the Cosby trial was over sooner than expected, the jurors may still feel pretty content, having girded themselves for a longer ordeal, he said.