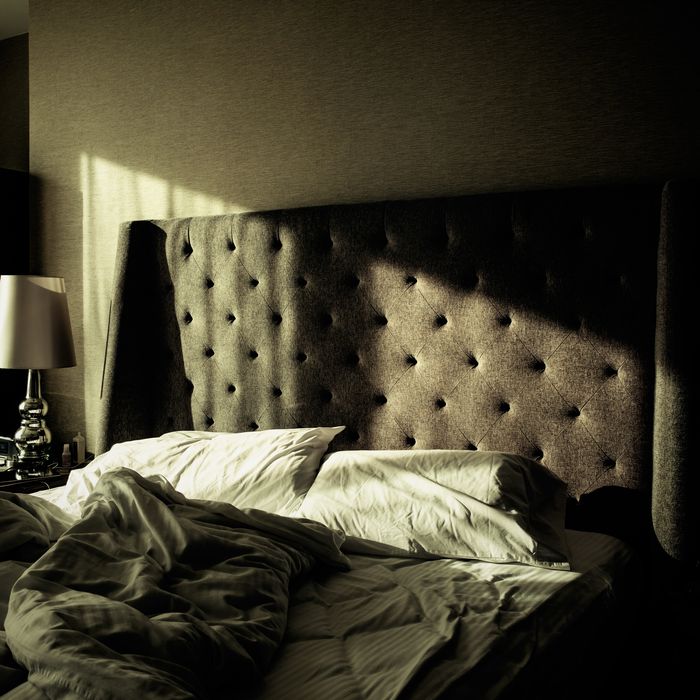 New York's Sex Diaries series asks anonymous city dwellers to record a week in their sex lives — with comic, tragic, often sexy, and always revealing results. This week, a corporate suit at a hotel kink party with his wife: 44, married, New Jersey.
DAY ONE
6:15 a.m. A usual start: Our older kid, the teenager, comes into our room — I guess to make sure we're alive. The noise and shuffling wakes me up; my wife's alarm goes off five minutes later. Typical workday scramble — getting three kids off to high school, middle school, and elementary school. Now I have an hour for my morning prep.
8 a.m. I'm at my desk and about to start checking my SLS (swinglifestyle) account. I hate using the word "swinger" — like some stupid '70s movie with Ron Jeremy — but SLS is a swingers website. My wife, Jax, and I are a sex-positive couple: We exude sex, explore with other couples, and have great sex, always. All while living in the daily vanilla world. This weekend, we're going to a sex party at a hotel.
Noon I grab some grub for lunch. Usually I bring leftovers to save on those $10 lunches but not today. Back on SLS. An email comes in from a couple thinking about attending this weekend's hotel takeover party. Anyway, the email from this couple (local Jersey folk) says that they are pretty good-looking, but after a few messages back and forth, they seem like wannabes. Not that we're professionals — but we have been to a few of these things and know what we like and dislike. This is a case where the husband is 100 percent "in," while the wife needs convincing and booze.
12:30 p.m. I put this wannabe guy on hold, and send a Kik message to a couple we've been messaging for a few months but have never met. So far, nothing explicit — just friendly get-to-know-you stuff with potential swapping when we do meet. Their pics look good, and they're planning to be at the same party this weekend. I ask them to come by our room for a drink.
5 p.m. The family is all at home for what seems like five minutes, then off to practice: dance, gymnastics, baseball, lacrosse; you name it, we do it.
10 p.m. Finally done with the teeth brushing and whining and now we are in bed, my hand on my wife's thigh. I'm back on SLS and sharing some of the more specific weekend plans. I show her the new pics of Kik couple, who live very close to us. They agree to come by our room on Friday to finally meet.
DAY TWO
6:15 a.m. Daily wake-up from oldest kid — he's a very poor sleeper. This morning's routine is especially crappy: crumbs on the kitchen floor, totally full dishwasher.
9:45 a.m. Sitting at work and time for a mental break. I post a Craigslist ad seeking a "bikini-wearing sexy server" for a beach party we're having at our beach house a few weeks from now. This will be with vanilla friends; though one couple attending is a play couple who happen to be our friends in "real" life as well. Anything is possible on Craigslist.
2 p.m. I've been on SLS and Kik all day, sending feeler emails to some folks on the guest list for the hotel-takeover party. The usual check: height, weight, age, pics. Pics are usually neck down — very few post a face pic in their profile. Like us, most users are ultradiscreet. But usually after a few messages back and forth, we agree to "open our pics," meaning show our faces.
9:30 p.m. Lying in bed having a beer and getting frisky because we don't want to go into a sex party fully loaded. Nothing too nuts — just a regular lick-and-bang.
DAY THREE
6 a.m. No kid wake-up today. I am super excited for this weekend and can't sleep, just fantasizing about playing with someone else's tits and licking some pussy that is not my wife's. Of course, she'll be there with me, on the same bed.
9 p.m. Babysitter is at the house and we're off, dressed as superheroes for the party's theme. But the nature of our costumes means we get dressed in the car: She puts on her crotchless panties while I pop a sildenafil (generic low-dose Viagra). Definitely don't want any potential issues, should we get busy.
10 p.m. We check into our room and swap out the lightbulbs with black lights, something we learned from the other parties we've attended. We are staying on the party floor in a suite so we will definitely have visitors coming by to check us out. This stuff is not easy sober — time to start boozing.
10:30 p.m. Through chatting with a couple, we meet a new couple. They are about ten years younger and both attractive. We chat until all our glasses are all empty. I suggest going into the bedroom of our suite for refills.
There, we show off the toys we brought: a glass dildo and a vibrator. Let's call the woman in the couple "Schoolgirl" — she mentions the two-sided dildo they just got and can't wait to try. Her man ("Schoolboy") leaves and comes back with the toy. Now, the girls are on the bed doing some light kissing. I'm getting hard and Schoolboy's pants are off — he has a nice, hard cock. We lube up the two-sided dildo and the ladies start using it. I'm on one side, Schoolboy on the other, while the women stroke both of our cocks. I don't come, but I'm so, so satisfied.
1 a.m. We clean up and head home to relieve the babysitter. Need some rest because we will be back on Saturday.
DAY FOUR
7 a.m. Yay, we slept in — but still, off to practice for one kid. Would love to stay in bed and have sex, but there's too much to do. Still, I'm smiling and giddy after last night. After some more kid stuff and speaking in code, Jax and I plan to get back to the hotel for an afternoon pool party.
3:30 p.m. I tell the kids we're leaving for an errand and drive 15 minutes to the hotel and find the party in full swing out by the pool. We see Schoolgirl and Schoolboy and sit by them to chat; there's no real time for anything else. Now we need to get back home for kiddie dinner.
9 p.m. Another babysitter, and we're back at the hotel and ready for more action. The Kik couple is coming to our room so we can finally meet. Not sure if I'm still interested after last night.
9:15 p.m. The Kik couple shows up. It's just us four — most of the party is in the main room downstairs, where there's a huge mix of people, old, young, all races, nationalities, social statuses. Anyway, the Kik couple is seeming less and less like our type. We all have a drink and head downstairs, then separate.
11 p.m. Back in our suite with about ten other couples. One lady is getting fingered by some guy as she dances with her husband. A new couple shows up and we start chatting. It is dark and boozy and we're really getting along. She has soft skin; I feel her back under her shirt. The room clears out until it's just the four of us. We will call these two Niki and Carlos. They seem more passionate and a bit slower, as opposed to being into heavy banging. Niki is feeling Jax's large tits; we are all getting naked. Soon enough, we are banging our own spouses side by side.
Midnight We're still going. I love this: two hot couples in two nights. Everyone comes, then it's sleep time. The babysitter's staying overnight, so there's no need to rush home.
DAY FIVE
Noon Brunch with the family and extended family. Jax bites into her meal and leans over to whisper that her food hits the spot, just like that double-sided dildo did. I can't wait for bedtime.
9:30 p.m. The kids are down and I'm down on Jax. She comes and then we talk about the last two nights of heavy action.
DAY SIX
10 a.m. I'm at my desk at work and back on SLS, sending the School Couple a message. I'm hoping we can see them again for some double-dildo action.
11:15 a.m. The usual emails start coming in about different swinger clubs and some more exclusive events. I am signed up for many of these email lists. Some are really exclusive. We make the cut most times, but we know that soon enough we'll be aging out.
9 p.m. Jax is still in glow mode from the weekend, but tired too. We head to bed and chat some more about the couples we hooked up with. I'm already planning for the next times, though Jax reminds me that this can't happen every weekend.
DAY SEVEN
7:30 a.m. I'm in the bathroom and looking at some pics I took over the weekend. Just some shots of people and the pool party — and now I'm stroking myself. I keep scrolling through my pics and find some old ones of us and a couple we used to play with. It's nothing crazy, just nipple play, yet I'm coming. After I'm done, I hop in the shower.
10 p.m. It's time to get some rest and think about next weekend. It's set to be very vanilla, but even among vanilla folks, we're always surprised how many times one thing leads to another.

Get Sex Diaries every week.
Want to submit a sex diary? Email sexdiaries@nymag.com and tell us a little about yourself.