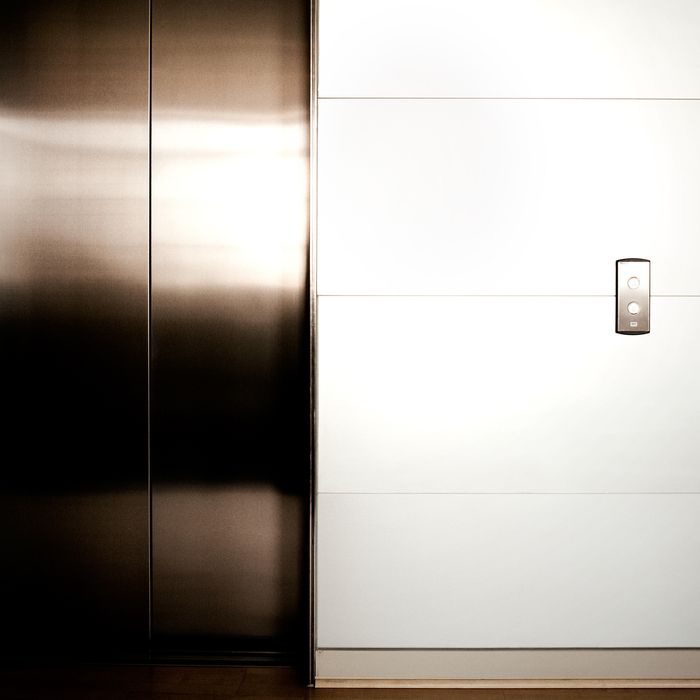 Get Sex Diaries delivered every week.
New York's Sex Diaries series asks anonymous city dwellers to record a week in their sex lives — with comic, tragic, often sexy, and always revealing results. This week, a marketing executive entangled with her newly separated neighbor: 32, straight, single, Tribeca.
DAY ONE
6:50 a.m. I almost always wake up at the same time. No alarm clock. My brain is set to this time, no matter what happens the night before. Even last night, which got a little crazy … I'm not sure what to make of it yet.
8:30 a.m. I get to the office around this time every day. I work in marketing for a big real-estate company and make about $150,000 a year running the department. It's a good job that I enjoy very much because I'm good at it. There aren't too many assholes around; none of my co-workers are friends but none are enemies either.
6 p.m. I work all day. You won't read anything about afternoon fucks or even spin classes. Sorry, it's not sexy — it's just work.
7:30 p.m. I took a yoga class and now I'm sitting on my couch with a glass of wine, finally ready to think about last night. Here goes …
7:31 p.m. I am pretty sure I'm starting an affair with my neighbor. We'll call him Billy. He's married to Erin. I don't know them well, but I see them in the elevator a few times a week, and at the bar across the street now and then. I always liked both of them; they seemed happy. Both work in finance and do very well. She's pretty, but Billy is hot as fuck — I've always crushed on him.
Last night, I went to the bar across from our apartment building and Billy was there. We sat next to each other, as friends do. Erin wasn't there, but I just assumed she was in the bathroom. Then Billy said she was at her mom's place on Long Island and that they're separated. I'm divorced and he knows that, so he felt comfortable talking to me about everything. We talked and drank for about four hours. I learned so much new information about him, about Erin, things too personal to give in detail. Generally speaking, they aren't happy together.
On the walk back to our apartments, Billy said how nice talking to me was, and how he was always curious about my life. I think he called me "sexy and mysterious" or something like that, and asked to see my apartment. I said sure. It got real once we were inside. We both wanted each other; it was obvious. But I escorted him out … not before hugging at my door. I could feel his erection. It was a very tight hug. I could have come from that hug alone.
DAY TWO
8:30 a.m. At my desk. The fun part about the Billy thing is that I don't have his phone number and he doesn't have mine. We can't text. We don't Facebook. I like that. It's hot.
6 p.m. Full day at work. Nothing to report because honestly, it's just work all day long!
7:30 p.m. In my building, you can hear when the elevator opens. And I have very good hearing.
8:58 p.m. I hear Billy get off the elevator and walk toward his apartment. The sound alone makes me wet. Honestly, I'm wet, turned on just by knowing he's under the same roof.
10:30 p.m. I rub my clit around and around while thinking about Billy eating me out until I've got nothing left.
DAY THREE
8 a.m. I see my therapist on Wednesday mornings. I've only been seeing this one for a few months. My divorce was about a year ago; I moved into this building right around that time. My ex-husband was a psycho and an asshole: loud and obnoxious and loved to fight … usually not with me, but it was often in front of me. He loved me very much; I'll give him that. He spoiled me with stuff, but I never cared about stuff. I wanted to be with a gentleman. My ex was a big-shot finance guy and classless. Rich and classless, the worst.
After a few years of marriage, I found him completely despicable. I didn't want anything from him in the divorce. No money, nothing. I just wanted it to be done. Now I'm in therapy because I've had no urge to date again since the divorce. I'm only 32 and probably too young to give up on love, but I literally have no desire to be with anyone ever again. Sex, I want and crave. Love? No fucking way.
7:30 p.m. I decide to go to the bar across the street tonight. Yeah, I'd love to flirt with Billy. I'd also love a margarita.
8:30 p.m. And there he is, sitting down right next to me. He says he came last night too, looking for me. I tell him I have some questions. I'm totally straightforward because I have nothing to lose: (1) Are he and Erin seeing other people already? Is the separation that far along? (2) What did he make of the other night?
9 p.m. He says they've agreed to date others, and it's really over. He thinks she's already fucking someone new. Of our night together, he said it was intense and erotic, and he'd like to "hug" more of me. Cute!
10 p.m. I've had three margaritas and the flirting has been really good, crazy good in fact. Yet, I feel the need to call it and tell Billy I'm going home. He takes my hand and tells me not to go. I'm totally on fire for this guy, but I want to process all of this. It's a big deal to start fucking your neighbor.
11 p.m. Instead of processing anything, I watch porn with my vibrator. I'm sure Billy's jerking off too. That idea makes me even wetter. I come really hard and wipe up with my underwear. I go to sleep without any on.
DAY FOUR
7:10 a.m. I can hear Billy going to the elevator to start his day. I wish I had more girlfriends so they could tell me what to do here. I want to fuck this guy, or start fucking him on a regular basis. I know it would be great sex. But it's not a simple thing.
12:45 p.m. A little about my background: I come from a very nice, proper, conservative family. Mild Trump supporters. I love them, but they don't get me. They live in the midwest, and we talk once a week without a lot of closeness. This is all very textbook for someone who doesn't have the skills to get close to others.
9 p.m. I knew this would happen: Billy slips a note under my door. He is too classy to knock and too horny to do nothing. He leaves his phone number and suggests I text him if I'm in the mood for company. I am not; I'm tired from last night's drinking. Still, I'm happy he slipped me the note.
9:25 p.m. I text, "Not tonight. Maybe tomorrow?"
9:26 p.m. He responds, "Tomorrow it is. Sleep tight Princess."
10 p.m. Not sure about the "Princess." Luckily, it doesn't really matter.
DAY FIVE
8 a.m. I have a ton to do at work today before the long weekend.
11:30 a.m. Billy texts about having dinner tonight. I know he has a house in the Hamptons so it occurs to me that he's either choosing to stay in the city to hang out with me … or, more likely, Erin is using it. Feels a little icky either way. But I think I really want to have sex with Billy …
Our neighborhood has one restaurant that I love so much — I'd literally go there with anyone just for this one pasta dish. I suggest it. He writes back instantly that he'll take care of the reservation. This guy is kind of predictable. And so eager!
7 p.m. I get home from work and take a shower before dinner. I'm not very high maintenance: I like to be clean, wear a little perfume, no makeup. I put on jeans and a tank top. I'm lucky because I'm tall, thin, and pretty "chesty" — guys tend to think they're into me and then, blah, who knows.
8 p.m. We meet at the restaurant because Billy's coming straight from work. Damn he looks great. What a week we've had! It's a little odd because our vibe feels sort of warm and boyfriendly — but we haven't had sex, we're not dating, he is still married, and I'm not particularly interested. I guess I'm just lonely.
9:30 p.m. Two bottles of wine and a great meal … we both know what's coming next. We head back to the building. Ours is not a doorman building. I can't imagine what a doorman might think.
9:45 p.m. We go back to my place. No reminders of Erin here. He kisses me immediately. We're making out against my wall, haven't even made it to the couch yet. I lead him to my couch and he starts to grind on me. There's been so much build up that I come just from this. That hasn't happened to me since high school.
After I come from the dry-humping, I need a little break, so I get on top of him and take my shirt and bra off. He looks like he's about to devour me. He tries to bring my body up so I'm sitting on his face, but I still need a break. Instead, I blow him. He has a nice dick, not as big as I thought it was, but a hard and confident cock. He comes pretty quickly.
10:30 p.m. By now, the heat between us has died down a little bit. We've both come. We got it out of our system. No sex, but I'd be surprised if he can get it going again. He says he can, but … I'm tired. I kick him out in a flirty way.
11 p.m. I lie in bed wondering what the fuck is happening here. I think I don't like it. I think I might be done. If I call it off now, no harm done. No feelings hurt.
DAY SIX
6:50 a.m. Even on the weekend I'm up this early. Today I'm going to stay with friends in New Jersey, leaving early to beat traffic. I feel totally sure that the Billy thing needs to not happen.
3 p.m. Great day with my friends so far. They have a young kid who is the most delightful little human on earth. I definitely want kids, but don't feel a huge rush. Need a lot more therapy before crossing that bridge.
4 p.m. I haven't heard from Billy. While I don't care, I do kind of care.
9 p.m. I'm in bed when he texts: "Having a good time with friends?" It's a non-text text. I decide to write back tomorrow.
DAY SEVEN
10 a.m. My friends are hosting a lunch and I'm helping out with the prep work. They inform me that a single guy's coming over … basically they're trying to fix us up. They show me Facebook pictures, and he's cute, with a really unique, humanitarian job. I'm intrigued. I still haven't texted Billy back. The thought makes me feel sad for him.
1 p.m. The fix-up friend is a very cool dude. His looks reminds me of Javier Bardem — who can argue with that? He makes a mean margarita too. I'm enjoying hearing about his life, which is very much not New York City in any way … where I could predict exactly what Billy would text, do, wear, and eat, I find this guy original and refreshing.
4 p.m. I still haven't texted Billy back. It's okay. He has to get used to this shit if he's really going to get divorced.
5 p.m. The fix-up friend and I exchanged numbers; I'd love to see more of him. But who knows? For now, I'm just enjoying being away from home and my real life …
Get Sex Diaries delivered every week.
Want to submit a sex diary? Email sexdiaries@nymag.com and tell us a little about yourself.