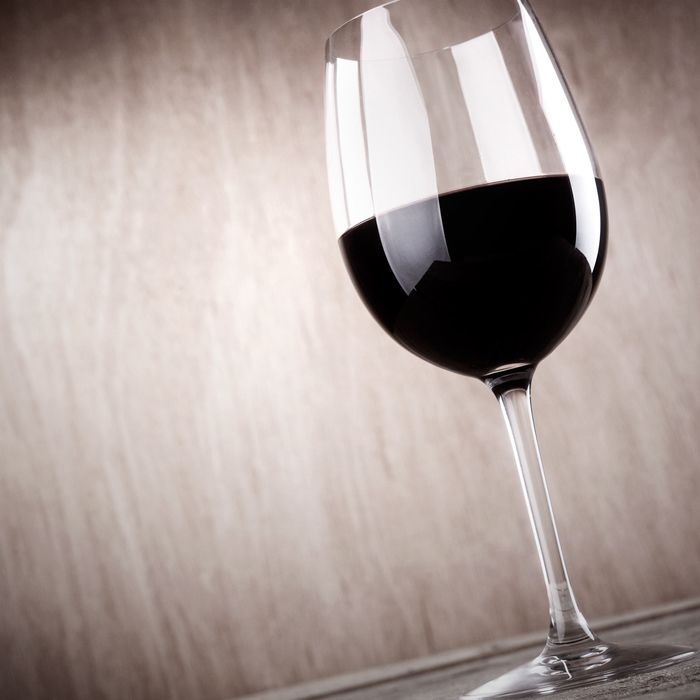 Photo: zmurciuk_k/Getty Images
Get Sex Diaries delivered every week.
New York's Sex Diaries series asks anonymous city dwellers to record a week in their sex lives — with comic, tragic, often sexy, and always revealing results. This week, a newly divorced writer whose date responds to dating-app messages in front of her: 26, straight, single, Western Massachusetts.
DAY ONE
9:30 a.m. It's Sunday. I wake up in bed next to my friend Beth in her Boston apartment. I always wake up in a panic after a night of drinking, glancing around the room to make sure I at least see my purse and phone.
Last night I could barely function after day-drinking wine the entire day (and night) at Beth's boyfriend's house party in Brookline — I was falling asleep on the couch by the end of the night.
9:45 a.m. I finally drag myself out of Beth bed and into the bathroom where I remember I threw up in the sink last night. Hope her roommates aren't too pissed.
11:12 a.m. I get a text as I'm driving the two hours back to my family's house in Western Massachusetts. It's from Greg, a guy I've been seeing for a few weeks. "You like live music, right?" he asks, then says there's a show we should go to this week. I can't help it; I'm grinning. Initially, I thought he'd just be a hookup; we met on Tinder, and he told me he hasn't dated anyone exclusively since college (he's 29). But we've been going on real dates, and I'm starting to like him. He's a chiseled, outgoing, self-proclaimed computer-science nerd. And he has a kinky side: He loves dirty talk, anal sex, and handcuffs.
1:30 p.m. I walk in the door to my mother's house and say a quick hello to her and my sister. I moved back nearly three months ago, after my husband and I decided to get divorced just before our one-year anniversary. My ex and I met in college and were inseparable for years. People who barely knew us often commented how great we were together. We had our occasional spats, like any other couple. But then he began threatening to leave me during these arguments and saying nasty, terrible things. By the time he started to become physically abusive — one time grabbing my arm so hard it left a hand-shaped bruise for days — any love I had for him was gone. We started seeing a marriage counselor anyway, but it was too late. We both felt it.
I'm only 26, and dating while living at home in a small town sucks. There are relatively few men to choose from, and since I have to drive everywhere I also have to decide early on in the night how drunk I'm going to get and if I'm going to go home with my date or not. And as I'm getting ready in the evenings my nosy mother always asks where I'm going, with whom, and what their last name and occupation is — I've learned to shut her down before she gets going. She seems to think I'm a huge slut. Whatever.
1:40 p.m. My sweatpants are on and I spend the rest of the day sitting in my room watching Game of Thrones and getting stoned. After two nights of going out, I'm wiped.
5:35 p.m. Greg texts me with a link to buy my ticket for the show. It would be nice if he offered to buy it for me, but so far we've split things down the middle. Oh well.
10 p.m. I lie in bed and masturbate, thinking about Greg, then John, a guy I met at a bar in Manhattan a few weeks ago. I don't remember much about that night, but I know we were the only two people dancing in a place without a dance floor and after making out he took me and my friends back to his place in Williamsburg. We hung out on his rooftop overlooking the Manhattan skyline and smoked a joint and snorted coke (my first time). My friends left, and I stayed and spent the night with him. We've been texting every day since — I'm going to drive down and spend this weekend with him in Brooklyn.

DAY TWO
7 a.m. I wake up to my mom and sister talking and laughing in the dining room down the hall from my bedroom. I'm irritated, and I hate waking up that way.
9:30 a.m. I've showered and eaten breakfast, so at least it feels like I got the day started right before I flip on my vaporizer. Then I start writing the articles I have due today. I'm a freelance writer — I work on my own schedule, which I wouldn't trade for anything.
11:30 p.m. I can't wait to have sex with Greg tomorrow. I masturbate thinking about the way he likes to push me up against the wall and take me from behind as soon as we walk in the door.
DAY THREE
8:40 a.m Greg texts me about the show: "Opener looks good, come over at 5 and we can grab dinner and a good seat."
4:55 p.m. I get a little overzealous and am a few minutes early showing up to Greg's apartment. He opens the door, puts his arms around my waist, and pulls me in, kissing me hard. "You're always wearing so many layers to unwrap," he says, taking off my jacket and starting to undress me.
He grins and leads me to the couch and lays me down, kissing me. "Shirt off," he says. He's already unhooked my bra without me noticing. He leans over and kisses me, and I take his dick out of his boxers and put it in my mouth. It only takes a couple minutes for him to come, and after I blow him, he goes down on me until I come. He loves how wet I am.
5:30 p.m. We talk and cuddle naked on the couch until it's time to walk to the music venue. We have beer and split fries, nachos, and a grilled cheese before the show starts.
8 p.m. He whispers in my ear that he can't wait to fuck me later, and that he's going to leave the position up to me. I think about my decision during the show.
9:40 p.m. As soon as we walk in the door he pushes me up against the wall, puts my hands over my head, and starts kissing me. Then he stops and walks over to the couch and takes off his shoes and his sweater. I walk over, he takes off my shirt and my bra. "Pants off," he says, starting to undress himself too. He's rock-hard. He leads me by the hand to the bedroom, and asks, "Did you think about what position you want me to fuck you in?"
"Put me on my stomach," I say. He smiles. "Good choice."
10 p.m. We fall asleep spooning.
DAY FOUR
8:30 a.m. I wake up first and head to the bathroom to brush my teeth and freshen up. Then I hop back into bed. He rolls over and puts his arm around me, his scruffy cheek against mine.
9 a.m. Eventually we get dressed, and I help him make banana, chia seed, and peanut butter smoothies, and he makes us coffee. We sit side by side and drink them.
9:40 a.m. I have to get home for a conference call, so I kiss Greg good-bye and head back. I'm tired, but I still feel high from being with him.
11:45 a.m. I'm having lunch with my grandma, aunt, and cousin, and I'm 15 minutes late. I make my apologies and go to town on my egg scramble, scone, and coffee.
1:30 p.m. Back home. I remember John texted me last night: "Can't wait to finally see you again!" He said he has a dinner then a birthday party Friday night, but we can either meet up before or after dinner. I tell him I'll plan to arrive beforehand and can get dinner on my own. "Perfect," he writes back.
11:15 p.m. Quick shower and ready for bed.
DAY FIVE
10 a.m. Sausages, fried plantains, and green tea for breakfast. I eat them sitting at the dining table where I've stationed my laptop and start working on my assignments for the day.
4 p.m. I figure there's no harm in checking to see if Greg's around tonight, so I text and let him know I'm free. He texts back that he has late-ish plans and we can see if the timing works out. I tell him to let me know when he's back.
10:10 p.m. Greg texts that he's wrapping up. I quickly brush my teeth and tell him I can be there in 15 minutes. He says to pick him up outside a bar downtown.
10:35 p.m. I arrive and text Greg. A few minutes later he walks out, opens the passenger-side door, and slides into the seat. He kisses me, tasting slightly like beer and bar food. He seems buzzed — I find it adorable.
10:40 p.m. We get back to his place and he leads me to the couch. "Shoes and pants off," he says. He does the same, then he puts me on his lap and we start making out. Then he gets up to get a condom, puts it on in record time, and sits back on the couch, motioning for me to get on top of him, facing away. I ride him and he reaches around and rubs me. I come loudly.

11 p.m. We're cuddling and talking on the couch. I'm lying naked on top of him, my hands under my chin across his chest. He strokes my hair.
11:30 p.m. He tells me he has to get up early for a meeting with his advisor. We talk about our weekend plans as I get dressed — I told him about my trip last week, but I'm not sure he remembers it's to visit a male "friend."
Before I leave he cradles my head in his hands and gives me a long, romantic kiss.
DAY SIX
8 a.m. I wake up psyched to see John, but I'm also surprised at how much I'm thinking about Greg.
2 p.m. Frantically finish packing and get on the road. "Should be there by 5:30! See you soon" I text John. He texts a smiley face back.
4:30 p.m. Inching along through Hartford and the rest of this godforsaken state. I text John that it looks like it might be closer to 6:30. I start to worry; he has to leave for his dinner at eight, and I need to make sure I get there before he leaves or I'll be locked out for a few hours. He says to let him know when I'm outside the city.
7:02 p.m. My heart is racing and I'm self-conscious about the way I smell after sitting in a hot car for hours, but I call him and tell him I'm in front of his building. The door swings open; he sees me and smiles.
7:10 p.m. We walk up the four flights of stairs to his apartment. It's surreal to be back. I put my bags down and we grab a couple beers and head to the rooftop. We sit and watch the sky turn different shades of orange and pink behind the Manhattan skyline.
8 p.m. We head back inside. John gives me his keys and jokes about how he's leaving me with his life. We kiss, soft and slow, before he leaves.
9 p.m. After a brief excursion down Bedford Avenue I'm back in his room, eating dumplings at his desk. I peek inside a notebook, but it's just notes from his marketing class. I resist the temptation to snoop further.
10:30 p.m. John texts me the club where I'm meeting him later, along with: "Finding any secrets?" I tell him no, but that I like his book collection — he has one on orgasms that I've started reading since I have nothing better to do.
11 p.m. Finally in an Uber headed to the club. He says to walk toward the back of the bar and he'll grab me as I walk by, but he doesn't — instead, I find him talking to a friend a few minutes later.
11:10 p.m. He's introduced me to a dozen of his closest friends whose names I instantly forget. (They all look the same, anyway.) After a few minutes of standing next to him as he talks to different waifish women in tight black dresses, he offers to buy me a drink. I get a frozen margarita and it comes in a Mason-jar-looking glass. It's heavy and dripping and makes my hand feel like an icicle. Bad choice.
11:20 p.m. We're on the dance floor and, just like last time, we're the only people dancing. We're both good dancers, but I could use another shot or two.
11:45 p.m. The music starts to heat up. He says we need to get out of here right now before he rips my clothes off. Fine with me.
Midnight We're back in his room, making out on his bed. He goes down on me, then rubs my clit until I come — he does this better than any man I've ever been with, and he responds incredibly well to my directions. Then, with both of our shirts still on, he pulls out a condom and we have sex in the missionary position, just like when I slept with him before.
2:45 a.m. I'm still awake, thinking about how I don't like John as much as I initially thought. I'm disappointed he hasn't planned anything for our weekend together.
DAY SEVEN
10:30 a.m. I wake up, check my phone, and see a text from Greg: "Hope NYC is fun."
I get back in bed and John finally starts to stir. I put my arm around him and he rolls over to face me, slowly rubbing my side. Then he reaches into my panties and rubs me again until I come. We have sex, missionary again — it's hot, but I wish he'd switch things up a bit.
1:15 p.m. He made us scrambled eggs, and now he's headed off to study. He says he hopes I have a fun time and he'll text me when he's coming back — in about three hours.
2:30 p.m. I take my time getting ready, trying to avoid his roommates. Then I spend the next two hours shopping in Williamsburg. It's pouring rain, but John left me an umbrella at least.
4:45 p.m. Text from John: "Woof this stuff is taking forever, how you doing?" Just bored, sitting by myself at your damn desk again, I want to say. I tell him I'm fine. He tells me they should be wrapping up in a few minutes.
6 p.m. He texts that he's on his way, but he's going to grab a slice of pizza first. "Ok," I text back, not happy about it.
6:45 p.m. Finally, I hear him walk through the front door. I'm sitting on his bed, reading the orgasm book again. He asks me what I've learned, and I tell him there are apparently ten different types of orgasm. Unfortunately, the conversation doesn't lead to sex.
8 p.m. We decide to get drinks at a Tiki-bar-themed restaurant, then head to a German spot for dinner. I get a Mai Tai that is really freaking good and he gets a zombie, the strongest drink on the menu. Conversation isn't exactly flowing, but I'm hoping that will change as the drinks kick in.
9:30 p.m. We're having dinner at the German restaurant, and after the cocktails and stein of beer I'm drunk enough that I just laugh when I see him responding to messages on Bumble as he sits next to me; I know I'm only here for the weekend, but since I did come all the way here, it might be nice to have his attention for a few hours. What an A-hole.
11 p.m. We head back to his place and smoke a bowl. Then we watch the movie Sausage Party in his bed, at his request. He may be 31, but he doesn't act like it.
1 a.m. I lean over and put my head on his pillow and kiss him. He kisses back and puts one hand in my hair and we start making out. He reaches down again and rubs me and I moan, and I can feel him getting harder as he listens to me. He turns the light back on and gets out a condom. Missionary again. I don't come.
2 a.m. Time to sleep. I'm leaving first thing tomorrow morning, and I'm looking forward to it.
Before bed I check my phone one last time. I see a text from Greg: He's at his parents' house for the weekend, and he sent me a picture of one of his dogs, a squirmy, adorable Cockapoo, followed by, "When are you free this week?" I suddenly don't care about anything else — my night is made.
Get Sex Diaries delivered every week.
Want to submit a sex diary? Email sexdiaries@nymag.com and tell us a little about yourself.