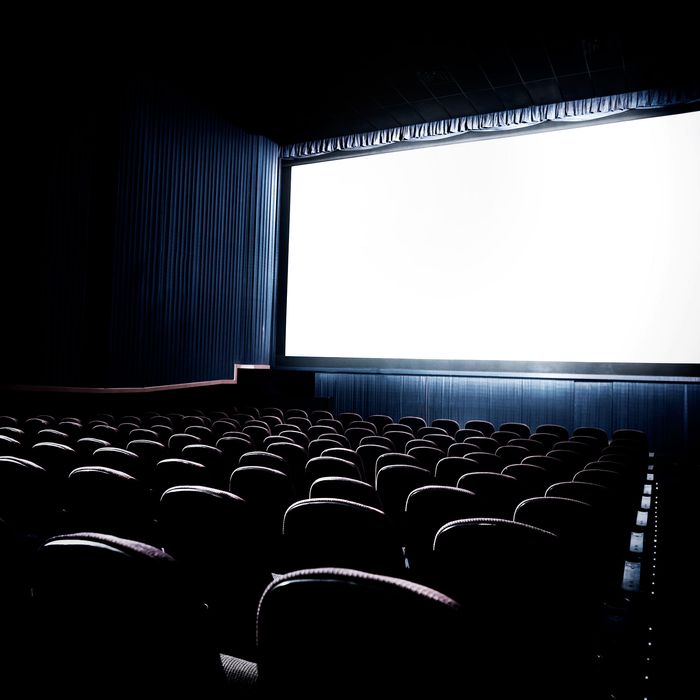 Photo: fergregory/Getty Images
Get Sex Diaries delivered every week.
New York's Sex Diaries series asks anonymous city dwellers to record a week in their sex lives — with comic, tragic, often sexy, and always revealing results. This week, a 26-year-old TV reporter seeing someone in a ten-year relationship: 26, straight, FiDi.

DAY ONE
9 a.m. I roll out of bed dragging my feet. I'm a reporter for a local TV station. I'm happy I landed in New York for my first job after graduating, but breaking news isn't my strength — I prefer human-interest stories. My mom pushed television on me when I started college. I don't have a regional accent and people consider me more attractive than most (I do, too), so I decided to give it a shot.
10 a.m. Shooting in Brooklyn for my first story of the day. I hate the topic. Why is breaking news always so depressing? It's refreshing to cover a fluffy story every once in a while. As a black woman from SoCal, it's exciting to be in NYC — but news is just exhausting.
10:30 a.m. The lawyer I met during a court story last week texts me: Hey hot stuff. Let's call him Mark. He's quirky, a white guy. I like quirky. He's also handsome, with really straight teeth. We make plans to get drinks tomorrow. I'm looking forward to it, and I don't know if it's because I haven't had sex since March or because I actually like him a little bit. Maybe both.
Noon I take a small break to get lunch. Since news doesn't stop, I never get a real lunch break, just downtime between stories. I decide against a BLT and get a spinach salad with black beans. A cute white guy lets me go in front of him in line and we start flirting a little. Until I moved to New York, I never dated white guys. I grew up in a pretty diverse, middle-class suburban neighborhood. There were plenty of white guys in my high school and college — dating interracially was just something I didn't really consider. But over the two short years I've been here, I've dated a really diverse group of men.
8:36 p.m. I'm home. I spread out on the couch and take off my bra (the best part of arriving home is freeing the boobs). A guy I hooked up with recently texts me — I'm tempted to invite him over, but we work together. And he's married. Doubly negative. Our messages are flirty, and then I get bored and ignore him.
DAY TWO
9 a.m. I wake up with one thing on my mind: It's Friday and I want to get drunk.
3 p.m. Mark and I plan to meet at 8 p.m. for margaritas. He texts me to tell me that his lawyer friends will be there. I tell him to let me know when he's wrapping up with them. I'm pretty outgoing, but I don't feel like being in any awkward social interactions tonight.
6:56 p.m. I have a change of heart and text Mark to tell him I don't mind meeting his friends.
8:38 p.m. I roll into the bar late but everyone's too drunk to care. Mark introduces me to his friends. They're instantly complimenting me … even his female friends. I'm cautious about women. Sometimes women get weird around attractive women — even the ones who are just as attractive.
11 p.m. After a couple of tequila tonics (don't knock it until you try it), I'm feeling great. His friends dwindle as we sit at the bar, talking about our backgrounds. I ask if he's dated a black girl before. He has and says race isn't a big thing to him. It's not a big deal to me either — I just have no interest in being anyone's "experiment" or ebony fantasy. Drunkenly, I tell him about the married man at work. He doesn't seem like he's judging me, maybe because he's ten years older than me.
Midnight Our body language is very sexual. I'm sitting close to him and his knee is between my legs. I excuse myself to go to the bathroom. My panties are slimy.
12:06 a.m. I come back and sit down. Immediately, he blurts out, "I have a girlfriend." He explains that he thinks I'm very pretty and he wants to get to know me. He says he's been with his girlfriend three years … and they live together. Now I just want to go home.
12:20 a.m. I'm giving him the silent treatment and trying to figure out what I should do. I do really like him — but I need to think more when I'm sober. I tell him I'm leaving and get an Uber. His feelings look hurt. Good. Fuck him.
12:23 a.m. My Uber is nine minutes away and he's waiting with me. I'm thinking about hopping in a cab. He grabs my waist and pulls me toward him. We're both drunk and I'm horny. He tries to kiss me, but I turn away and his lips land on my neck … that's my spot. I turn my head toward him, but then my Uber's here, so I pull away.
DAY THREE
12 p.m. I love tequila. It never gives me a hangover.
3 p.m. I don't really know what to make of last night. I like Mark a lot, but just like with my co-worker, NOTHING will come from someone who isn't available. Mark has texted me three times since I woke up. He says he wants "more" of me.
5 p.m. I decide to text Mark back. He replies immediately that he wants to see me. But I can't tonight — I have plans with a guy I met on a story. He's in his 40s, also a lawyer. He's divorced and very wealthy. I like older men for a few reasons, but mainly because they're so established. We'll call this one Gerald.
9 p.m. Gerald and I have dinner at the Capital Grille. He's so intelligent. I like him, but not enough to have sex with him — yet.
10 p.m. I'm bored and thinking about Mark. I wrap up with Gerald and head home.
11 p.m. Still thinking about Mark. I wonder if his dick is big?
DAY FOUR
10 a.m. Gerald sends me a sweet message when I wake up: "Enjoyed spending yesterday evening with you, beautiful, enjoy your day." I ignore it.
Noon Mark texts to see if I'm up for a movie. I tell him I have a short day tomorrow and suggest we go after I get off. He tells me that it depends on his court schedule but that tomorrow might work.
7 p.m. Nothing's really going on: I spend the rest of the night watching Shameless and eating Grubhub (sesame chicken with fried rice and a vegetable egg roll).
DAY FIVE
1 p.m. Mark texts and says today works. We make plans to meet at the AMC on 34th Street later on.
1:30 p.m. My workday is over in 30 minutes and I'm getting antsy. My mind is wandering … I want to know what Mark's girlfriend looks like. Twenty minutes of social-media "research" later, I find her. She's a major prosecutor and it looks like they've been together almost ten years, not three. I'm proud I found all this information, especially since there's no trace of her on his abandoned Instagram. She's super-successful, a semi-cute blonde who looks a little bland … I don't like how I'm feeling.
3 p.m. He's late, and I still don't really know what to make of our situation. At this point, it's definitely the intrigue that's driving me. I buy my ticket and some nachos and head into the theater. I have one small bottle of bourbon for him and tequila for myself. I pour the tequila into a half-cup of soda. He finally strolls in.
5:15 p.m. The movie's over, and we're definitely tipsy. I'm horny and start kissing his neck, but the credits are rolling and the lights come on. We sit in the theater until everyone leaves. He takes his dick out and I breathe a sigh of relief: It's medium-size, but thick. Perfect. I'm stroking it and decide to go down on him … but people start filing in for the next movie. I quickly sit up. He rushes to cover himself with his briefcase.
6 p.m. We start walking back toward his office. I feel weird. We hug good-bye and he grabs my ass. Who knew white men loved asses so much?
DAY SIX
10 a.m. At work the next day, I still feel weird about yesterday. He has a girlfriend!
Noon Mark texts and asks if we can grab an early dinner. I tell him about a Mexican restaurant near my apartment. I don't know …
3 p.m. Press conference about a stabbing that happened in the Bronx. Yada yada.
5 p.m. I'm wrapping up work and thinking about the movie theater again. Gerald texts to ask if I'm free for dinner. I lie and tell him I have to do overtime.
6 p.m. In an Uber heading to the restaurant where I'm meeting Mark. I'm looking at his girlfriend's Facebook page. There are a lot of old pictures of them together, dating back to 2007 — they must have met in law school. They seem happy together. I wonder what sort of person she is and where she grew up. What do they do on the weekends? Thinking about their life together starts to make me feel insecure. The car pulls up to the restaurant, and I quickly clear my search history, just in case.
6:20 p.m. Mark is in a booth waiting for me with a shot of tequila. Classy. He's wearing a suit and carrying his briefcase since he just came from court. We do a couple of shots and stumble to my apartment.
7 p.m. I change into girl boxers and a tank. I jokingly tell him not to watch but he does. We're on my couch chatting mainly about his relationship. I ask him why he cheats on his girlfriend. He doesn't give me a clear answer; the insecure feeling starts to creep back. He gives me a long, deep kiss. I get up and slide my shorts off. He grabs me from behind and grinds his dick on me. He takes his clothes off and we kiss until we end up on my bed. He goes down on me — I don't particularly like his oral, but I appreciate the effort. I fake a few moans and pull him up. He kisses my neck then teases his dick into me … I can't catch my breath, it's so good, almost too good. I come hard, then he keeps going until he finishes on my stomach. We take a shower together and he asks me if I need a shower cap. He's so white, LOL.
8 p.m. I feel sad because he's not staying over. I think he senses it and kisses my forehead. Not the forehead kiss! After he leaves, he texts to say he wanted to stay. I text him back a sad face. His girlfriend is lucky.
10 p.m. I feel really sad. To make myself feel better, I Google, "Why do men cheat?" Results: Men have evolved to spread their seed. All men cheat. ALL MEN CHEAT. I go to sleep with him on my mind. I feel clingy. I kinda am.
DAY SEVEN
10 a.m. Wake up and grab a banana. I'm definitely going to be late to work. Ugh.
Noon Gerald and I confirm plans to see a Broadway show later. He's sweet.
2 p.m. Work, work, work, work, work, in my Rihanna voice …
2:10 p.m. Mark texts that he wants to see me. I know nothing will come out of our little scandal. I deserve better. I'm smart, pretty, and successful enough for my age. I decide to ignore his text.

3:30 p.m. I grab Shake Shack for a late lunch. Mid-bite, Mark texts me, "???" I respond, "Your girlfriend is lucky: You're funny and you have great sex. I know I'm going to catch feelings."
4 p.m. He writes back, "Are you suggesting we stop? I don't want to be unfair to you."  I tell him I want him to answer that. He responds and suggests we take a break and see where we're at in two weeks. I agree …
7 p.m. Gerald and I go see a show. I'm distracted with thoughts of Mark. Gerald keeps patting my knee in a friendly way. I like Gerald because he seems genuinely concerned with my well-being, but the situation feels a bit sugar-daddyish. I wonder how long his generosity will last without me having sex with him?
9:15 p.m. The play ends and we take a cab to Hillstone, where we share a platter of sushi and a bottle of rosé. Midway through dinner, he's tipsy — or acting like it — and asks what my favorite sex position is. I fake-laugh it off but realize right then that I'm never going to have sex with him. After dinner, he asks me if I want to see his condo, which is close. I lie and tell him I have to be up early. He doesn't dispute it and hails a taxi for me. I give him a small courtesy kiss on the lips. I'll be ignoring his calls and messages from now on. Hopefully, I'll meet someone on another story — someone who's single, who doesn't make me feel like a call girl.
Get Sex Diaries delivered every week.
Want to submit a sex diary? Email sexdiaries@nymag.com and tell us a little about yourself.