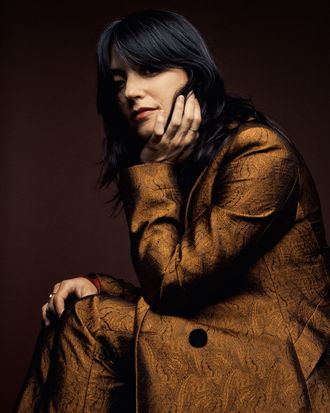 This summer, every festival lineup and radio station will inevitably feature the same predictable artists. That's a Bop is our monthlong effort to introduce you to artists and songs beyond the top-ten list.
"Am I dark, brooding, mysterious?" asks Sharon Van Etten. We're in her bright Cobble Hill apartment, sitting at her dining-room table amid at least four different kinds of yellow flowers. She's worrying about when her jasmine will bloom out back; her 8-week-old baby, Denver, is cooing nearby. "I'm not sure. I don't consider myself any of those things. I'm a fan of those things."
Van Etten does have, at least, a professional flirtation with darker subjects. Cozy domesticity aside, the singer-songwriter is best known for her four soul-wrenching rock albums, and for her ability to give live performances that leave fans in tears. (Memorably, she once made a New Zealand news anchor weep on-air.) As of this last year, she's started acting, first on Netflix's spooky supernatural drama The OA, and now on the Twin Peaks revival — easily two of the most mystifying television shows around. She's worked on film scores, recently for Katherine Dieckmann's Strange Weather. And she's enrolled at Brooklyn College to pursue a psychology degree, in hopes of becoming a counselor someday. She makes the combination seem more natural than you might expect.
"A friend of mine who is kind of a mystical person said to me: 'Set your sight to one star and the constellation will naturally align,'" Van Etten says. "If you never focus you won't be able to see the whole picture. It's really beautiful." When she focused on music, she felt her life align — slowly, over years. I ask her if that focus felt inevitable. Well, she says, a little sly, first there was a wine shop. (Sharon is also a joker.) Working at Astor Wines was the "real job" that allowed her to move to New York. "I love wine. One of the reasons I'm not working in wine anymore is I was becoming a snob," she says, "and I'm a terrible salesman." She once got scolded for describing a wine as "having balls" — though she still sold the bottle. "In my retirement years I would love to have a wine store of only wine that I drink."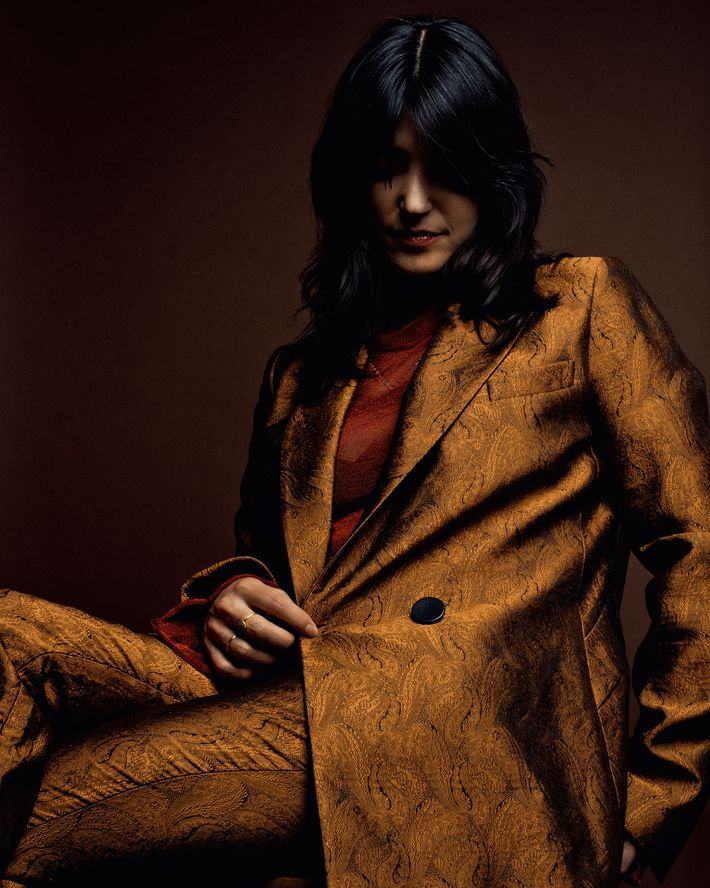 Van Etten started writing the songs that became her debut album during the years she was working in wine stores. Her music is salt-in-the-wound stuff, a lot of it based on one particular relationship. "This guy basically told me I wasn't good enough to play," she says. "He forbade me to play. He physically kept me from playing sometimes, and smashed my guitar." One night in 2004, she left the guy and left Tennessee (where she'd started college and worked at a café-slash-record store) with what she could pack and went home to New Jersey "with my tail between my legs — my family took me in." She spent the next years unwinding that pain into her albums. The first, called "Because I Was In Love," came out in 2009. "Epic," released the following year, crystallized a forever-place for Sharon Van Etten in the hearts of critics and many other people with hearts.
A casting director who saw Van Etten open for Nick Cave in 2013 brought her to The OA, where she plays a troubled drifter. She was drawn to the challenge. Still, she says, "it doesn't feel as cathartic when you're acting because you're living in that pain, as opposed to when you're performing, you're exorcizing it." Both Twin Peaks and The OA draw on Van Etten's music as well as her presence: Her roles involve singing her own songs, "I Wish I Knew" in The OA and "Tarifa" in Twin Peaks. The shows' fictional worlds are built on their secrets. That's a foundation that suits the Sharon Van Etten sound. At its most powerful, her music evokes the risky, shaky moment when a secret is exposed.
Van Etten remembers watching Twin Peaks for the first time in her early 20s. "I couldn't believe it had been on television. It gave me goose bumps. It goes to disturbing places that people still don't go now," she says. "That way of taking something that intense and putting it in a surreal place helps you deal with and examine it, if you can't deal with it in real terms. I do that with my music." She tries not to "name experience or narrative" in her work in order to leave room for her listeners' own stories. "Rather than reliving my experience, they can take their emotion and apply it to whatever they like," she explains, sounding like the aspiring therapist she is.
She refills my mug from a thermos without my asking. ("Oslo coffee only," she says.) Even before Denver was born, she says that she tended to fill the role of "den mother" among her friends. Her bandmates call her Snacks, because she would always bring treats to rehearsals. Recording her last album, Are We There, in 2014, they could tell if she was running late based on whether she arrived with stuff from Murray's Cheese shop or from the gas station near their Weehawken studio. The touring-musician life is actually ideal for a small baby, she reports. She can take him around with her; the schedule is more flexible than acting and more forgiving than school. Her goal is to be a counselor by the time she's 50: "That's 14 years. I'm going to be a musician, actress, mother, and then counselor; I think that's enough time."
For Van Etten, everything still seems like a possibility. "I get that from my mom," she tells me. "We are both Pisces. We can see ourselves living everywhere; we like so many things. We're really just hobby girls." There's amateur photography, knitting (only scarves, nothing with shape), and some adventures in gardening — she's still slowly reviving a succulent that almost died two years ago. "I'm not great at one thing, but I can start," she says. "I don't know how to finish it; I don't know how to perfect it." She recalls once getting a phone call from her mom, who had just retired and was looking for a new place to settle. When she called, her mother was standing outside of a maple-syrup farm and considering whether to move there and run the operation. "I hope I have that attitude in life!" Van Etten says. "Where I could pick up and do anything I wanted."
Photographs by Ryan Pfluger. Styling by Rebecca Ramsey. Hair and makeup by Dana Boyer using Glossier at Art Department. Jacket, turtleneck, and trousers by Ellery, at ellery.com.