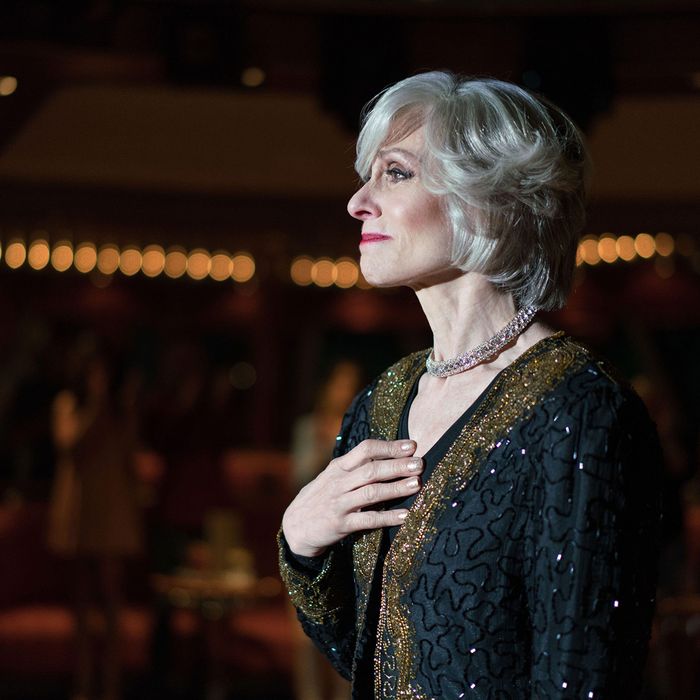 Judith Light in
Transparent
.
Photo: Courtesy of Amazon
It's Tuesday night at Joe's Pub in New York, and the eldest Pfefferman sibling — of Transparent fame — is onstage, setting the record straight about a long-running family tradition. "I was the lesbian first," she croons defiantly. "I was first, I wear the badge, now all three are eating vaaaaag." Faith Soloway, the sister of Transparent creator Jill Soloway — and it might be added, the Soloway sibling who, yes, was a lesbian first — taps away merrily on the piano.
The rousing ditty is one of eight songs performed as part of Faith Soloway's musical-comedy cabaret show "Should Transparent Become a Musical?" It's hosted by Soloway and Transparent star Alexandra Billings (who plays Davina on the Amazon series), and performed by a cast of veteran musical comedians, each playing a different member of the Pfefferman family. (For the above number, Sarah Pfefferman, played on the show by Amy Landecker, was played by comedian Megan Amram.) The goal is to showcase — and workshop, and test out — the songs that could form the basis of a future musical adaptation of the acclaimed TV show.
"Originally when our parent came out, one of the things we talked about was doing a musical documentary," Faith explains. "It's kind of always been in the back of me and Jill's head that this could be a musical. There's a lot of music within the world of Transparent, the show itself, so it's kind of always been there, even from the first season."
Transparent the Musical, should it come to fruition, would mark a new constellation within the creative universe that has spun out of a very personal story: that of Jill and Faith's parent — their "moppa" — who came out as transgender when she was in her early 70s. (On the show, their parent's journey is embodied by the character Maura Pfefferman, played by Jeffrey Tambor.)
"As soon as Jill wrote this script, one of the first things they said was: 'If this goes, you're going to come out and we're going to be writing this together,' and I said, 'Of course, this is about our family,'" says Faith, who is a writer and producer on the show. Since then, Transparent has had three critically adored seasons, and Jill Soloway has become a prominent trans-rights activist and a leading voice of today's peak-woke TV landscape. Recently, they started their own patriarchy-toppling production company Topple, whose first project was I Love Dick, the small-screen's smartest take on gender since Transparent. "We're in the middle of a gender cultural shift here," explains Faith. "It became larger than just a television show. So now that we're kind of catching up with it, I have the time to think about the musical piece."
While the TV show may be Jill's baby, musical theater and musical comedy have always been Faith's passions — she was music director at Second City and has performed a series of "schlock operas" with titles like The F Word and Jesus Has Two Mommies — and she has always envisioned finding a way to set Transparent to music. And music has certainly been an important part of the show; in a highlight from last season, Maura's ex-wife Shelly (Judith Light) performed a one-woman cruise-ship cabaret show called To Shell and Back, which Faith wrote. Still, Faith wrestled with what it would mean to have yet another version of Transparent out in the world. "There's just a little bit of a narcissism feel [to] that, from TV show to stage to movie to musical, there's just a little bit of — I don't want to say shame, but just wanting too much. So I kind of battled with myself." (As you may have already guessed, the Soloways, much like the Pfeffermans, are no strangers to internal conflict).
By now, however, Faith concedes the title of the show is pretty much a rhetorical question. "I think at this point, I kind of have to get behind it, be it workshops and more shows like this, and banging out a musical-script version and just pushing it along," she says. Now, the challenge is to capture Transparent's blend of the serious and funny, earnest and whimsical, intimate and universal.
The songs performed on Tuesday evening ran the gamut. Billings sang a moving song in the voice of Maura, inspired by Soloway's own Moppa, about how she fell in love with her wife in part because of her tiny shoes (she thought marrying someone whose shoes and clothes she couldn't fit into might help cease her constant gender questioning). Billings, wiping away tears, dedicated the song to her partner of over 40 years, for supporting her in "her quest to find [her] true voice, [which] was not only a choice but a gift." Singer Amy White Graves, playing Shelly, sang a rousing number called "Your Boundary Is My Trigger" that beautifully captured the pathological codependence that characterizes many of the Pfefferman's family interactions ("I spackled and sanded my anger and sadness to make more room for you," she crooned, as Judith Light watched admiringly from the audience). A particularly experimental number featured Maura (this time played by Seth Bodie), singing about a nightmare she had in the voice of Joni Mitchell, replete with lines like, "Gender is just sausage casing" ("I don't think this is going to be in the musical," Soloway laughed afterward). The show concluded with each member of the "Pfefferman" family singing an introspective verse about their own fraught relationship to the family (for Maura, serving the family was like "serving the military"; to Josh and Ali, it was "like serving a prison sentence").
"We're going out with a pretty little number, but it's painful," said Soloway by way of introducing the last song. "I love painful shit."
Transparent has also been a launching pad for Jill and Faith to redefine their own personal and creative identities. Since the show premiered, Jill has come out as queer and non-binary (they now use gender-neutral pronouns) — something that Faith, a longtime lesbian, clearly doesn't mind poking fun at in song. "That's what 'I Was a Lesbian First' is inspired by, it's the older sister fuck you kind of thing, like I was doing all this before you were!" she laughs. (She assures me that Jill remains her best friend and closest collaborator.) But for Faith, too, Transparent — the show, and now the nascent musical — has become a vehicle to ask these questions herself. "Recently, my friend said to me: 'You don't have to be cis if you don't want to.' She said that to me because I kind of have never felt really all woman and I was like, well, oh, I am a woman, but now that idea of opening up gender expression for myself even is just so much fun," she says. "Probably genderqueer is the right way to say what I am, that feels right to me."
In Soloway's view, Transparent is the perfect fodder for a musical because of the big, knotty themes it explores. And no matter the medium, the story has become a way to take the bold ideas the Soloways have been grappling with in their own lives — about gender and sexuality, family and faith, fear and love — and bring them to a wider audience. "It really opened up all of our examinations of sexuality and gender, the idea that as a person you can't express anything because of the shame, and when the shame comes first, you're never going to reach it. That's what my parent went through for 70 years, which is an incredible thing to think about, what would our family have been if my parent had the freedom to be who they are," says Soloway. "And I think that is great stuff for a musical."