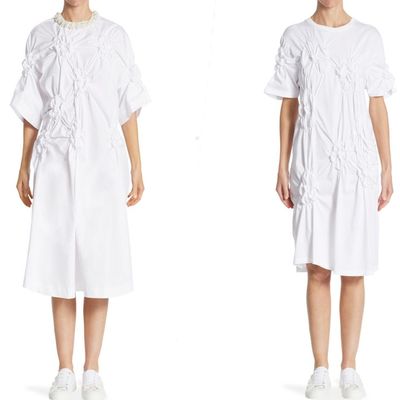 Like clockwork every May and September, some "style expert" brings up that silly rule about when you can wear white. No one really pays attention to the outdated idea but there is something extra appealing about the color during the hottest months of the year. The sensation of a crisp, white cotton dress or top against your skin is like an icy glass of water for the brain. So what if the temperature is 90 with the humidity to match? If you think you're nice and cool, mental conditioning says you'll feel that way.
And if you need some virtual air conditioning, you might want to take a long look at Simone Rocha's capsule collection for Saks Fifth Avenue. The British designer known for her dreamy, feminine clothes with a quirky twist created five exclusive pieces. They all feature Rocha's distinctive details, like strategically placed knots or pearl embellishments. The two dresses are available for preorder now on the site, while the tops and skirts will be exclusive to the Fifth Avenue flagship store. Scroll on to check them all out.
If you buy something through our links, New York may earn an affiliate commission.