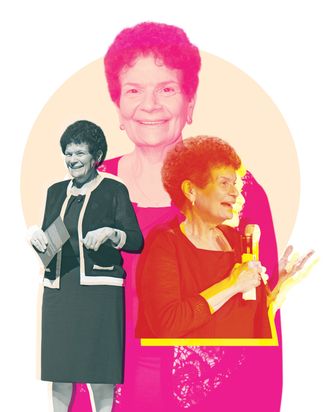 Photo-Illustration: Stevie Remsberg
Sister Paulette LoMonaco is the executive director of Good Shepherd Services, a nonprofit organization that helps over 30,000 at-risk youths and families across New York City. She is 73 years old and starts her day with three cups of decaf coffee and tries to attend daily mass. She manages a staff of 1,300 and is dedicated to pushing back against city authorities when funding for human services gets cut. She hasn't worn religious garb for over 40 years and would like to see nuns depicted more realistically in pop culture. Here's how she gets it all done.
On her morning routine:
I wake up about 5:30, 5:45 every morning. The first thing I do is put on the coffee — I drink two or three cups of decaf — then I do some stretches. I try to spend some time reading the gratefulness quotes of the day and meditating. I find that having that time in the morning helps me center myself. If I don't have a meeting, I try to go to an eight o'clock mass at the local parish church and then walk to work. Walking is another thing that I do to really help bring down stress. I try to walk to work at least once a day depending on what my schedule looks like. It really gives me thinking time. I look at my calendar in the morning before I leave. I look at the headlines online on the New York Times and the Post, and that sort of prepares for me for the day.
On why she loves her job:
One of the reasons I've found my job so interesting for so many years is that it is so varied. On some days, I'll spend all day in-house at the agency, and on others, I'll pretty much be out the whole day. Recently I've started my days talking to our board's housing and facilities committee. Right now, we're in the middle of a few complicated facilities situations: We're building a new community center in East New York (which is going to serve a tremendous need in a very underresourced community), we're renovating a supportive housing program for young adults who have left foster care, and we're in the process of looking at potentially selling some of our real estate to be able to make ends meet and take us into the future.
After that, I run upstairs to meet with our youth council. Once a year, we have what we call the youth summit. It's an opportunity for young people from all of our programs to identify community issues to work on and present some potential solutions to the larger community. That takes us to five o'clock. I take a quick look at my emails. Then I visit with one of our after-school programs — they have all kinds of activities, even salsa dancing. I'll get home after that, maybe 9, 9:30, grab something quick to eat, then go to sleep, unless I have to look at urgent emails. Email has either enhanced or destroyed our lives, depending on how you look at it.
On her approach to being a boss:
One of the lessons I learned early in life is how little control you have when you're in charge. I think it's so important to hear from the people who are really doing the work. I have a wonderful executive team who work with me in running the agency but it's also really important to hear from the individuals who are on site, who are visiting our different programs, who bring a different perspective. I try wherever possible to get as many voices into the room before making a decision.
On how people respond to her being a nun:
Depending on their previous experience, people who work with me have a different reaction. Some people have different views on the church policies and practices. I never come as just myself, I also come as a representative of a religious community and then there are always some transferential issues that people come to the table with around authority, or other issues that might not have anything to do with me at all. I try to really put people at ease because I want them to know me as the person I am and not necessarily as the kind of person that they saw portrayed in a movie.
Culture is so important. The most important lesson I've learned in this job is how important it is to have a culture that people can relate to and buy into, no matter their background. Compassion, learning, bold leadership, and optimism are all extremely important values for us. As an agency, we are extremely optimistic.
On how she stays motivated to fight for what she believes in:
It's not always easy for newer, younger, inexperienced people to speak truth to power. I think that's part of the responsibility of an experienced leader. When you are known in the city as I am, and when you listen to our staff about the struggles that our program participants are undergoing, the trauma in their lives, the unsafe communities that they live in, I find my voice. I don't think that I could live with myself if I didn't advocate for them.
This year, it's a particular worry as we try to pull together our budgets for the new fiscal year because we have not received increases in our government contracts for years. I think it's the way the city has chosen to treat the human-services community. The rent, the utilities, things have really changed throughout New York City and it's been a real challenge to try to pull things together, not to mention the added uncertainty of the Trump administration. But we've lived through some other really dicey and challenging times, so I believe — although sometimes the worrying gets the better of me — in the end, things will work out.
On the unique ways she has learned to handle stress:
I twist paper clips, for one. Just thinking about our budgets and our finances can help me destroy three paper clips in one sitting. And sometimes I doodle. That sort of releases a tension for me. Or I walk a lot. My faith helps bolster my commitment to the cause. Every one of the 30,000 young people and families that we work with each year, the 1,300 staff that we have — I put the whole thing in God's hands every day. That's part of my prayer. I've been blessed with very good health, so it's not like I wake up filled with aches and pains. I don't get sick very often. And like most of humanity, I feel much more energetic when the weather is good and the sun is shining.
On what she thinks of how nuns are portrayed in pop culture:
Are they women who wear religious garb? I haven't worn religious garb for over 40 years. Do these nuns come across as competent, professional women who have dedicated their lives to serving others? Or do they wind up coming across as almost caricatures of a different time? I would love for us to reimagine what a nun is in popular culture. Too often we get cast in a culture that is not 21st century and I think that's really unfair. Whether you wear religious garb or not, sisters today are very focused on serving God by loving people and being of service to God's people. I find some of the saccharine portrayals a little insulting. It takes away from the validity of what we're doing.
But you know what? I'm sure almost any profession can say the same thing. We all have our stereotypes that we have to live through. I think that most active religious communities of women no longer wear religious garb. Part of the reason for that is that it's important for people to accept us as real women who are interested in them as individuals. We want people to get to know who we are as individuals, too, and realize that you can be a thoughtful, committed person in a religious community, and still be a professional. I don't want people kowtowing to me because I am wearing religious garb. I want to be treated as I treat other people and not expect to have any special privilege or recognition because of a personal choice that I've made.