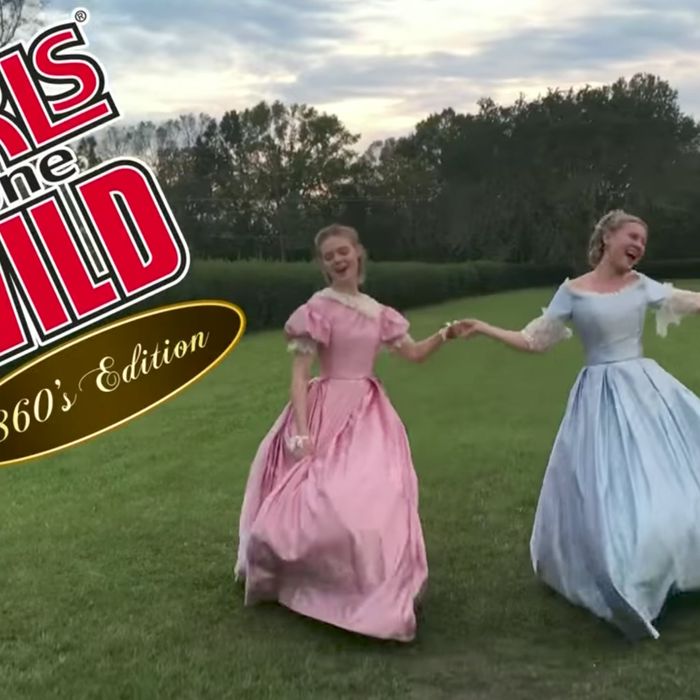 Elle Fanning and Kirsten Dunst, gone wild.
Photo: CBS
Sofia Coppola is one of the most talented filmmakers out there, and The Beguiled — her forthcoming Civil War era flick about a Union soldier who unleashes a tornado of hormones at a Southern all-girls boarding school — might soon unseat Lost in Translation and The Virgin Suicides as your favorite Coppola flick. But last night on The Late Late Show with James Corden, the director revealed what is easily her finest filmmaking accomplishment to date: an '1860s Girls Gone Wild' video starring Elle Fanning and Kirsten Dunst, complete with petticoats, red solo cups and some pretty scandalous ankle and shoulder reveals.
"We were all together in this house shooting everyday, and the girls in corsets. One day at lunch, Kirsten and Elle were having water in Solo cups, which reminded us of Girls Gone Wild," Coppola explained.
Making Girls Gone Wild wasn't the only fun they had on set. According to a recent Vanity Fair interview, the cast also did a "sexy calendar shoot" starring a shirtless Colin Farrell and a bunch of gardening tools. Can we see that one next?