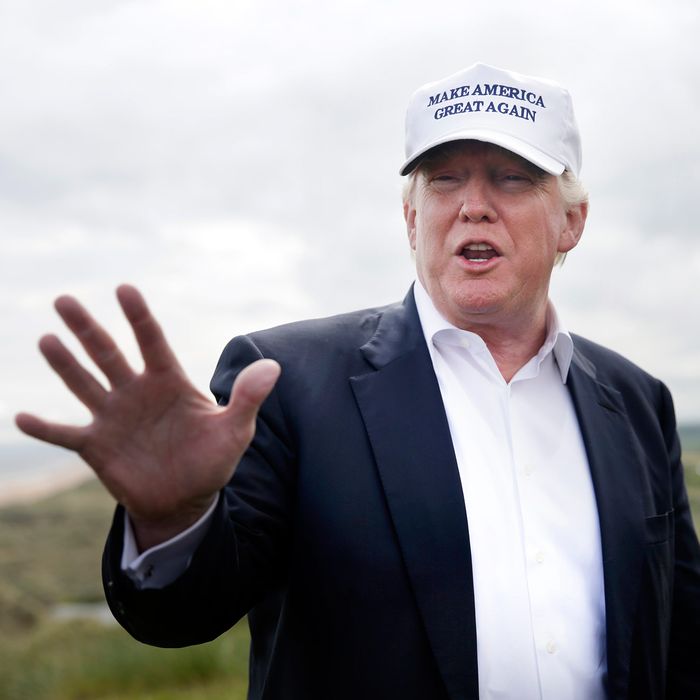 Trump at his golf course in Aberdeen, Scotland.
Photo: © 2016 Bloomberg Finance LP/Getty Images
President Donald Trump is a man obsessed with the idea of "fake news," so it should come as no surprise that some of his golf clubs apparently showcase fake news of their own. As the Washington Post reports, hanging up in at least four of Trump's golf clubs are framed Time magazine covers from March 2009 with an image of the president himself. Unfortunately, the covers aren't actual issues of Time.
The Post reports that the framed covers were spotted in several Trump golf clubs, from Scotland to South Florida, with a cover date of March 1, 2009, and the big headline "Donald Trump: The 'Apprentice' is a television smash!" and another headline that reads "TRUMP IS HITTING ON ALL FRONTS … EVEN TV!" However, the cover is a complete fabrication: There was no March 1, 2009, issue of the magazine, and Trump wasn't even included in any Time covers that year.
Per the Post:
In fact, the cover on display at Trump's clubs, observed recently by a reporter visiting one of the properties, contains several small but telling mistakes. Its red border is skinnier than that of a genuine Time cover, and, unlike the real thing, there is no thin white border next to the red. The Trump cover's secondary headlines are stacked on the right side — on a real Time cover, they would go across the top. And it has two exclamation points. Time headlines don't yell.
Apparently some of the secondary headlines on the cover are real, however. The Post notes that the actual March 2, 2009, issue of Time, which features Kate Winslet on the cover, included two headlines about Obama and the financial crisis that were also included in the fake cover.
A spokeswoman for Time, Inc. wrote in an email to the Post, "I can confirm that this is not a real Time cover." Meanwhile, the Trump Organization didn't respond to the Post's questions about the cover, and White House spokeswoman Sarah Huckabee Sanders wouldn't say whether Trump was aware of the fake cover. "We couldn't comment on the decor at Trump Golf clubs one way or another," Sanders wrote in an email to the Post.
If only these images of Trump's watches were also fake …