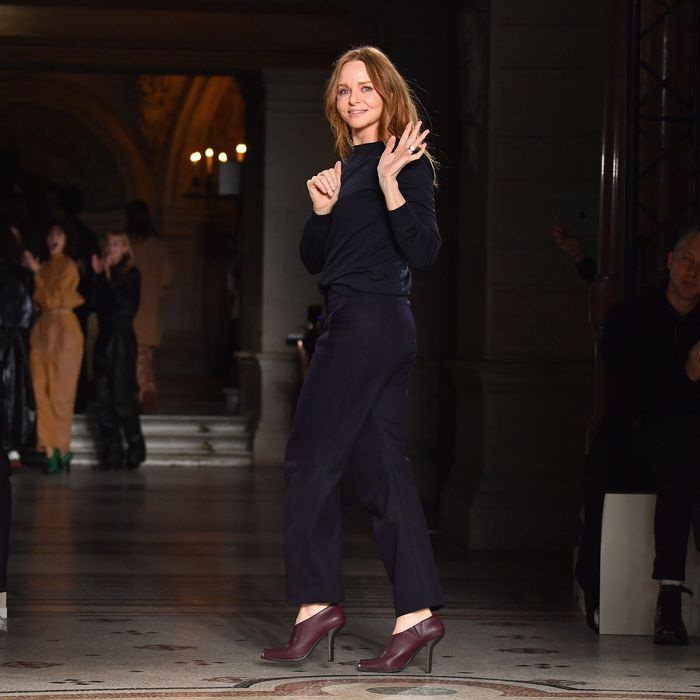 Stella McCartney.
Photo: Pascal Le Segretain/Getty Images
The latest luxury fiber is trash. Well, made from trash. Longtime eco-designer Stella McCartney has a new trick — making a new fiber from bottles, debris, and other plastic objects collected in the ocean. The label announced on Tuesday that it's partnering with Parley for the Oceans, a group that has made a yarn out of trash.
Parley sources 80 to 120 tons of trash from the Maldives each month, which is then cleaned, sorted, then recycled into filaments.
The material will be used in shoes, bags, and outerwear. McCartney told the New York Times that pieces will begin to go on sale in July. The change will be subtle and only identifiable on the tag. So far, Parley has only made sneakers with the fabric, but the partnership will hopefully expand the use of the material.
As to whether the new fabric will be luxury enough for McCartney's consumers, she told the Times "If they don't notice it and if they feel that living on this planet longer is a luxury, then yes, to me that's my idea of luxury."
McCartney's label is a vegetarian brand, and as of 2016 53 percent of her womenswear could be considered sustainable. Per the Times, "To take something that is destructive and turn it into something that's sexy and cool, how can that not be luxury?"
"It's time to make peace between mankind and the sea," Cyrill Gutsch, founder of Parley, said in a statement. "No social group is suited better for this challenge than the creative class. Stella McCartney is not only a fantastic designer; she is a pioneer of creative activism."