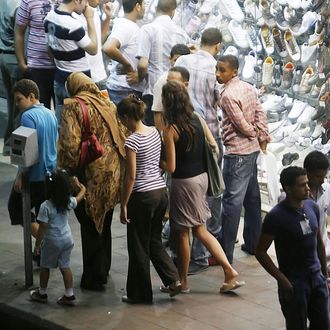 The study looked at street harassment in the Middle East.
Photo: 2007 AFP/Getty Images
From catcalls to physical violence, women across the world have to worry about harassment from men as they walk down the street. Now, a new study examining this behavior in the Middle East provides us with insight into certain men's motivations for bothering women on the street.
As NPR reports, a recent study from international research organization Promundo and UN Women looked into street harassment in Egypt, Lebanon, Morocco, and the Palestinian territories. The study surveyed 4,830 men, and found that as little as 31 percent of men in Lebanon and as much as 64 percent of Egyptian men admitted to harassing women and girls in public. The behavior ranged from "ogling to stalking to rape," NPR notes.
One finding that stood out to researchers was that in Egypt, Morocco, and the Palestinian territories, young men with secondary-level education were more likely to harass women than older men who were less educated.
The findings were "surprising," according to the report, since men who have completed college or high school are usually believed to have "more enlightened attitudes toward women." However, the team of researchers told NPR that they suspect the driving force behind the behavior could be the region's high rates of unemployment, pressure to provide for their families, and political instability. Per NPR:
About half the men surveyed, for example, said they felt stressed, depressed or ashamed to face their families. Perhaps harassing women is a way to assert their power, suggests [lead study author Gary Barker, president of Promundo]. These young men "have high aspirations for themselves and aren't able to meet them," he says. "So they [harass women] to put them in their place. They feel like the world owes them."
NPR notes that groups across the region have launched programs to try to combat street harassment, including the UN's Safe Cities and Safe Public Spaces initiative, which provides anti-harassment education and intervention in 20 cities. However, experts are still looking for long-term solutions to the problem. Holly Kearl, executive director for Stop Street Harassment, told NPR, "Unfortunately, we don't know what works long term. It's hard to see which efforts are working at a large-scale level."