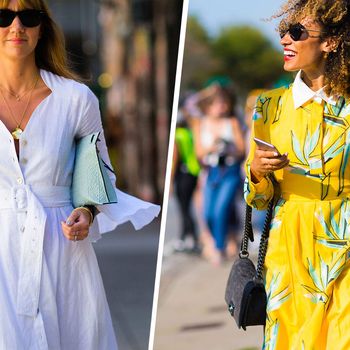 Once in a while, a trend appears on the runway, trickles down to your local mall, and then lodges itself firmly inside your brain. Now Trending is our weekly roundup of where to buy that look that's been haunting you.
Shirtdresses are everywhere for the simple reason that they are foolproof. They're comfortable, they require absolutely no forethought, and they're equally appropriate for work or a date. In sheer linen, they can be worn to the beach; in chiffon, to a formal event. Scroll ahead to shop our favorites currently in stores, from a striped red Zara dress that's only $69 to a timeless geometric-print DVF dress that's on sale for $214.
A blue shirtdress is just as proper as a white oxford shirt, but a lot less boring.
The bell sleeves make this white shirtdress from ASOS feel extra special.
This straight-off-the-runway dress is 50 percent off. If that's not enough, the print is one of a kind and the fabric is Japanese silk.
Here we present the elusive evening shirtdress. The sheer sleeves add a romantic touch, and the hem hits below the knee so it's appropriate for any event.
The sleek, polished silhouette on this one justifies the price tag. We love the dark honey color, too.
Tibi's creative spin on the trend includes a split neckline, a belt with gold hardware, and oversize sleeves.
Shirtdress silhouettes are often too flowy for my taste, but I own this one and love it because the shape is so crisp and modern. My favorite way to wear it is as a duster over a T-shirt and jeans.
If you buy something through our links, New York may earn an affiliate commission.