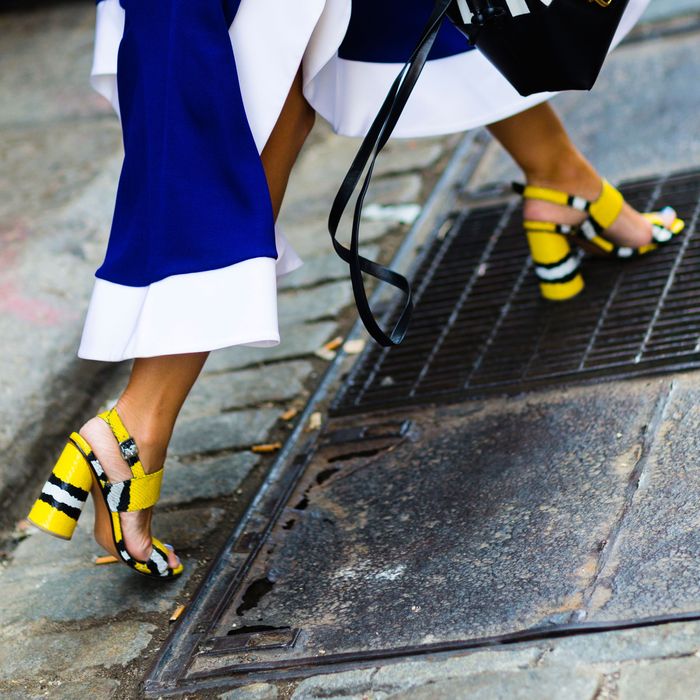 Cheap and Cheerful is a weekly column that highlights the chicest inexpensive finds. Because nothing's more satisfying than looking good while spending less.
It doesn't feel like summer until you slip into sandals and let your toes free. But as much as I admire expensive shoes, the ugly truth is that I'm incredibly hard on them. Every summer I find myself feeling foolish for splurging once my sandals are scratched and worn and so, this time around, I've resolved to buy strictly cheap.
To find sandals that aren't easily detectable as inexpensive dupes, look for quirky and unique details like ruffles, feathers, and bows. Here are 11 inexpensive sandals under $100 that you can rough around in without the guilty conscience. Scroll below to shop our picks.
Bow details seem to be everywhere this season, and the rich red here keeps these from looking saccharine.
If you want to experiment with texture and you're sick of leather, try velvet.
One way to wear gingham without looking like a picnic table is to take the trend to your feet. The black-and-white pattern makes for an unusual take on neutrals.
Everyone owned some iteration of these as a kid, but that retro feel is partly what makes these so endearing. They're definitely not a sandal to wear to work, but for the weekend, these are a fun ode to the '90s that still feels fresh.
To create the illusion of longer legs, I always go for thin strappy sandals. The straps feel delicate and take up less space on your feet.
Work-appropriate sandals that you actually want to wear are hard to come by, but Mango nails it with these wine-and-red sandals. They're sleek enough to dress up trousers and a blouse.
Everything is always less boring with ruffles, but when they're two-toned, it's basically a party on your feet.
If you want velvet sandals and the Gabriela Hearst versions are beyond your budget, try these. Get them in a bright color like orange to make the decadent fabric pop.
Muted canary yellow prevents these from looking too Big Bird, but the feathers are so fun that you'll want to wear them everywhere.
Sparkly Roger Vivier slides are the commuter sandal of my dreams, but in a world with Sallie Mae, these can satisfy my taste for less then $50. The gleaming green satin also contrasts nicely against deeper skin tones.
The type of sandals you'd wear with a billowy, white, off-the-shoulder dress and a straw bag to match.
If you buy something through our links, New York may earn an affiliate commission.