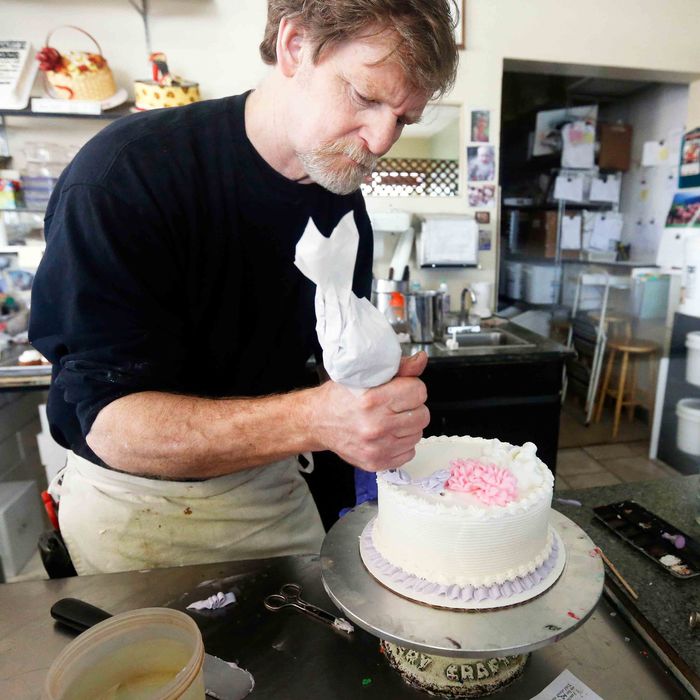 Jack Phillips, owner of Masterpiece Cakeshop.
Photo: Brennan Linsley/AP
On Monday, the Supreme Court announced it would hear an appeal from a Christian baker in Colorado who refused to make a wedding cake for a same-sex couple, paving the way for a legal showdown that will decide whether businesses can use religious beliefs as a reason to discriminate against people on the basis of their sexual orientation, the Los Angeles Times reports.
The case, which will be heard by the high-court justices in the fall, could have a widespread impact in states that have laws protecting people from discrimination over their sexual orientation. The appeal was filed by Jack Phillips, the owner of the Masterpiece Cakeshop in Colorado, who was found to have violated the state's anti-discrimination law by refusing to create and design a wedding cake for a same-sex couple. As the Times notes, there aren't any federal laws requiring businesses to serve all customers regardless of their sexual orientation, but 21 states have laws to protect gay and lesbian people from discrimination.
Phillips refused to make a wedding cake for Charles Craig and David Mullins in 2012, and the couple filed a complaint with the state civil-rights commission, which found that the baker engaged in discriminatory conduct and ordered him to make wedding cakes regardless of the customers' sexual orientation. The Times reports Phillips's lawyers said he refused to comply while he awaited appeal of that decision, but the state court upheld his decision, at which point he took his case to the Supreme Court.
In his appeal, Phillips argued he is a "cake artist" who will "not create cakes celebrating any marriage that is contrary to his understanding of biblical teaching" and that he also doesn't make Halloween or anti-American cakes. He argued his conduct deserved a religious exception under the First Amendment's guarantee of free exercise of religion and freedom of speech.
The Supreme Court refused to hear a similar appeal from a wedding photographer in New Mexico two years ago, according to the Times.