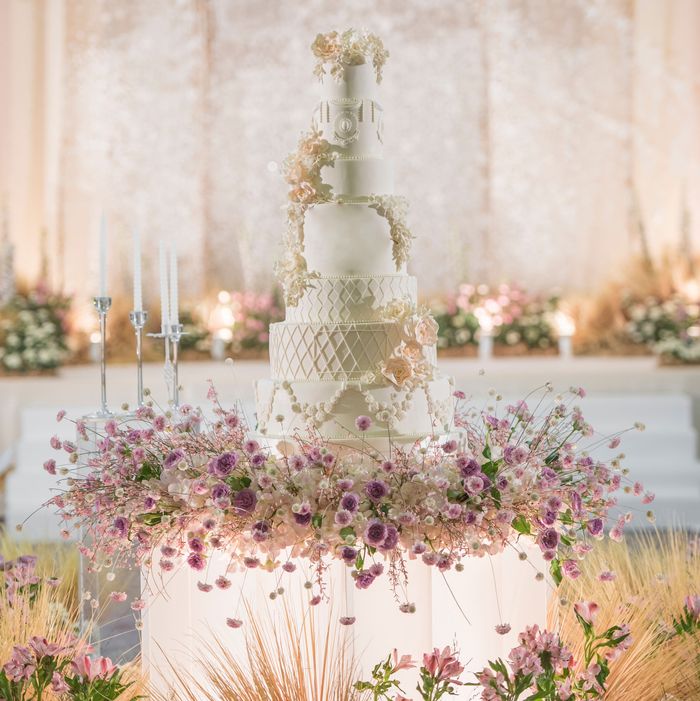 Rich-people wedding alert.
Photo: Thanakorn Phanthura / EyeEm/Getty Images
While the rest of us are buried in student-loan debt, rich people keep getting married to other rich people in very rich-people ways. But one recent rich-people wedding takes the cake (pun intended), as it involved a 100-pound dress worth more than $1 million, gold candelabras, and, oh yeah, literal crystal confetti.
Brides recently featured the wedding of Swarovski crystal heiress Victoria Swarovski to German entrepreneur Werner Mürz, which took place on June 16 in Trieste, Italy. The wedding was actually an "over-the-top, three-day event" that kicked off with a welcome party, during which the bride wore an extremely fancy-looking red-beaded gown adorned with Swarovski crystals. The other ladies in attendance also wore red, men wore white, and the tables were adorned with gold candelabras and crystal confetti, which we assume is just a bunch of crystals lying around.
The wedding itself went down at a storybook-esque cathedral, and the bride wore a custom-made Michael Cinco dress worth more than $1 million. The dress was coated with around 500,000 Swarovski crystals and weighed around 100 pounds. There was also a 26-foot, lace-edged veil, which sounds very long in my opinion.
The wedding reception took place at a very nice waterfront restaurant, with tables decked out with baby's breath. An "all-out dance sesh, complete with strobe lights and an outfit change" eventually broke out, Brides notes. And naturally, the bride also gave a musical performance during her reception, and there was a five-tiered wedding cake that probably cost as much as your college tuition.