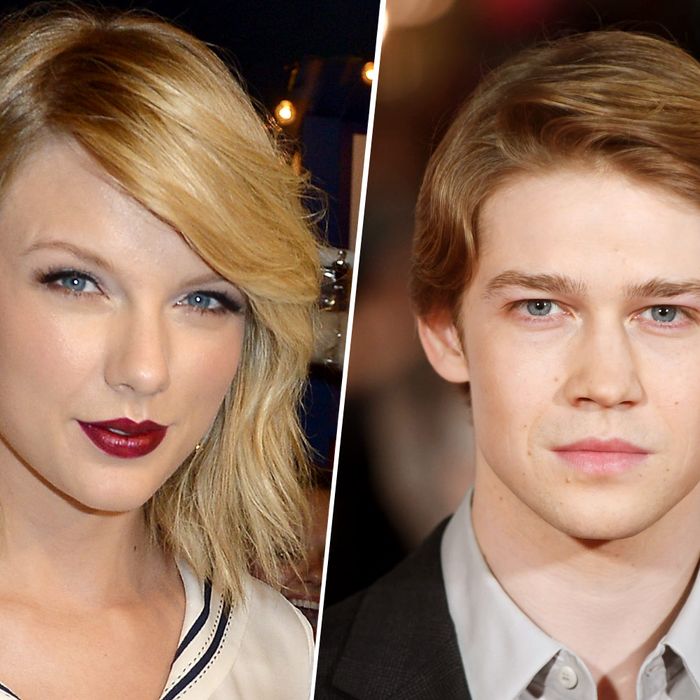 Taylor Swift and actor Joe Alwyn have reportedly been seeing each other for the past few months, but is the low-key couple ready to go public? The two were seen separately boarding a private plane leaving the U.K. on Thursday wearing only the finest in celeb athleisure. According to E!, the two have been spending time together in England, where Alwyn lives, and Swift's NYC pad; rumor has it they recently decided to be exclusive. Hollywood Life reports that the two were headed to Taylor Swift's mansion in Los Angeles together.
Taylor went to great lengths to keep their relationship private and out of the spotlight while [she and Alwyn] have been getting to know one another," another insider had told E! News last month. "She has made several trips to see him, but always flies in and out on a private jet with lots of security and has been flying into very small and remote airports.

If she was seen in England, she made sure everyone thought it was a work trip. Taylor and Joe have really tried to be on lockdown and have spent most of their time together in private locations where they could get to know each other without the pressure of a public relationship and people making judgment calls.
Meanwhile, another E! source reports:
She has been working on new music and spending quiet time with her family and friends. She met Joe last year but they haven't started dating till just recently. They are 'romantic' friends. It was her goal to keep it a secret even though it's all really light still. She barely told any of her friends.

She got buried in media being on top of her life during the last relationship, so she tried everything in her power to not have that happen again," the source said. "She worked very closely with her security team and management to make sure her life going forward was private. All of that madness really affected her.
"She is very protected and is trying to peddle slow with this," the source added.