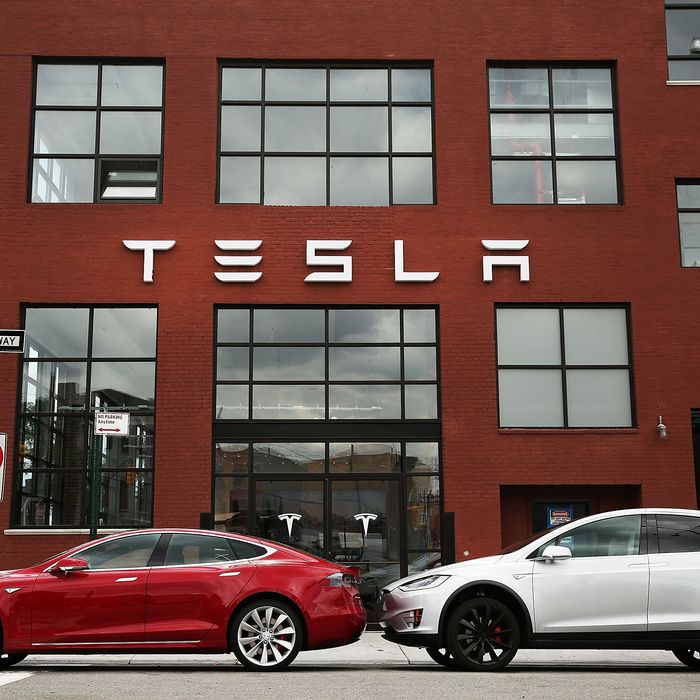 Tesla.
Photo: Spencer Platt/Getty Images
In February, a female engineer at Elon Musk's car company Tesla revealed that she was suing the company for "pervasive" harassment that ranged from allegedly allowing inappropriate sexual behavior to paying her less than her male counterparts. Now, the Guardian reports Tesla has fired the engineer, AJ Vandermeyden, in a move her attorney alleges was "clear retaliation."
Though Vandermeyden's discrimination lawsuit against Musk's company was filed in the fall, she went public with the allegations in a February article with the Guardian. In her suit, Vandermeyden alleges she had been catcalled and harassed by male employees, and that even though she complained about the inappropriate behavior (and also about alleged pay discrimination), Tesla didn't take steps to address her complaints. At the time, Vandermeyden told the Guardian, "It's shocking in this day and age that this is still a fight we have to have."
This week, according to the Guardian, Vandermeyden was fired from the company. Her attorney, Therese Lawless, told the Guardian that Vandermeyden originally filed her suit in an attempt to force the company to comply with the law. But now, Lawless said, "Somebody is trying to instill in employees that when they speak out about matters they are legally allowed to speak out about, they too will be fired."
In a statement, Tesla confirmed the dismissal, but stated that a "neutral third-party expert" conducted an investigation into Vandermeyden's allegations and found them to be without merit. Per the Guardian:
"Despite repeatedly receiving special treatment at the expense of others, Ms Vandermeyden nonetheless chose to pursue a miscarriage of justice by suing Tesla and falsely attacking our company in the press," a Tesla spokesperson said. "After we carefully considered the facts on multiple occasions and were absolutely convinced that Ms Vandermeyden's claims were illegitimate, we had no choice but to end her employment at Tesla."
Lawless told the Guardian that Vandermeyden found the firing to be "absolutely shocking" and that she is "devastated" as a result. Her attorney said the engineer plans on filing a retaliation complaint against the company. "It is illegal in the state of California for an employer to retaliate against an employee who asserts her rights, including her rights to receive equal pay as her male colleagues," Lawless said.