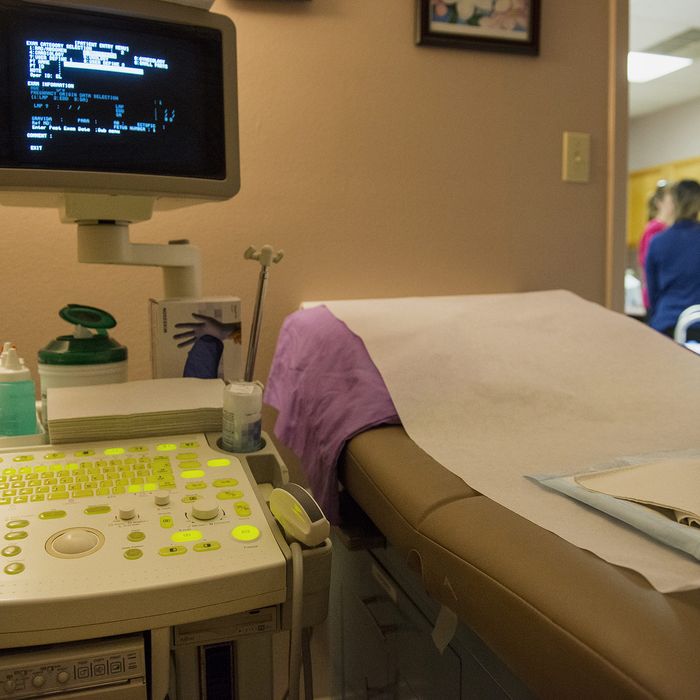 Inside a Whole Woman's Health clinic in San Antonio, Texas.
Photo: © 2016 Bloomberg Finance LP/Getty Images
Last June, the U.S. Supreme Court ruled that Texas's House Bill 2 (HB2), a 2013 law holding abortion clinics to certain obscure medical standards, was unconstitutional. The decision in Whole Woman's Health vs. Hellerstedt was celebrated by reproductive health advocates, who'd watched as restrictions imposed by the bill caused the number of clinics in Texas to dwindle from 41 to 17 in just over three years. In the aftermath of the ruling, Kathy Falkenstein, an employee of Planned Parenthood of Greater Texas, described her attitude as "thrilled." She added, "I hope that some of the clinics that closed because of the stringent requirements — especially in rural areas — will begin providing services again."
She wasn't alone in her optimism — although they acknowledged that HB2's legacy wouldn't disappear overnight, providers seemed hopeful that at least a handful of the 24 clinics that closed in its wake would see patients again. "I think there [was] cause to be very excited about the decision," said Lourdes Rivera, senior vice-president of programming at the Center for Reproductive Rights. "It meant those provisions could no longer be imposed to keep clinics from opening."
But since then, progress in Texas has been slow. Although the ruling has been used in cases from Virginia to Oklahoma to Louisiana to Missouri to successfully challenge laws that might otherwise have caused abortion clinics to close, a full year after the Whole Woman's Health decision, only three clinics have reopened in the state. "We set a great legal precedent," said Amy Hagstrom Miller, the founder and CEO of Whole Woman's Health. "But rebuilding a care infrastructure in a state is not quite as simple."
Although they don't have a complete picture as to why clinics run by other providers have remained closed, Miller said the most likely reason is logistics — real estate, for one. After her clinic in Beaumont closed in 2014, it took Miller 33 months to sell the building for the simple reason that abortions had been performed there. And when asked if she'd try to reopen the clinic, which was the only place between Houston and New Orleans where women had access to abortion, she replied, "it's just not a place where we're going to be able to figure it out."
Things like hiring contractors and buying equipment and furniture are fraught for providers, too. "Most businesses can go through [those steps] without any hiccup," Miller said. "But when people know you're going to be providing abortion services, they call it a hiccup." When news broke that Planned Parenthood would reopen its Waco location, Pro-Life Waco director John Pisciotta sent letters to local construction contractors urging them to "stay far away from this project in view of its possible eventual use." Miller said she's had trouble with vendors as well: "Some never call you back, or they refuse to sign the confidentiality agreement, or they have a conflict with abortion and pull their bid," she said. Whole Woman's Health hired a large company to install wood floors in its Austin location because local companies were put off by the stigma that came with the job. But in small towns, where many of the closed clinics are situated, local vendors are often the only option which can make opening or reopening clinics, as Miller put it, "next to impossible."
Meanwhile, many Texas women still can't access care. After HB2 went into effect, the number of Texan women of reproductive age living more than 100 miles from the nearest abortion clinic in the state more than doubled from 400,000 to 1.1 million, according to Dr. Daniel Grossman, an abortion provider and director of Advancing New Standards in Reproductive Health (ANSIRH) whose research was cited in the Supreme Court case. Since the law was struck down, Grossman estimates that the number has gone down somewhat, but he added that access is "still nowhere near pre-HB2 numbers."
The ruling has had an immediate, positive impact in one area: waiting times. Because doctors at clinics are no longer required to have admitting privileges at a nearby hospital, providers can hire more of them, meaning they can see a much larger volume of patients every day. As such, the average wait time to get an appointment went from about three weeks in 2015 to around three days, Grossman said.
Of course, if clinics have disappeared in large swaths of the state, hiring more doctors only gets you so far. And despite the Whole Woman's Health decision's groundbreaking implications (Rivera said it's being used across the country to argue everything from abortion-access to civil-rights cases), Miller said she wants Texas's case to illustrate why it's much more effective to stop laws like HB2 before they pass. "It caused so much damage," she said. "And that's what the opposition understands. That's their whole strategy."