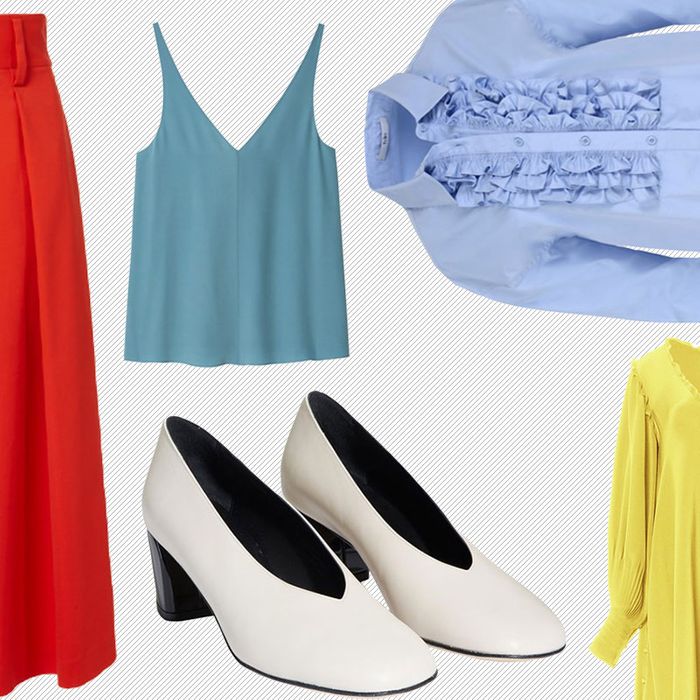 Sale season continues and today Tibi started their spring markdowns. The brand is our favorite for minimalist, office-friendly pieces that work just as well when you need something cool for Sunday brunch. So if you're looking for something to add to your weekday outfit rotation but you don't want to spend too much, make it a point to check out this sale. Discounts are up to 50 percent off, and unlike other places, there is plenty of sizing in most items. Scroll to see the our seven top picks.
If you're only looking to spend around $100, a beautiful camisole is your best bet. You'll get plenty of use out of it tucked into pants, skirts, or jeans.
A tuxedo shirt is another way to incorporate an interesting, work-friendly blouse into your wardrobe.
You might be thinking $187 is a lot to spend on black sandals, but since they are made from soft leather, they won't cut up your feet.
If you share our obsession with white shoes and already own sneakers in the color, try these two-inch block heels. They're just as easy to walk in.
A bright-red, voluminous skirt like this is good for days when you want to be out the door quickly since it does all the work for you.
This is a straight-off-the-runway pick that drapes beautifully on the body and can be worn through the fall.
If you buy something through our links, New York may earn an affiliate commission.