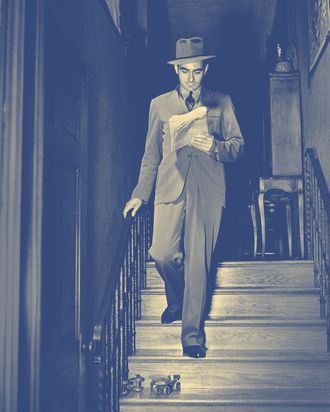 Photo: H. Armstrong Roberts/ClassicStock/Getty Images
The general assumption is that we live in a safety-crazed era. Jungle gyms and slides on American playgrounds have shrunk to protect children from dangerous falls; many states have laws requiring bicyclists to wear helmets; and some products have safety warnings so silly they beg for parody. (Consider the sleeping pill that "may cause drowsiness," for example.)
And yet the numbers suggest another story. According to a new book, Careful: A User's Guide to Our Injury-Prone Minds, the accidental-death rate dramatically dropped from 1918 to 1992, no doubt due to new attention toward safety regulations and warning labels. And yet in 1992, the decrease in accidental deaths stopped — and since 2000, it's been creeping back up. The data on car accidents is particularly striking. "In 2015, after almost a century of steady decline in car fatalities, driver, pedestrian, and cyclist deaths shot up eight, ten, and twelve per cent, respectively," notes Joshua Rothman in a recent piece on The New Yorker's website.
The author of Careful — Steve Casner, a psychologist who studies "the accident-prone mind," according to his author bio — writes that there are several potential explanations for this, but many of them involve the dreamy, misguided optimism of the human mind. Some studies have suggested, for instance, that when cyclists wear helmets, they take more risks; not surprisingly, the mind-wandering caused by modern distractions are likely also to blame here. Rothman explains Casner's main theories:
One is "risk homeostasis" — our tendency, once we're safer, to take more risks. (Bicyclists who wear helmets, for example, tend to ride closer to cars than those who don't.) New inventions play a role— smartphones that distract us, medications that confuse us; so does the new popularity of adventure sports, such as rock climbing. There's the ascendant culture of D.I.Y.: "People are once again building their own furniture, blowing glass, upgrading their homes, and chopping and chainsawing their own firewood," Casner writes. Many injuries happen when people are trying to "cook, make, decorate, or fix something." Another significant factor is that people are living longer, into frail, accident-prone old age.
Casner's overall argument is that safety regulations have taken us as far as they can. "We have come to the end of a really good run," Casner writes. "We have wrung all the big gains we're going to get from putting rubber corners on stuff and saying, 'Hey, don't do that.'" It's largely up to us now to take greater care in our daily lives. In the spirit of this everyday meticulousness, Rothman notes that Casner "devotes several pages to the proper technique for slicing a bagel" — after all, kitchen-knife injuries send some 333,000 Americans to the emergency room each year. Death by bagel would be a really stupid way to go.
Sources