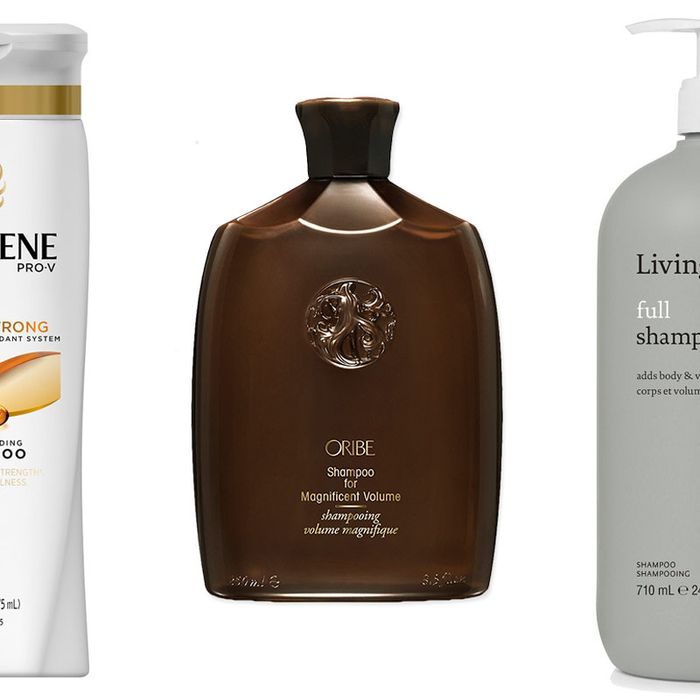 Of all the hair challenges women face, volume used to be other people's issue, not mine. I was lucky. I used to have too much body and more frizz than I could tame. But fast forward two decades through pregnancy hair loss and a dozen hair straightening treatments, and my once oversized hair needs more. Because good hair care starts in the shower, I sought to test out the best shampoos for volume.
Over the past month, I lathered up with high hopes for height, putting nine bottles and their conditioning counterparts to the test. I paid attention to the quality of the formulas, the scent, and ultimately how much volume and texture they delivered. While all were pleasant to use, some produced bigger results than others. Read on to see which drugstore shampoo outshone the others, which one my husband has permanently stolen, and how a shampoo with Himalayan crystals performed. You'll fine that this is one beauty category in which you don't necessarily need to spend a lot of money.
Best for the Vanity Table
I'm a big fan of Oribe hair care — the beautifully crafted packaging, the sophisticated scents, and the impressive results. But as much as I wanted to add this to my favorites, it didn't do much lifting for me. As soon as I massaged it into my scalp, my hair tangled. And after drying, there wasn't much height to note, either. A worthier volumizing investment: Oribe's Dry Texturizing Spray.
Bumble and Bumble's formula is meant for preventing hair fallout and restoring damage. Once those two things are accomplished, you're ultimately going to get more volume. After just one shampoo and blow-dry, my hair looked thicker. The tingling sensation and menthol aroma is a nice wake-up bonus for those who shampoo in the early morning hours.
This shampoo is free of silicones so my hair felt clean, conditioned, and plump at the roots. It's made with Himalayan crystals, which seem like straight-up wellness bait but are allegedly chock-full of potassium, iron, and magnesium, which purportedly help boost volume. The scent is so heavenly — a blend of water lily, tangerine, peony, sandalwood, and white musk — that I went for a second shampoo. The downside: Despite the double lather, my hair was greasy after two days (I usually aim to go three).
You'll need to use some muscle to get this stuff out of the bottle, but once that's accomplished, it explodes into a sudsy heap — an impressive amount of lather given that it's a sulfate-free formula. A little goes a long way, which makes the higher price point a bit more reasonable. Upon air drying, my hair felt fuzzy and dry; after a blowout, though, some volume was evident.
Best at Delivering on Promises, Albeit a Little Strangely
I'm usually too lazy to blow-dry my hair, so I go to bed with it sopping wet —sacrificing volume for sleep. Virtue's shampoo delivered despite my bed head, awarding me height at the crown and plenty of the kind of shine and silkiness that's usually only achievable with a round brush and blow-dryer. The star ingredient is a human keratin protein (discovered by scientists researching regenerative medicine for injuries) that allegedly works to plump each individual strand. The brand actually extracts it from bought human hair — strange, but hey, whatever works.
I don't allow conditioner anywhere near my crown in fear it will flatten my roots. Tresemmé's reverse system, which requires conditioning then shampooing, is perfectly logical. The pre-wash conditioner is a slippery, lotion-like texture that made my hair feel slick and smooth, but also like I was locking in the grease and oil I wanted to cleanse away. After waiting one minute per the instructions, I rinsed and applied the shampoo. I instantly noticed how easy it was to lather up (no tangles in my hair) and the richer, creamy consistency left my scalp feeling squeaky clean. I saw volume around my roots straight out of the shower.
Best Value and Overall Performance
This drugstore staple yields volume that rivals any salon brand for a fraction of the price tag. I went to bed with wet hair and woke up to a surprising amount of all-over texture, body, and shine that lasted all day. The formula provides a strong lather but wasn't drying — my hair felt soft, healthy, and clean. A wash-and-go volume booster, indeed.
Eliminating frizz put Living Proof on the map — but since then the brains behind this scientist-founded brand have expanded to help with other hair problems, too. This one gave a noticeable all-over fluffiness to my locks. I'd like to use it again, but my husband has claimed it as his own.
Best for When It's Too Hot to Use a Blow-dryer
Of all the shampoos, this clear, florally scented formula left my hair feeling the softest. It lathered up without creating any knots, to the point where I almost forgot conditioner. Post-shower my hair felt strong, shiny, and hydrated, and it air-dried with shine, texture, and most importantly fullness, despite not using a single hot tool.
If you buy something through our links, New York may earn an affiliate commission.