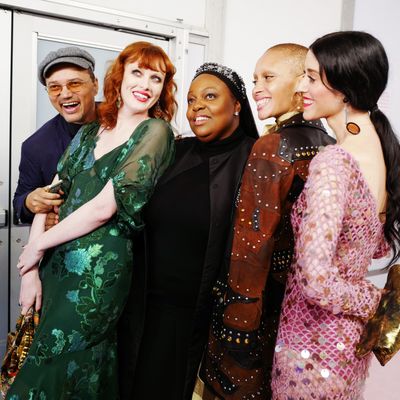 Pat's Angels.
Photo: David X Prutting.com/BFA
Ask anyone on the CFDA Awards red carpet what the best part about the crowd is, and the sentiment is pretty much echoed: We all know each other! We're so busy we rarely get to all be together! It's like a family reunion! Granted, hundreds of people attended last night's ceremony at the Hammerstein Ballroom, but it did feel cozy.
Near the entrance, Hari Nef and Suki Waterhouse squealed and embraced outside the ballroom, teetering in their heels. Karen Elson pulled Rowan Blanchard away from an interview because she "had to introduce [Rowan] to Gloria Steinem." While Cecile Richards, who accepted an award with Gloria Steinem, and Janelle Monáe worked the red-carpet press line, Richards's date, Teen Vogue digital editorial director Phillip Picardi (decked out in a pink suit and Planned Parenthood pins) greeted fellow journalists.
But the person who has the best handle on the CFDAs is Pat McGrath. The legendary makeup artist was honored with the Founder's Award, created in honor of actress Eleanor Lambert, which recognizes an individual's unique contributions to the fashion industry. Last year, Donna Karan received the award.
Dressed in signature all black and a crystal headpiece likely designed Swarovski (one of the night's sponsors), McGrath was a strong presence on the red carpet — celebrities and models flocked to her, placing her at the center of multiple group shots. Amber Valletta practically genuflected when giving McGrath her award.

During her acceptance speech, McGrath thanked the manicurists, stylists, and aestheticians who help make every runway show happen, emphasizing the importance of working as a team. The speech got a hundreds of people wearing six-inch heels to give a standing ovation — that is power.
When McGrath entered the award winners' press room after accepting her honor, she received a warm welcome (more hugs!) from celebrities and designers. "Your speech was so beautiful," Mandy Moore said. When Stuart Vevers, Coach designer and fellow CFDA winner, entered the room, he and McGrath jumped and hugged with their heavy trophies between them.
How did McGrath feel about seeing everyone? "I can't see anyone at the moment, actually, there was a little bit of blind terror," she told the Cut of arriving. "So now I'm going back into the room to say hi to everyone. I'm seeing all my friends. I've seen absolutely everyone that I know and it's incredible to see them."