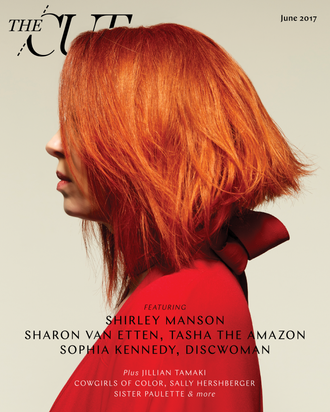 Sometime in the late '90s, at the height of Shirley Manson's popularity as the front woman of Garbage, I read an interview with her in a fashion magazine. I'm sure she said plenty of interesting things in this interview, but what I remember most clearly was her fierce refusal to use any water on her face. In the article she outlined (in great detail!) a beauty routine that included many cotton pads and makeup removers and toners and creams — and, most importantly, NEVER WATER. Previously I had been impressed with Manson's stage presence and badass persona, but it was learning this fact that made me a real fan. It meant that while on tour, with her all-male band, she must have been hauling a truly impressive bag of toiletries. "Who is this woman who can manage never to get water on her face?" I recall thinking, with wonderment and respect. I've always had a soft spot for unapologetic Rock Divas, and I've often thought about her beauty routine in the years since, usually as I splashed water on my face and wondered if I was destroying my skin.
Whatever Manson was doing all those years ago has paid off. The fiery-haired musician looks incredible, and as our writer Dayna Evans discovered, she's inspiring a new generation of women to make independent music as she heads back out on tour with Blondie this summer to promote Garbage's recent album Strange Little Birds and Blondie's newly released Pollinator.
This month we'll be publishing one story a day related to music in a series we're calling That's a Bop. For those of you who still call songs you like "jams" (me, because I'm 100 years old), "bop" is now the word of choice. Our approach is more casual than comprehensive — a guide to the women making music that we're into right now: Tasha the Amazon, Sophia Kennedy, Buscabulla, and Downtown Boys, to name a few. We could have gone overboard, but is there anything worse than a music know-it-all? Don't be like the most annoying dude at the picnic telling everybody what to listen to. Just add some of these great musicians to your playlists and call it a day. Maybe buy tickets for one of their shows at the many outdoor festivals and concerts this season. Basta.
Toward the end of this month we will be running a series called Far & Wide, all about traveling. We'll look back at the weird and reckless days of couchsurfing, examine the pitfalls of the babymoon, ask what it really takes to have a good sleep on vacation, and talk to some lucky women who travel for a living.
Speaking of going places, you may have noticed that the Cut URLs have changed: We are now simply thecut.com. So bookmark that and make it your browser default. Because now there's nowhere else you need to be.
Till July,
Love Stella
————————————————
On Shirley Manson: Tome crêpe dress, at tomenyc.com.
Photograph by Maxine Helfman; styling by Rebecca Ramsey and Candice Lambert; makeup by Amy Chance using Surratt Beauty at Celestine Agency; hair by Clyde Haygood at Forward Artists using T3 tools; fashion assistance by Sarah Kinsumba.