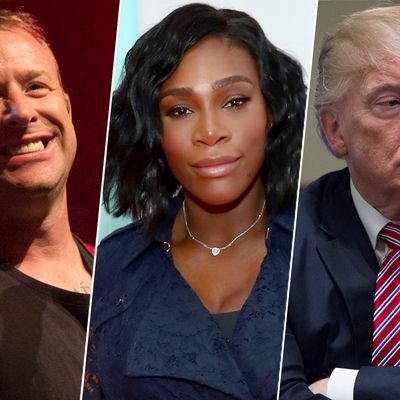 Every week brings such an overwhelming onslaught of news that sometimes the most entertaining bits can fall through the cracks. Here, we'll recap the pettiest squabbles, juiciest feuds, and other niche drama you didn't know you were living for.
Billy Peck vs. Every Woman in New York
Terrible New York men were put on blast this week when Vanity Fair writer Maya Kosoff spotlighted a particularly cringeworthy edition of Time Out's Undateables column, in which two people go on a date and then assess it separately. The man in this week's date, an actor and self-described Disney prince named Billy Peck, presented himself as a complete jerk, dragging his date for how she ordered her steak and saying he felt like the whole date was "like I just took two hours of my time and burned it."
Peck tried to defend himself on Twitter, even going so far as to DM Kosoff to offer to share his version of events, before eventually deleting his account.
Unfortunately for Peck, the week before the Fourth of July is notoriously slow for news, so the whole thing turned into a "Page Six" item, where he was called NYC's most "undateable" man and called out for "pissing off every woman in the city." Justice is served.
John McEnroe vs. Serena Williams
John McEnroe, known for his temper tantrums as much as he is his tennis career, took a swing at Serena Williams earlier in the week when he told NPR that "if she played the men's circuit she'd be like 700 in the world."
After a massive public outcry, Williams responded on Twitter, ending the conversation with a definitive "Good day sir."
But McEnroe refused to apologize during a follow-up TV spot and added, "It wasn't necessary … I didn't know it would create controversy." Is he really that desperate to get his ass kicked during a follow-up Battle of the Sexes?
Scam GoFundMes
Our health-care system already lags behind what's available in comparable wealthy countries and is facing the potential to get much, much worse. Because of these circumstances, online crowdfunding has emerged as a hugely popular way to cover medical bills. If you thought that was as dark as things get, you'd be wrong.
With a rise in GoFundMe accounts, there comes a rise in GoFundMe scams. The site GoFraudMe tracks them, from a woman who lied about having cancer to raise $10,000, to a woman who ran a three-year $126,000 scam for a faked illness, to people who use photos of sick children they don't know for invented fundraisers to … you get the idea. Reading through them is a great way to have your faith in humanity, well, stay at pretty much the same bleak level it probably was at before.
Trump's Fake "Time" Covers
President Donald Trump has taken the concept of "fake news" and run away with it, applying it to any bit of criticism aimed his way. (Same.) And speaking of fake news, it turns out that at least five of his golf clubs display framed photos of a fabricated Time magazine cover of himself. Some of the extremely believable cover lines include "The 'Apprentice' is a television smash!" and "Trump is hitting on all fronts … even TV!"
Time has since asked the clubs to remove them — we still prefer his Seventeen cover, though.
Slipknot vs. Nickelback and KFC
Nickelback, the band best known for being relentlessly mocked, has ignited a feud with Slipknot, the favorite band of the high-school boyfriend your parents liked the least. The whole thing started when Nickelback front man Chad Kroeger told Metal Covenant that Slipknot's lead singer, Corey Taylor, and his band Stone Sour were trying to be like Nickelback. "They sound like Nickelback-lite," he claimed.
Taylor, of course, did not take kindly to this diss, and immediately hit back, claiming that "Chad Kroeger is to rock what KFC is to chicken."
Hey … I see no reason to bring KFC into this.
Fainting Woman vs. the Jade Bracelet
This week, a woman shopping at a luxury jewelry retailer in the Chinese province of Yunnan was forced to reckon with the terrifying adage, "You break it, you buy it." As she was slipping off a jade bracelet she'd been trying on, it snapped in half — and when she asked how much it costs, the store told her it was $44,000. So, she did what any of us would do: She promptly fainted. Was she genuinely distressed, or did she hope a trip to the hospital might get her out of having to fork over $44,000? Who knows, but she and the shop are still figuring out how much she'll have to pay for breaking the precious piece.
Catch up on previous drama here.