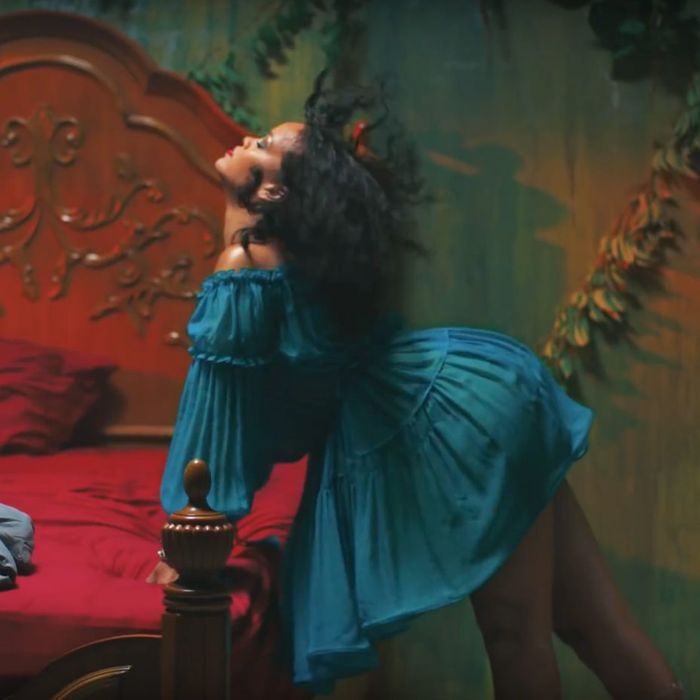 Photo: Courtesy of YouTube/DJKhaledVEVO
Do me a favor and think about how you felt yesterday when photos of Rihanna getting it in with some dude in a pool in Spain were published. Did you scroll through the gallery of 22 photos more than once? Twice? Did you, uh, scroll in private? Did you cancel your original plans to go to a poetry reading by people living with restless-legs syndrome and text the person in your phone listed only as "2AM"? Did you assess the outfit you'd chosen to wear to work that day and thought, This could be three times sluttier while technically remaining professional? Reader, did you develop a crush on a guy at the front of the line at the post office, shipping a box shaped curiously like a trombone?
I am pleased for once to be the bearer of good news: The Horny Time in 2017 is about to be the horniest we've ever seen.
It's rare that I'm put in the position to publicly encourage others to read my work — I'd prefer most of the time you do the opposite — but for the sake of the argument I'm about to make, might I remind you of a story on the same subject that I wrote for Gawker (RIP) in 2015. As I said then, about this precious time period that falls somewhere between late spring and early summer, "You've emerged from winter. You were wearing a lot of clothes and now you are wearing less clothes. You are absorbing the Vitamin D you sorely lacked. You've even committed to exercising here and there to get the natural glow pumping back into your skin."
It can't be so hot outside during the Horny Time that sleeping in bed next to someone isn't enjoyable — some hookup might think the AC is too high or they can't believe you don't have an AC at all what is wrong with you. And the nights can't be so sticky that we're all wicking off a permanent stream of forehead, boob, and butt sweat. The nights are cool like a cloth over a forehead, a breeze up your skirt, a Miller High Life drunk poolside. A perfectly chilled slice of watermelon.
The Horny Time this year, unlike years prior, is different. If our collectively manic reaction to Rihanna really living in some blurry photos taken by a mouth-breathing paparazzo is any indication of where we're at right now, the Horny Time in 2017 is more charged, more electric, and more horny than it's ever been.
During a rotten winter of unceasing bad news, then worse news, then even worse news, the thing I heard most from friends between, say, October to May was that their libidos had all but disappeared, more than average during the seasonal-affective-disordered months. We're all a little burnt out, a little tired, unable to pry our eyes away from the news for one minute lest we be the only person to miss the dropping of the pee tape. If you were somehow able to get your dick up over the past few months (bravo), the omnipresent image of our president's swollen eyes, thinning comb-over, and lardy thighs would be enough to deflate even the most insatiable desire.
We've been long overdue for a little coital joy, and it shows. Rihanna's smashing wasn't the first time the world collectively felt it needed a cigarette. Remember when Calvin Klein cast the stars of Moonlight in its new underwear campaign? Remember how we almost saw Justin Theroux's bad boy in the penultimate episode of The Leftovers? (We may actually still stand a chance at that.) Remember when Kristen Stewart shaved and bleached her head? Remember how the world stopped as we tried to rule on whether men would look sexy in rompers or not? How about Bruno Mars playing a Prince tribute at the Grammys? (Just me?) Or the Obamas' clavicle-bearing summer looks? Or Chris Pine in Wonder Woman? The strange tongue-wagging phenomenon of the Comey testimony? Some people even would like to have sex with Justin Trudeau … and Ansel Elgort. Good lord. The horny mysteries of 2017 abound, and the list goes on and on.
This time of year — accounting for climate-change fluctuations, of course — the weather is basically perfect. Early summer gives us a stream of delightful forecasts: low humidity, highs around 75 or 80, sun out. (Unless you're in Phoenix, in which case maybe take your date to an indoor pool.) These unspoiled days, before swampy humidity really settles in, are limited, and we all know the past few months have been tough and tiresome and all-around boner-killing. Your out-of-commission nether regions deserve better. Are you starting to feel that prickly feeling again? Want to take a break from looking at 45's crusty face and reading his janky tweets? Dial up a person you love to get it on with and enjoy yourself.
Believe me, you've earned it.