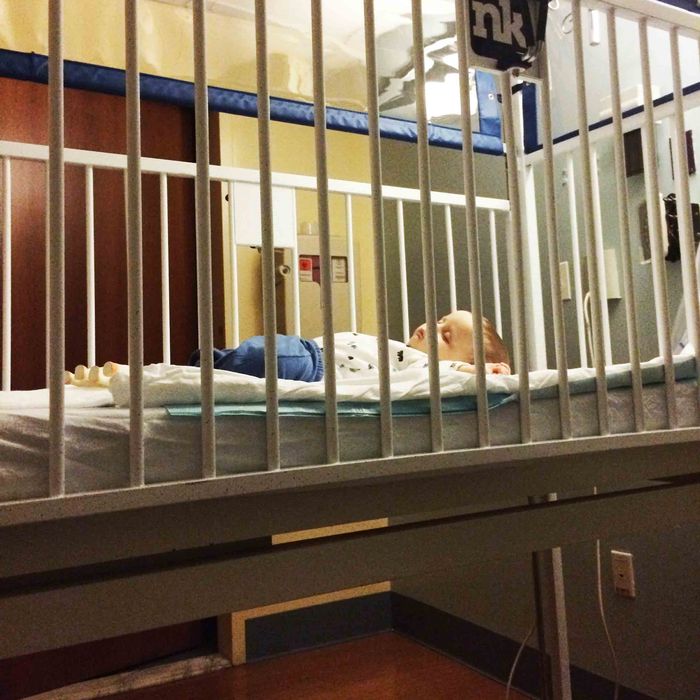 The author's son in the pediatric ICU.
Photo: Jen Gann
I came here to write about cutting a pair of baby pants into shorts. The pants are the same ones in the photo above: blueish, thin, size 9 months.
My son Dudley is not 9 months old — he turned 1 back in April. He is small for his age because he has cystic fibrosis, an incurable disease that affects your lungs, your ability to absorb nutrients, the taste of your skin (salty, especially in these sweaty summer months), and the number of years you are expected to live (37, in America). On Monday, Dudley needed a pair of shorts and all his new ones were dirty. I lopped the shins off those blue pants and sent him to day care with gently fraying hems, feeling smug in that small, satisfying way of early parenthood.
Today is Friday, and Dudley's needs have not changed: It's hot, so I put him in cutoffs again. Why cling to a pair of pants your growing toddler won't wear by the time it's cold again, when you could make them into something he can wear right now? It felt good to do something so sensible when senselessness is all around us. Yesterday, the GOP released the details of its new health-care bill, which could devastate families like mine, who would be nowhere without the help of families who are not. I hate it: My child is unhealthy and keeping him as well as possible is very expensive, to the degree I could never do it on my own, without help.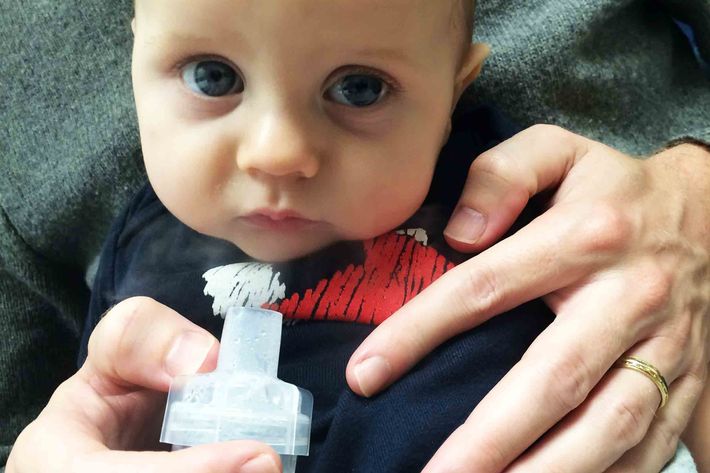 Among what Dudley needs today are shorts, and food, and love, and all the things every baby needs, plus a lot more. Those needs are not small now, and they loom only larger the older he gets. Costly specialists monitor his lungs, his nutrition, his sodium chloride levels, the sufficiency of his pancreas. His disease means he will need tune-ups, an innocent-seeming term for what will be weeks-long stays in the hospital to vigorously treat lung infections. When Dudley turns 2, he will finally be big enough for the medical vest designed to do the chest physical therapy we currently administer manually twice a day, every day — our cupped hands pounding on different parts of his lungs for two-minute shifts — to shake his lungs free of the mucus caused by a faulty gene.
In the 1960s, children with cystic fibrosis were expected to live until about 10. Today, many CF kids become CF adults, thanks in part to vigorous treatments like the vest, which costs about $20,000. And so-called miracle drugs for CF do exist. They cost about $300,000 a year. As it currently exists, the Better Care Reconciliation Act revealed yesterday would severely cut Medicaid funding — which half of children with cystic fibrosis depend on — and end protections against annual and lifetime caps. It is hard to fathom what that would mean for the families of children who require this level of care.
My family is lucky in many ways: We are not low-income, and we are educated, with access to resources. We can buy new shorts if we have to. But we cannot pay for anything that costs hundreds of thousands of dollars a year.
Baby cutoffs: I thought this was a nice idea for a summertime Friday. So simple, so sensible. Here is a very different, terrifying example of sense: In Canada, people with cystic fibrosis live, on average, about ten years longer than those in the United States. Experts believe that could be largely thanks to Canadian universal health care.